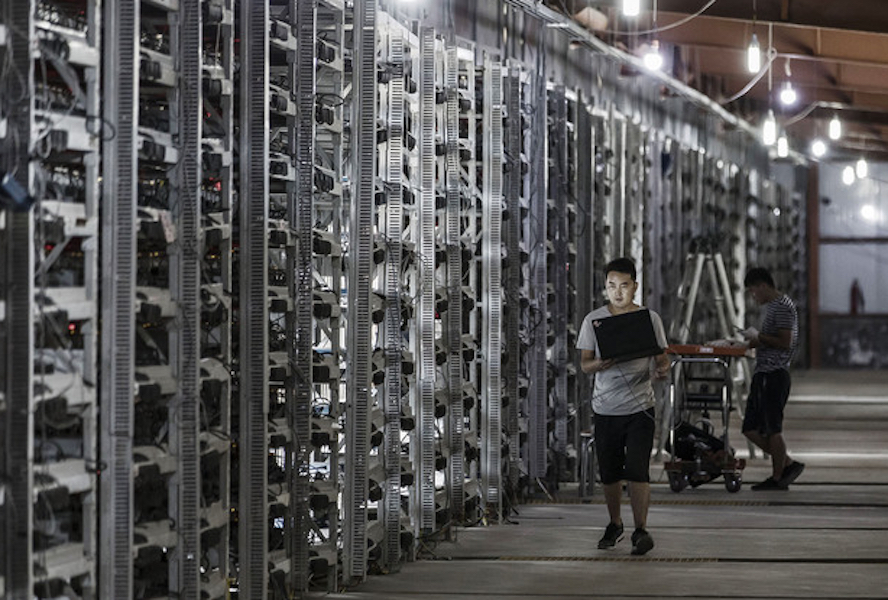 China Money AI is our news writing robot. These articles are edited by humans
In recent years, Li Jiacheng, a young businessman in Fujian, has been doing business in Myanmar and Africa. As Bitcoin prices skyrocketed, a new project entered his horizons: Myanmar has a hydropower station near the border with Yunnan province in China that has cheap power to supply bitcoin mining.
Li Jiacheng told First Financial, a Chinese media outlet, that one of his important jobs now is to contact bitcoin mines around China, hoping to cooperate with them in moving their bitcoin bitcoin mine plants to Myanmar. The good things for Myanmar is that there is no regulation, electricity price is very cheap, and bitcoin mining plant can be built directly next to the hydro-power station to save extra cost.
Several bitcoin mines in Inner Mongolia in China saw their electricity supply cut off a week ago, indicating that government supervision of bitcoin mining is indeed tightening after Chinese regulators were rumored to ask bitcoin mining companies in China to exit the business. It is forcing miners to find other venues such as Malaysia, Kyrgyzstan, Belarus, Canada and Iceland as potential places to move their operations to.
Bitcoin mining requires a large amount of electricity power. China currently produces 70% to 80% of the world's bitcoin mining machines and has the world's largest bitcoin mining capacity. As Beijing takes a hard stance toward the industry, the Chinese bitcoin mining industry is moving to where cheap electricity is abundantly available.
"My mine has been black-out for five or six days," A large mine operator in Inner Mongolia, who declined to be named, told Chinese media outlet First Financial.
A manager showed to reporters a red document issued by the local government with the date of December 28, 2017 that requires a complete examination of local cloud computing and big data users. Electricity supply will be temporarily suspended before their business operations are reconfirmed by local authorities, according to the reports. Some mines in Shandong and Sichuan province, however, seem to be operating normally, according to First Financial.
Since 2017, China has been tightening its regulation on bitcoin with the ban of bitcoin trading to mining. In early 2018, an official document was distributed across the country to encourage enterprises exit bitcoin mining business. In addition, local authorities are asked to keep records and track of bitcoin miners' business, revenue and other metrics.
The bitcoin mine had, to a certain extent, solved the problem of electricity power oversupply in the provinces such as Sichuan and Yunnan during raining seasons. At that time, local governments treated bitcoin miners as ideal businesses to attract to their regions in the category of "cloud computing'. That changed with a 180 degree regulatory shift from Beijing.
"Basically, there is no future for us bitcoin miners in China. We have two options: either find a state-owned enterprise to become a parent, or move overseas," a bitcoin mine owner told First Financial.
Due to the complexity of bitcoin's cryptographic system, the amount of power required to "mine" a bitcoin is staggering, making power consumption the biggest cost for bitcoin mining. By the end of 2017, the electricity demand for the global bitcoin mining industry has risen to 20.5 terawatt hours per day, which is equivalent to 0.13% of the total global electricity consumption. Although this may not sound like much, this figure already exceeds the annual electricity consumption of 159 countries.
Bitcoin miners in China own most of the global bitcoin miners' capacity, and large mines are now looking for cheap electricity throughout the world. After the ban of initial coin offerings (ICOs) by Beijing last year, another round of bitcoin mining companies in China began preparations for moving overseas. A bitcoin mine operator in Wuhan told Chinese media that it has found a backup power plant in Malaysia. If the oversight of domestic mines tighten, it will transfer the mine out of the country. Another bitcoin miner in Anhui province has also talked to the power grid companies in Kyrgyzstan about building a new mine in the Eastern European country.
Another mine operator said they have finalized potential electricity cooperation with governments in Belarus. "The current electricity price in Belarus is very cheap and that the government officially recognizes and supports cryptocurrencies and mines. The local government has promised a tax exemption for five years," a bitcoin miner told reports at First Financial.
Bitmain, the largest bitcoin miner in China, previously said that the company is setting up a regional headquarters in Singapore, as well as establishing mining operations in the United States and Canada. In addition, the third largest bitcoin mine BTC.Top is opening a division in Canada, while the fourth largest miner ViaBTC has established operations in Iceland and the United States.
Since the beginning of 2018, bitcoin prices have turned sluggish. According to trading platform Bitstamp, bitcoin price fell more than 7% intraday on February 1, with bitcoin's price plunging 23.6% in January this year with around US$60 billion total market value evaporated.
Are there still money to be made from bitcoin mining? This depends not only on the price of bitcoin, but also on how competitive landscape change around the world. After all, there are less bitcoins available to be mined while the computing power in the world is still on the rise.
January 3, 2018 is the ninth birthday for bitcoin. As there are 21 million bitcoins in total supply in the original White Paper when bitcoin was initially created and more than 16.8 million bitcoins, or 80% of the total, has been mined, the race for the final discovery of the remaining 20% bitcoins, or 4.2 million, will only get more intense.
The difficulty of mining will only increase. The prize given to the miners by the "Creation Zone" in 2009 was 50 bitcoins; the remuneration of miners who mine new blocks today has dropped to 12.5 bitcoins. As more and more people start mining, the difficulty of getting bitcoin is also growing. According to the current global computing power, it is estimated that by June 2020, this "cut off" will happen again, and the reward per block will be reduced to 6.25 bitcoins.
In Shenzhen, bitcoin mining machine producers are kept busy as global buyers are still buying mining machines, which means that the computing power is still increasing worldwide. For bitcoin miners, this may be the last feast in their mining journey.