China officially has five electric vehicle companies valued at US$1 billion or more, as China Money Network has learned that Byton, an EV start-up rooted in China, is currently seeking a new financing round at a minimum valuation of US$1.2 billion.
Byton, previously known as Future Mobility Corp, last raised around US$200 million at a valuation of US$750 million in August 2017. It is now in advanced talks with a Chinese central government investment institution regarding a round that could be between US$300 million to US$400 million, as part of the company's plan to raise US$600 million to put its cars on the market, a person with direct knowledge of the matter told China Money Network on the conditions of anonymity.
Byton did not immediately respond to an inquiry to comment.
China is the only country with EV start-ups having achieved the status of unicorn, a term describing private technology companies valued at US$1 billion or more. Byton joins the club with four other companies, including Chinese state-backed car maker Beijing Automotive Group's (BAIC Group) electric vehicle business unit, BAIC BJEV, as well as venture capital-funded start-ups NIO, WM Motor and Xiaopeng Motors.
China became the largest electric car market globally in 2016, with 336,000 new electric vehicles sold. The number was more than double that of the U.S., where 160,000 EV cars were sold during the same period, according to the International Energy Agency.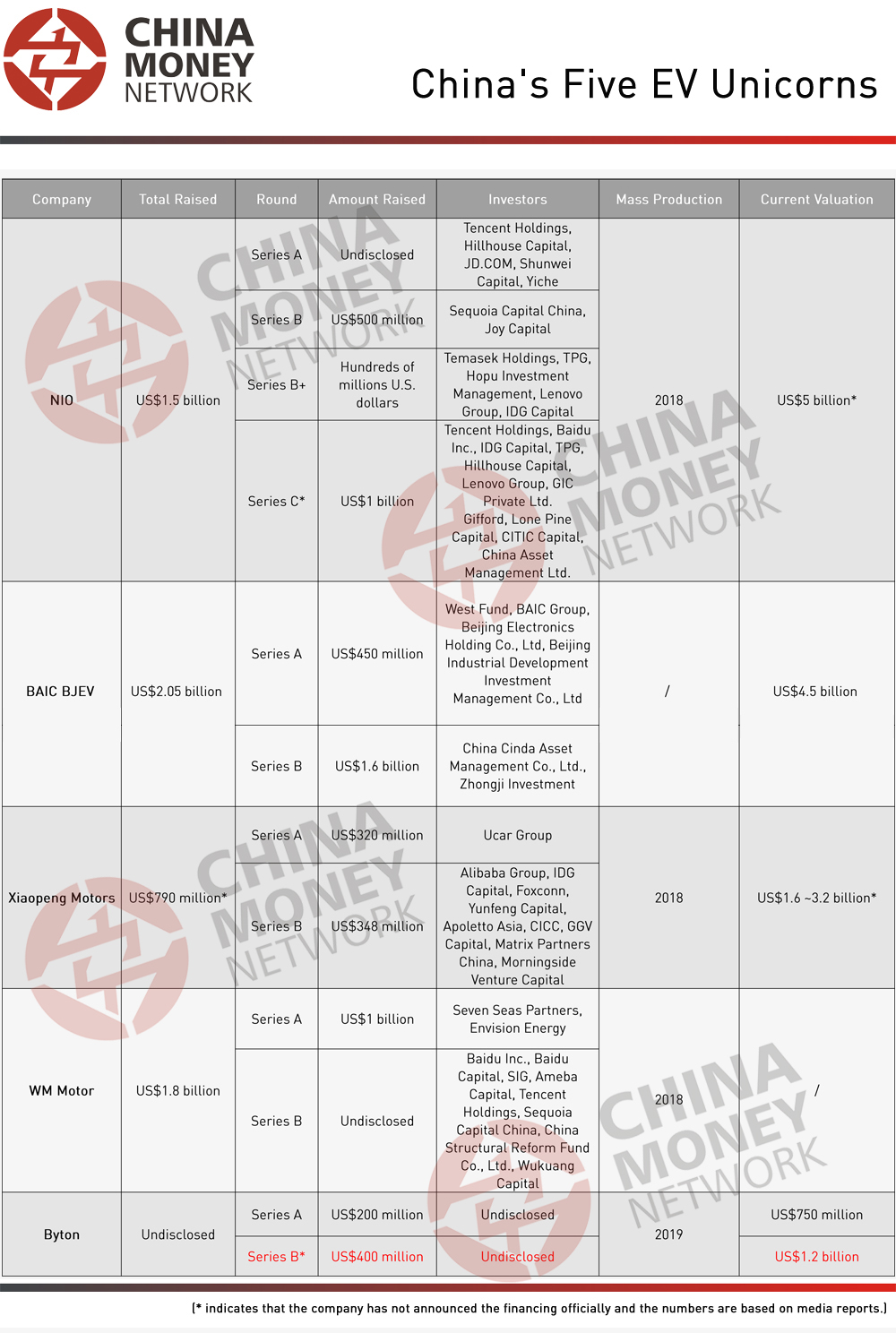 Its position as the largest EV market solidified in 2017. Despite a major subsidy reduction to EV buyers, a total of 605,500 new energy passenger cars were delivered in China last year, accounting for 49% of the global total and up 73% year-on-year. China also delivered 198,000 commercial vehicles, mostly electric buses, according to the Electric Vehicle World Sales Database.
Beijing is encouraging the development of EVs as the country relies heavily on imported oil, which China views as unstable and unsustainable. In 2017, China surpassed the U.S. in annual gross crude oil imports, after it became the top global oil net importer back in 2013.
China's reliance on oil importation exceeded 65.6% last year, and is predicted to reach 80% by 2030. A Chinese government official said last year that Beijing is currently studying a timetable to ban the production and sales of gasoline and diesel cars, with some speculating the year to be 2025.
With such a backdrop, many EV start-ups have risen and grown rapidly in China to achieve a valuation that took American EV leader Tesla Inc at least six years to achieve. Byton, founded in 2016 by two German automotive executives who have worked in China for decades, took less than two years to reach unicorn status. It took around one to two years for China's other EV unicorns to either raise US$1 billion from fundraising rounds or reach valuations of US$1 billion or more, prompting many analysts to question if these companies can deliver and sustain such a rapid pace of growth in the future.
Byton unveiled a concept SUV during the Consumer Electronics Show in Las Vegas in January 2018. The all electric SUV features a giant screen across the dashboard, voice command, facial recognition capabilities and up to Level 3 autonomous driving capabilities. The company is currently building a factory in Nanjing in Jiangsu province and plans to make its first production car, priced at around US$45,000 for the base model, in 2019.