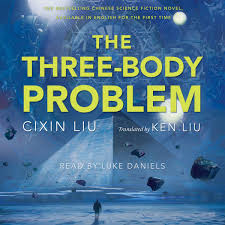 Amazon is reportedly in talks to pay US$1 billion dollars to acquire the television production rights to popular Chinese science fiction novel The Three-Body Problem, written by the Chinese writer Liu Cixin.
Firstly serialized online in 2006 and published as a book in 2008, the three part novel includes The Three-Body Problem, The Dark Forest and Death's End. It became one of the best-selling science novels in mainland Chinese history. The story, set against the backdrop of China's Cultural Revolution, involves a clash between an alien and human civilizations.
The rights to the novel are currently held by Youzu Interactive, an online game developer listed in China.
An English translation by Ken Liu won the 2015 Hugo Award for Best Novel and was nominated for the 2014 Nebula Award. Writer Liu Cixin, who first saw this news online, said he hopes that the deal can really be realized, and expected the episodes can capture the essence of the original book.
Credit Suisse recently released a report on the prospects of the Chinese media industry, pointing out that it has shifted from supply side and quantity driven expansion to a new era supported by content and quality. In the mean time, the TV drama industry has become a major distribution channel with the rise of online video websites. The brokerage also notes that the market value in China is has tripled to US$42billion in 2016 from five years ago.
As the world's largest online retailer, Amazon has invested heavily in making of original series based on popular science fiction franchises. Last November, it purchased the rights to J.R.R. Tolkien's The Lord of the Rings foraround US$250 million dollars to making a TV show. It bought the rights to science fiction novels Ringworld, Snow Crash and Lazarillo de Tormes.