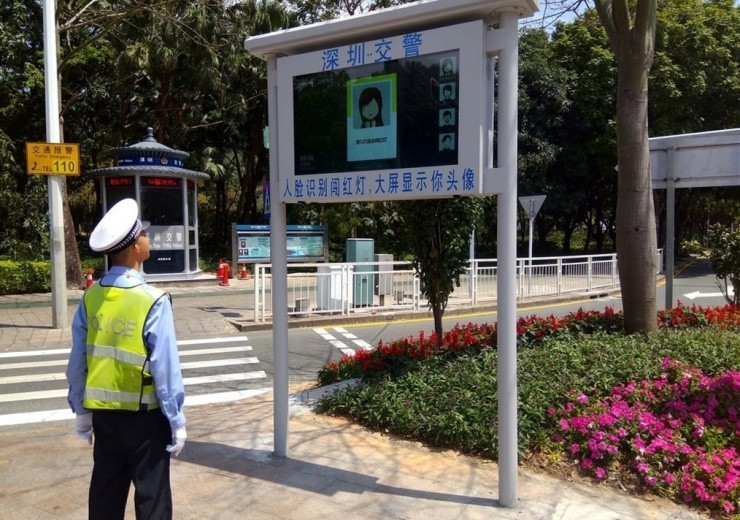 To manage the largest population on earth, Chinese police have turned to artificial intelligence for help. The latest example is in the city of Shenzhen, where police are installing AI cameras to identify and cite jaywalkers. 
Earlier this year, patrol officers in the city of Zhengzhou began using facial recognition sunglasses to spot criminal suspects during the busy Chinese New Year travel season.
Shenzhen police installed their first anti-jaywalking camera in April, 2017, overlooking a busy intersection in the Futian District. Developed by Shenzhen-based facial recognition firm Intellifusion, the system can identify individuals using a police database and displays the information on a large, public screen in a "name-and-shame" strategy.
They have subsequently installed six more surveillance camera's across the city, and expect to launch a larger scale jaywalking crack down soon. Six months after the first camera was installed, 13,930 cases were recorded, according to the police.
The system appears to be effective in reducing jaywalking. "Before the camera was installed, there were more than 800 offenders during the day time. But with our system, jaywalkers reduced to around 80 per day," an employee at Intellifusion told local media.
Intellifusion was co-founded in 2014 by Ning Chen, former integrated circuit director of ZTE(US) and Dihong Tian, former video technical director of Cisco TelePresence. The company focuses on visual intelligence, and provides facial recognition front-end devices, software and system software.
From 2009 to 2013, 21.5% of traffic-related deaths were caused by jaywalking, according to China's Ministry of Public Security. Since 2013, the Shenzhen Police have imposed fines between RMB20 (US$3.20) to RMB100 (US$16) on jaywalkers. Offenders can opt to assisting police maintaining traffic orders instead of paying financial fines.