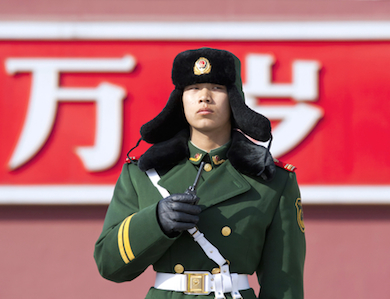 China's anti-pornography office has summoned 18 online video streaming and related media companies, including Douyu, Qiqiyi, Huajiao and Toutiao, asking them to strengthen video censorship, according to the authority's website.
The news marks Chinese regulators' latest move to clean up what it considers indecent content on the Internet.
The anti-pornography office said companies that fail to filter and censor their content will be penalized. This week, China's State Administration of Radio and Television shut down Toutiao's joke app permanently for distributing what it deemed anti-social content. Earlier this month, the State Administration of Radio and Television singled out Toutiao and Tencent-backed live-video streaming start-up Kuaishou, for "disrupting online broadcasting order."
And earlier this year, regulators took action after it said cult and terrorism videos had been found using cartoon characters such as Disney's Princess Elsa and Peppa Pig, to mask their contents, resulting in all all such videos being blocked.
As regulators tighten control of video tech firms, investors are facing increasing uncertainties. In March, both iQiyi, the online video unit of Baidu Inc., and video streaming firm BiliBili both went public on the Nasdaq.
Tencent is also behind several major short video investments. In March, it invested RMB4 billion (US$632 million) in game and entertainment live streaming platform Douyu, and led a US$461.6 million series B round in live-streaming platform Huya. In January, Tencent-backed video streaming app Kuaishou was said to be seeking a new funding round worth US$1 billion at a valuation of US$17 billion.
As of 2017, China's short video market had reached RMB5.73 billion (US$912.8 million) in value with a 184% year-over-year growth. It is expected to reach RMB30 billion (US$4.8 billion) in 2020, according to iResearch Consulting Group.
"All companies, including online streaming, and short video platforms, should assume social responsibilities while pursuing their own economical interests," the authority said in it post Thursday. "All businesses should insist correct public opinion orientation, strengthen content censorship and security control to avoid pornographic, violent and vulgar contents."
The authorities went on to say that video streaming and short video platforms cannot position themselves simply as technology companies, but should take the same amount of responsibilities as media firms. All such companies should build qualified teams to improve content censorship and improve their algorithm, the regulator said.