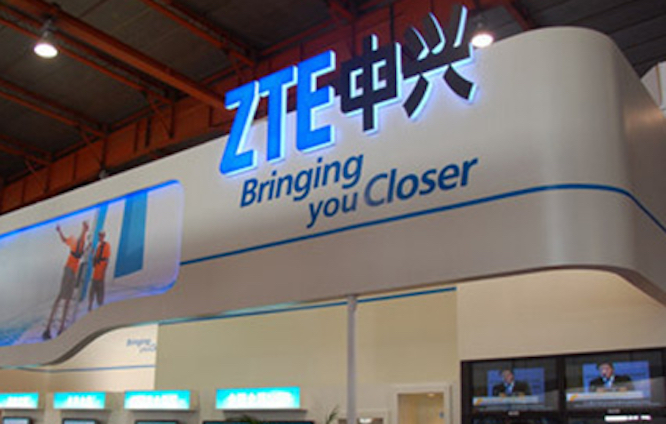 U.S. companies have been banned for seven years from selling equipment to Chinese telecommunications company ZTE Corp. The ban stems from an earlier case in which ZTE plead guilty to violating U.S. trade sanctions on Iran.
It marks the latest in a string of setbacks for Chinese tech companies doing business in the U.S. amid growing tensions over trade and technology transfer.
In March 2017, ZTE agreed to pay US$892 million in fines and plead guilty to violating U.S. sanctions on Iran and obstructing justice, ending a five-year probe that erased about two years of the company's profits. ZTE also plead guilty to accusations of making illegal shipments to North Korea.
Yet according to a statement from U.S. Department of Commerce released Monday,  ZTE made false statements to the Bureau of Industry and Security in 2016 and 2017 related to "senior employee disciplinary actions the company said it was taking or had already taken."
"ZTE misled the Department of Commerce. Instead of reprimanding ZTE staff and senior management, ZTE rewarded them. This egregious behavior cannot be ignored," Commerce Secretary Wilbur Ross said in the statement to justify the seven-year ban.
News of the ban hit the shares of U.S. companies supplying ZTE. Shares of Acacia Communications Inc, based in Maynard, Massachusetts, fell more than 34%. The company gets around 30% of its revenue from ZTE. Oclaro Inc, which got 18% of its 2017 revenue from ZTE, fell 17%
In 2012, ZTE reportedly signed a US$130 million contract with Iran's largest telecom company Telecommunication Co of Iran (TCI), and shipped TCI hardware and software from a number of U.S. companies including Microsoft Corp, Cisco Systems Inc and Dell Inc.
Chinese technology companies are facing mounting obstacles when doing business in the U.S., as the government of Donald Trump has increased scrutiny over Chinese investments in a range of U.S technology.
Chinese smartphone makers Huawei Technologies Co., Ltd saw AT&T and Verizon Wireless both cancel deals to sell Huawei's smartphones in the U.S. due to political pressure.
In January, the Committee on Foreign Investment in the United States (CFIUS) blocked two Chinese acquisitions. Ant Financial Services Group and MoneyGram announced termination of their merger deal. American semiconductor and electronics manufacturer Xcerra Corporation and China's Hubei Xinyan Equity Investment Partnership also cancelled their proposed US$580 million merger after failing to receive approval from the CFIUS.
The most high-profile case to date is Donald Trump blocking Chinese state-backed Canyon Bridge Capital Partners' planned $1.3 billion acquisition of Lattice Semiconductor Corp last year.