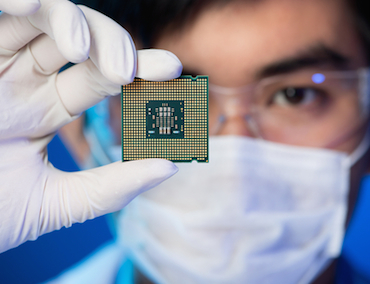 The U.S. ban on companies selling equipment to Chinese telecom company ZTE Corp set off a flurry of protests in China's state-backed media today, with calls from both editors and business leaders for China to accelerate its ongoing campaign to gain independence in key technology, especially semiconductors.
"China should prepare for the worst and form a plan to develop the key technologies domestically. We can't let the U.S. trade policy to disrupt the pace of our developments, and now we are truly determined," stated an editorial in The Global Times, a state-owned paper, adding, "In the past, China did not question the credibility of U.S. suppliers, without preparing for them cutting supplies. But ZTE's experience proves that U.S. supplies are not reliable."
ZTE, which the U.S. accused of violating trade sanctions with Iran, purchased semiconductor chips from Qualcomm Inc. and Intel Corp., and optical components from Acacia Communications Inc. and Lumentum Holdings Inc. News of the ban led analysts to downgrade shares of ZTE, while shares of ZTE's suppliers to dropped in the U.S.
The global semiconductor market reached US$354 billion in 2016 and China accounted for 60.6% of the total consumption, leading the worldwide semiconductor market growth for the six consecutive year in 2016, according to PwC. In fact, amid the worsening U.S.-China tension, China offered to increase the percentage of semiconductor chips it buys from American sources, replacing offerings from South Korea and Taiwan, to cut trade deficit.
Even before the ban, China has been working to reduce its dependence on technology component imports. In March, it was reported that state-backed China Integrated Circuit Industry Investment Fund Co. is in talks with government agencies and corporations to raise at least RMB150 billion (US$23.96 billion) for its second fund vehicle to build up China's domestic semiconductor industry.
With the ban on exports to ZTE, industry players said that process should be accelerated.
"We should reflect on why we are always hit by the weakness," Zhang Guobin, founder of eetrend.com, an information portal about the electronics industry told Xinhua news service. "It means that China's semiconductor industry is not strong enough to face the issue of foreign suppliers cutting supplies."
"China's telecommunication industry relies heavily on international supplies for key parts, high-end chip processors and some fundamental software. So while we improve our innovation of integrated circuits, we also need to increase our R&D in the key, high-end and fundamental technologies to increase self-sufficiency," Xin Pengjun, editor-in-chief of China Telecommunication Newspaper, told Xinhua.