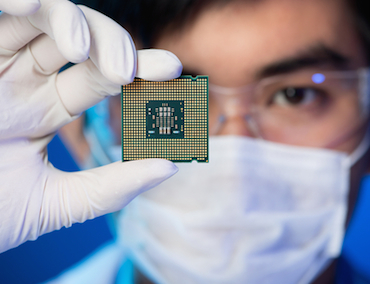 In a move to promote self-reliance in semiconductors, China has included four homemade central processing unit (CPU) firms to its procurement list for central government's IT projects, a notice on Central Government Procurement Center's website shows.
In the procurement list for computers and laptops, four Chinese local CPU brands were added. These brands are Loongson CPU designed by Chinese Academy of Sciences-backed Loongson Technology, FeiTeng CPU deigned by Tianjin Phytium Technology, Zhaoxin CPU developed by state-owned Shanghai Zhaoxin Semiconductor Co., Ltd., and Sunway CPU developed by Wuxi-based Jiangnan Computing Lab.
"The inclusion of Chinese local chip makers is a milestone for the industry," Hu Weihu, CEO of Loongson Technology told Chinese local media, "In the past when we were not included, government organizations could not purchase even if they wanted to."
Hu added, in the past, government's server vendors were equipped with Intel chips. But Chinese chips won't be able to completely replace Intel chips until at least 2020.
"Problems will start to emerge only after a large amount of chips are applied. The industry can grow and mature during the application process," he said.
About 90% of the US$190 million worth of chips used in China are imported or produced by foreign-owned firms in China, according to research firm International Business Strategies Inc. The recent U.S. penalty on Chinese telecom company ZTE Corp has made self-reliance of semiconductor a national priority.
Earlier this month, state-owned China Integrated Circuit Industry Investment Fund (CICIIF) joined Hong Kong-listed Semiconductor Manufacturing International Corporation (SMIC), a semiconductor foundry company headquartered in Shanghai, to establish a RMB1.62 billion (US$255.16 million) fund focused on equity investment in semiconductors.