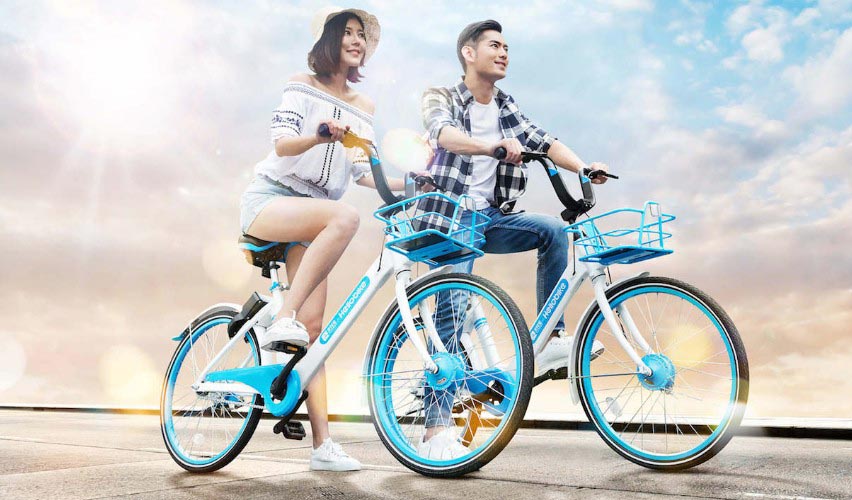 Alibaba's financial services unit Ant Financial has invested RMB2.06 billion (US$321 million) in bike sharing firm Hellobike, valuing the latter at US$1.47 billion and giving birth to a new unicorn company in China, according to Shanghai-listed Yonou Bike's security filing.
In October 2017, Youon Low Carbon Technology, a dockless bike-sharing subsidiary of docked public bike operator Youon Bike, acquired 100% shares of bike sharing firm Hellobike. Post the deal, Youon Low Carbon Technology and Hellobike merge the two firms operations to create a large bike rental business.
Now, Ant Financial's RMB2.06 billion investment will make it the largest shareholder with a 36% stake in the combined company, reducing Youon Bike's shares to 8.86% from 10.29%.
Alibaba has been increasing its dominance in China's bike sharing sector. In April, Ant Financial joined Fosun Group and other investors in a new financing round of US$700 million in Hellobike. In March, bike-sharing firm ofo announced that it had raised US$866 million in equity and debt capital in a funding round led by Alibaba. .
But Yonou Bike is less optimistic about the future of the so-called bike sharing business, which is essentially flexible bike rentals powered by mobile apps and mobile payment. Youon Bike said it gave up its priority rights to increase its investment in Youon Low Carbon Technology, because it expects "intense competition will last for a long period of time in the bike sharing sector." It also pointed out that the business has high valuation and faces great uncertainties.
Last year, the merged company together recorded revenues of RMB128.5 million (US$20 million) and suffered a net loss of RMB489 million (US$76.2 million), almost four times of revenues. But for Alibaba, the investment is more for strategic considerations as bike sharing provides an important high-frequency interaction with consumers who uses mobile payment to rent and pay for the bikes. Alibaba has already lost significant market share in mobile payment to Tencent, whose social networking WeChat app has many more active users who stay much longer on the app than Alibaba's e-commerce apps.
In April, Chinese group-buying and location-based services firm Meituan Dianping agreed to buy bike sharing firm Mobike for reportedly US$3.7 billion. That logic of that deal is strategic for Meituan, who is trying to expand the depth and width of the services it can offer to its users.