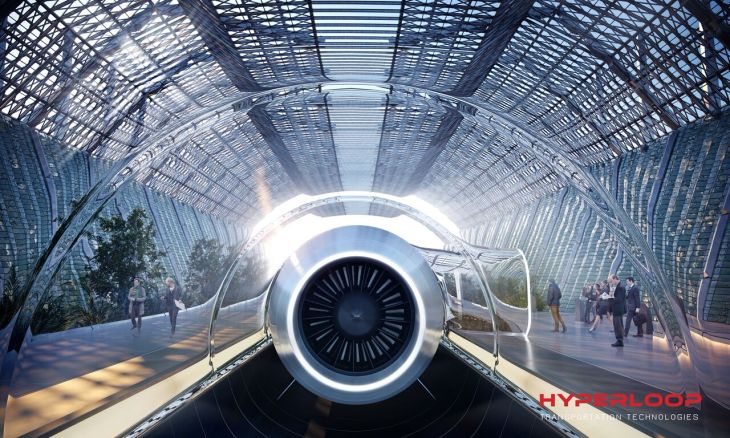 US transportation and technology company Hyperloop Transportation Technologies Inc. (HTT) has announced that it will open a Chinese entity to start working on China's first Hyperloop in Guizhou province.
HTT announced the signing of agreement with Tongren Transportation & Tourism Investment Group of China, making it the third commercial agreement for HTT following announcements in Abu Dhabi and Ukraine earlier in 2018.
HTT will be responsible for providing technology, engineering expertise, and essential equipment. Tongren will be responsible for certification, regulatory framework, and construction of the system. HTT will work in partnership with the government of Tongren in defining the route for the system. Financing will be done through a public private partnership with 50% of the funds coming directly from Tongren.
"We envision that Hyperloop will play into a bigger role of the Silk Road Economic Belt, connecting the region to the rest of the world," said Dirk Ahlborn, CEO of HTT. "China spends over US$300 billion annually on infrastructure to address their rapidly growing urban populations. Having worked alongside our government partners, Hyperloop has proven a viable solution for this immediate problem. Additionally, the unique topography of Tongren will allow us to refine our various construction methods with our partners."
Founded in 2013, HTT is a global team comprised of more than 800 engineers and technologists in 52 multidisciplinary teams, with 40 corporate and university partners. Headquartered in Los Angeles, HTT has offices in UAE, Slovakia, France, Brazil and Spain.
A Hyperloop is a proposed concept of passenger and freight transportation laid out by Elon Musk in 2013. In his idea, hyperloop will form a sealed vacuum, through which a passenger pod would be sent at speeds of as much as 700 miles per hour.
Hyperloop Transportation Technologies, an independent company working to build the high-speed transportation system first envisioned by Elon Musk, has announced the beginning of construction on a test track in Toulouse, France. The company released a video showing the arrival of the first components of the system, a series of huge tubes.
Similarly, an engineering-led technology company building the first commercially viable, hyperloop-inspired technology to eliminate traffic, Arrivo announced a strategic partnership with Genertec America, Inc. (GTA), an affiliate of China National Technical Imp. & Exp. Corp. (CNTIC), a wholly-owned subsidiary of China General Technology (Group) Holding Co., Ltd.  As part of the agreement, GTA will make available to a qualifying project owner a US$1 Billion line of credit to fund the engineering, procurement and construction (EPC) of a project which utilizes Arrivo's products.