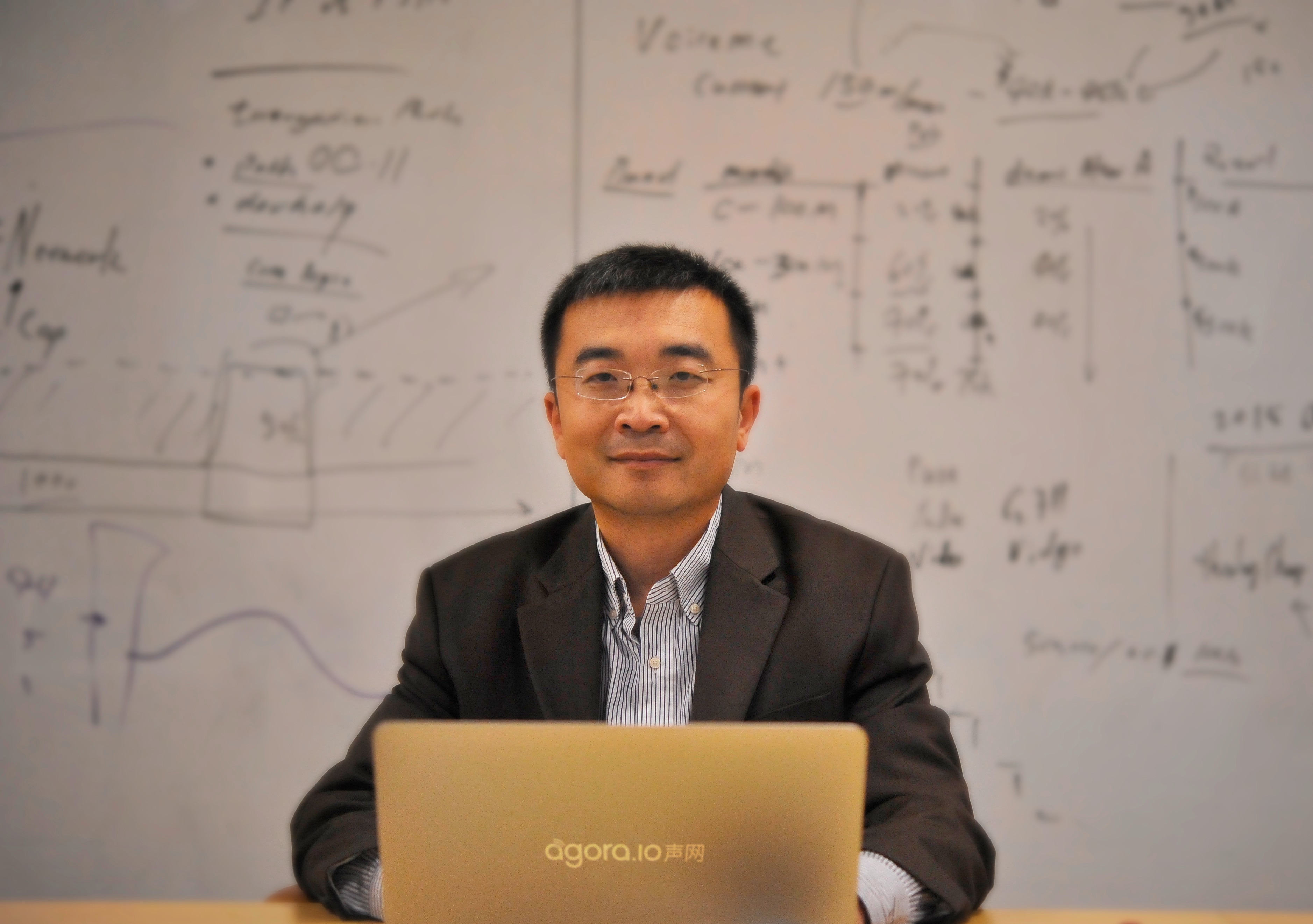 There have been a number of Chinese online video streaming site IPOs lately. In May, Chinese gaming streaming firm Huya went public in the U.S. It was followed by Inke, which focuses on live performance streaming, in a listing in Hong Kong in June. Another video streaming firm Douyu, is rumored to be next. 
Aside from the fact that many Chinese technology firms are rushing to IPO as the capital markets remain accommodating, the video streaming industry has grown up after six to seven years of development in China. Video streaming become popular after smartphones and mobile Internet took the stage to become the most important device for digital communication starting in 2011 and 2012.
Zhao Bin, CEO of Chinese real-time audio and video communication services provider Agora, said that the wave of IPOs is a sign that the industry is maturing. But the future opportunities are still plentiful, as digital video and audio communications become increasingly real-time, interactive and mainstream.
In 2017, China had 398 million viewers of online live videos, or 28.6% of China's population. The viewership size is expected to grow to 500 million in 2019, according to Chinese research firm iiMedia Research.
The rise of online video platforms reflects the change of how people communicate today. Real-time and interactiveness are the two keywords defining the future of communicate, Zhao said. From capturing body language to sending virtual gifts to hosts, technology will continue to improve user engagement and communication efficiency.
At the same time, digital communication will keep reshaping traditional industries. For example, live online broadcasting has brought new lives to traditional entertainment, such as claw cranes and TV game shows. Last year, a number of online claw crane start-ups allowing players to grab toys online emerged and became very popular in China. In the beginning of this year, copycats of online quiz app HQ Trivia spread throughout China.
A former chief technology officer at Chinese live streaming social media platform YY Inc. (NASDAQ:YY) and former engineer at Cisco's a video and web conferencing platform Webex, Zhao co-founded Agora in 2014. Agora develops real-time communication solutions for video, audio and live interactive broadcasting platforms worldwide. It has deployed more than 200 data centers around the world and built SD-RTNTM (Software Defined Real Time Network) designed to optimize real-time transmission on a global scale.
Agora's customers include most Chinese video streaming platform Huajiao, Panda TV, as well as social networking platform Momo and MeetMe, educational firm Zuoyebang, and podcast firms LizhiFM and QingtingFM.
In June, the company announced that it had completed a US$30 million series B+ round led by SIG, and participated by GGV Capital, Morningside Venture, Shunwei Capital, IDG Capital.
Zhao Bin, CEO and co-founder of Agora, sat down with China Money Network recently to share his observations of real-time video and audio communication industry in China. Below is an edited Q&A.
Q: What do you think the recent IPOs of Chinese video streaming sites mean?
A: IPO is a sign of approval by the capital markets and investors for companies. The recent IPOs of the different types of video-streaming sites from social media to gaming platforms, mean that the industry is maturing.
Q: What stage of development do you feel Chinese video streaming industry is in right now? Where do you see future opportunities for the industry?
A: As a new industry, it has passed the first phase of product popularization. Online video platforms have created new ways of social networking and entertainment, as well as new business model. In the future, it will have deeper impacts on various industries.
For example, HQ Trivia, a live online quiz show, shows you how traditional TV game shows can be run differently. Some people actually think that in the future, all TV shows, including talk shows, will shift from TV to mobile apps to become more interactive and more lucrative.
Q: What future trend do you see for online communications in general?
A: New ways of online communication emerge all the time. For example, connected microphones allow hosts and watchers on streaming platforms to connect with each other real-time. In the past, audience could only watch the hosts performing. With connected microphones, everyone can see the interactions between a host and his/her audience with both of them being broadcasted real-time on their phones.
I think another big trend is voice group chat. In the past, people text in chatrooms. But voice can convey much more information, such as emotion and personality. The technology can be used in so many scenarios, including social media platforms, dating platforms and gaming.
Q: Why is connected microphone so popular?
A: Interaction of online communication heavily impacts user loyalty. Communicating via phone, you may text your comments, send an emoji, or even a GIF, all of which usually last for less than five seconds. But real-time communication from multiple dimensions allow much deeper interaction.
When you can see both the audience and host on the screen, you can see more direct responses. Also, communication becomes more effective. Connected microphones are widely used by Chinese video streaming sites. Some hosts invite guest speakers. Some platforms allow two hosts from two chat groups to connect. So audience in the two groups can watch the two hosts debating, while providing tips and comments to support their hosts. It is very interesting because interactions between two people has become interactions between two groups of people.
Q: What technical infrastructure does this real-time technology require?
A: Real-time communication requires minimal latency, guaranteed transmission arrival rate, data security and stable connection. Compared with best-effort delivery network, all users obtain best-effort service, meaning they obtain unspecified variable bit rate and latency and packet loss, depending on the current traffic load.
But we are the first to use SD-RTNTM (Software Defined Real Time Network), which is a real-time transmission virtual network based on the UDP protocol. It is used to meet the real-time transmission requirement of the Internet, especially in the case of unstable Internet signal, poor transmission efficiency to ensure stable transmission and low latency. We have about 200 distributed data centers across the world and we have accumulated lots of algorithm.
Q: You mentioned applying real-time video technology to dating website. As a technology provider, how do you deal with improper contents?
A: As a technology provider, we make sure we monitor their contents efficiently for video platforms. For example, based on algorithms and artificial intelligence, our technology and partners' technology can automatically detect illegal contents and alert the platform operator. In some cases, the alarm can trigger functions such as suspending the associated account.
Q: What business opportunities do you see globally in this sector?
A: 
We currently have businesses globally, from China, U.S., India, Europe. Globally, video chat and interactive broadcasting present huge opportunities, but we don't limit our expansion to one area. In East Asia, Japan and Korea both have developed online entertainment markets, especially in animation. Southeast Asian countries in general have similar online entertainment trends as China. Europe and North American not only have developed online social network industries, but also use videos widely in non-social media sectors, such as healthcare and enterprises communication.