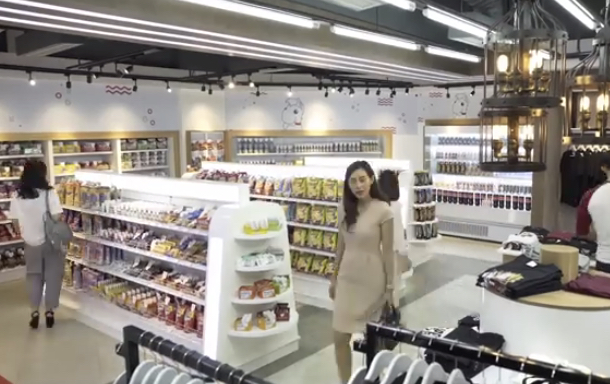 Chinese e-commerce firm JD.com Inc has opened its first cashier-free retail store overseas in Indonesia. The JD.ID X-Mart, newly opened in Jakarta, looks and operates similarly to cashier-free stores opened earlier by its rival Alibaba and many Chinese unmanned convenience store start-ups that emerged last year.
Users swap with their phone to enter the store as a QR code will identify the user's identity matched with his or her face. Cameras and facial recognition technology facilitate the store to track users in store, while radio-frequency identification (RFID) will track which product the user has picked up and brought outside of the store to purchase.
RFID uses electromagnetic fields to automatically identify and track tags attached to objects. It is a more expensive solution to the check-out process for cashier-free stores, while some other unmanned stores in China let users scan the items they want to purchase in essentially a self-checkout process.
Cameras placed throughout the space recognize customers' movement and generate heat maps of the activity to monitor traffic flow, product selection and customer preferences to help optimize inventory, product displays and all facets of store management.
JD's recently upgraded unmanned store in its Beijing headquarters, which was opened in October 2017, is now using computer vision technology to track a range of shopping behaviors, the company said in an announcement today. JD now operates over 20 unmanned stores across China.
Located in the PIK Avenue shopping mall, the 270-square meter JD.ID X-Mart offers fashion and apparel, as well as fast-moving consumer goods and beauty products. Customers can try on a pair of jeans in the fitting room and walk out of the store wearing them without having to visit a checkout counter.
JD previously launched its online shopping platform in Indonesia in March 2016. It is now selling more than 350,000 SKUs and serving 20 million consumers nationwide in the nation.
In the last year, JD has made a significant push in developing offline store technology as part of its boundaryless retail vision. Rival Alibaba names its strategy as New Retail or omnichannel retail.