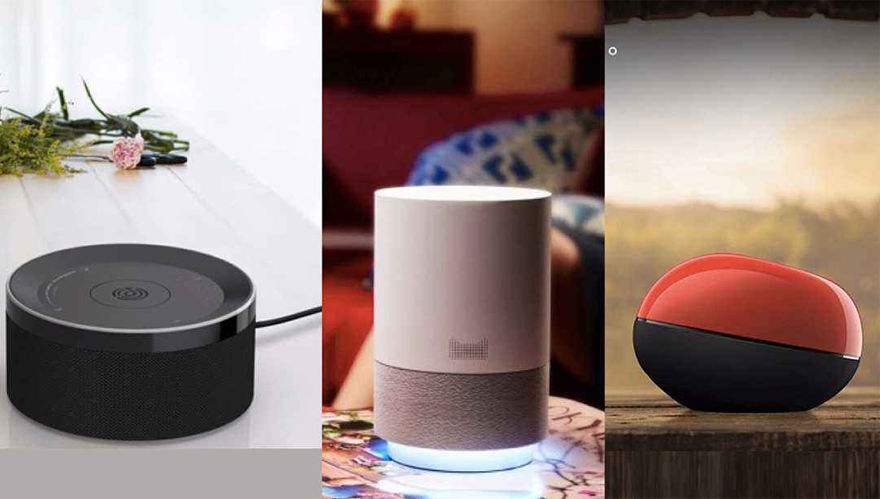 China has become the growth engine for the smart speaker market worldwide, contributing 52% to worldwide volume growth, against 16% from the U.S. in the second quarter this year, according to a report by analyst company Canalys.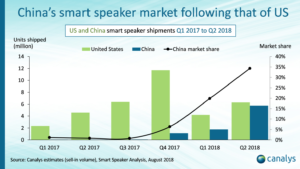 The worldwide smart speaker market grew 187% in the second quarter, with shipments reaching 16.8 million units. Chinese tech giants Alibaba Group Holdings Ltd. and Xiaomi Inc shipped 3 million and 2 million smart speakers respectively, ranked third and fourth worldwide, following Google and Amazon.
Alibaba and Xiaomi together accounted for nearly 90% of China's smart speaker market. With a market share of over 50% in China, Alibaba secures the top spot with 3.0 million shipments of its Tmall Genie speakers in Q2 2018. Xiaomi, with the release of its Xiaoai Mini AI smart speaker, has been scaling up quickly. It sparks 228% sequential growth in the second quarter.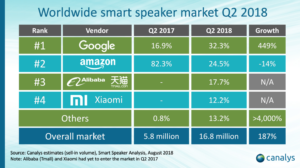 "China's smart speaker market has quickly become a battlefield for only the big names, and it will be hard for the smaller players to catch up in terms of market share," said Hattie He, Canalys Research Analyst.
"Alibaba and Xiaomi have both relied on aggressive price cuts to create demand. Both companies have the financial backing to spend on marketing and hardware subsidies in a bid to quickly build their user bases. Although the real level of user demand for speaker products is currently unproven, China is on its way to overtake the US in the near term. The challenge remains for local vendors to increase user stickiness and generate revenue from the growing installed base of smart speaker users," he added.
Their American peer Google retained its first-place position from the previous quarter, with 5.4 million shipments of its Google Home models. Amazon shipped 4.1 million Echo devices in the quarter. Both companies benefited from international market expansion into Europe and Asia, but both rely heavily on the US, which accounted for 68% of Amazon's global shipments and 58% of Google's.