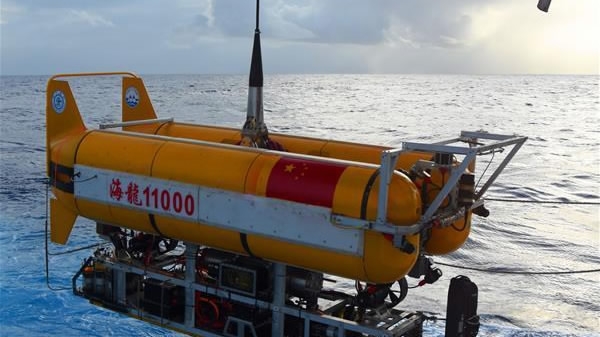 China's unmanned submersible Hailong 11000, also known as Sea Dragon 11000, has set a national record by descending 5,630 meters into the sea during a test dive in the northwestern Pacific Ocean, said Ministry of Natural Resources in a statement on Monday.
The record was previously held by Haixing 6000, which reached a depth of 5,611 meters during a test dive in the western Pacific in September 2017.
Carried by its mother ship Dayang Yihao or Ocean No.1, Hailong 11000 stayed underwater for 13 hours and conducted 4 hours of high-definition observation of the sea floor on September 1.
"The test dive showed the submersible performed well and had a good capability for deep-sea observation," said Li Huaiming, chief scientist of the team.
Hailong 11000 is a remotely operated underwater vehicle designed by a team headed by Ge Tong at Shanghai Jiao Tong University's Institute of Underwater Engineering. It is designed to work at a maximum depth of 11,000 meters and is mainly tasked with deep-sea scientific observation.
Dayang Yihao is a 5,600-metric-ton scientific research ship based in Qingdao, Shandong province. It was built in the former Soviet Union in 1984 and was purchased by the China Ocean Mineral Resources Research and Development Association in 1994.
The vessel has received several upgrades in China and has been used for many oceanographic survey missions.