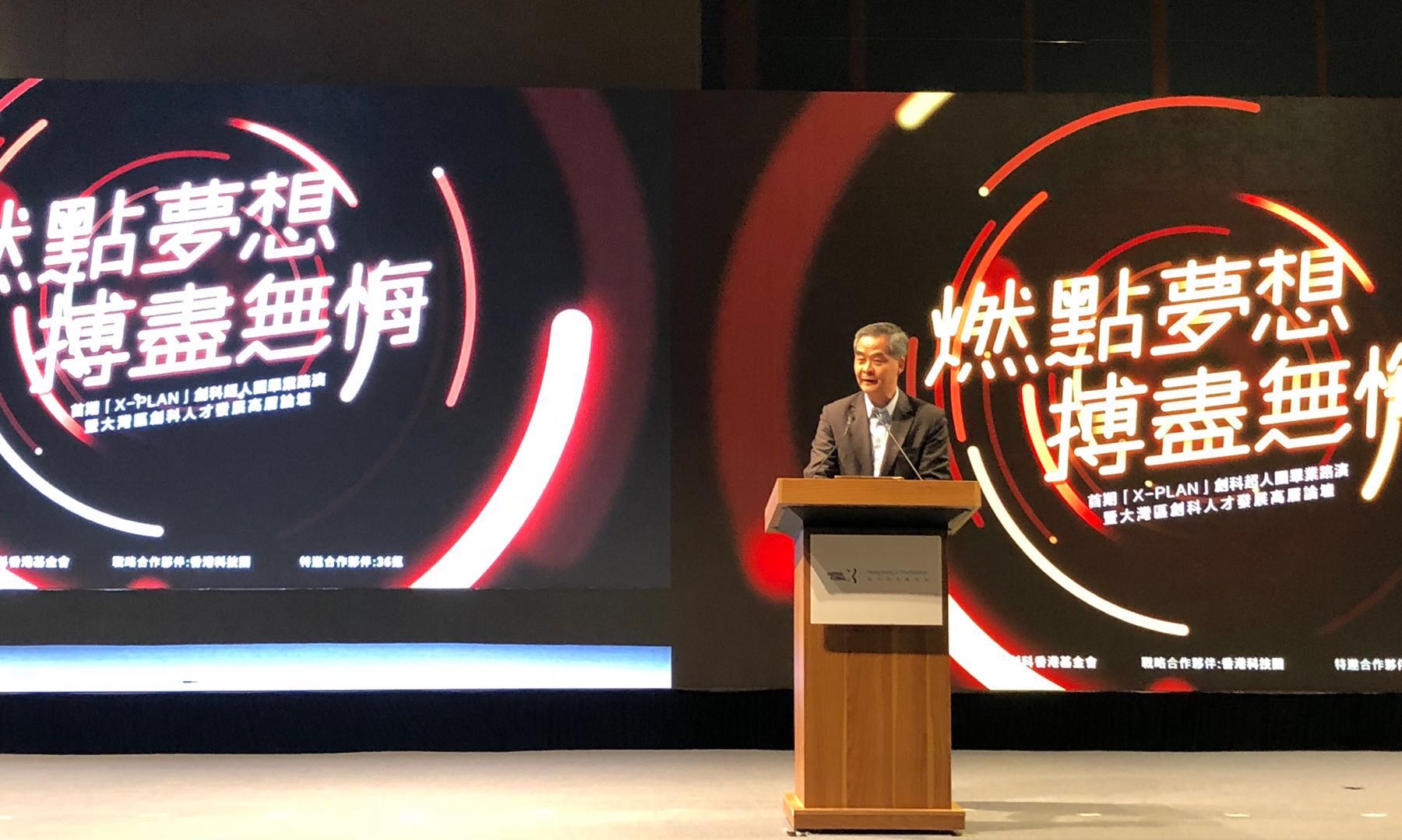 Hong Kong government has significantly increased policy support to start-ups, as the city continues its effort to turn itself into an innovation-led economy.
"Hong Kong is serious in promoting its technology innovation," said Carrie Lam Cheng Yuet-ngor, chief executive of Hong Kong at the Greater Bay Area Innovation and Technology Talent Development Forum yesterday at the Hong Kong Science Park.
"Within three months, the government has allocated HK$30 billion (US$3.82 billion) to implement policies supporting local gifted start-ups. This is much faster compared to the three years spent to establish the Hong Kong Innovation and Technology Bureau," Lam added.
The forum was held by Hong Kong X Foundation, a Sequoia Capital China-backed non-profit organization. With the support of local authorities, the organization aims to build a new innovation and technology ecosystem for Hong Kong, and the Greater Bay Area. The Greater Bay Area is one of Beijing's schemes to integrate Hong Kong, Macau and nine cities in southern Guangdong province into an innovative hub that has the potential to rival Silicon Valley.
As a government arm responsible for the city's policy related to the development of innovation and technology, Hong Kong Innovation and Technology Bureau plans to spend at least HK$80 billion (US$10.19 billion) in the recent two years. The money will be used in the four areas in which the city has notable strength, namely biotechnology, artificial intelligence and robotics, smart city and financial technologies.
The government's one-stop portal startmeup.hk said that the city saw a steady upward trend in the number of startups in 2016, with a 24% increase compared to 2015. And the year also witnessed a 24% rise in open space co-working workstations that are suitable for early-stage start-ups.
The "one country, two system" — a constitutional principle that retains the economic and administrative systems of Hong Kong and Macau — is actually beneficiary to Hong Kong's development, said Neil Shen, founder and Managing Partner of Sequoia Capital China at the forum. He said that mainland and Hong Kong have much in common, which enable them to join hands in promoting the country's innovation and technology.
The city's promotion of innovation and technology start-ups came as an express rail link debut in late September, connecting Hong Kong to a total of 44 destinations on the mainland, across 30 cities. The express rail link, formally known as Guangzhou-Shenzhen-Hong Kong Express Rail Link, will also play a key role in connecting talents in Hong Kong and mainland China.
In spite of the money and supportive policies provided to support the city's innovation and technology sector, Hong Kong is still facing challenges in transforming itself into an International innovation and technology hub.
Statistics show that the city is losing competition for talents as a whole. According to an official report released in early 2018, Hong Kong suffered a net loss of 24,300 residents in migration flows in 2017, with a population growth of only 0.4%. Young people especially, are finding it hard to bear the falling quality of life and the unaffordable housing cost. But the Hong Kong government is trying to help on that as well.
Chinese major port and global financial hub Hong Kong's start-ups are hungry for talents even though the Hong Kong government is sparing no effort to create a friendly environment for innovation and technology companies.
Christine Huang Yuan, COO and clinical program director of a Hong Kong-based biotech start-up Bacmuno Biotechnology Ltd, said her company just visited and talked to officials at the Hong Kong Department of Health last week. They said that they saw an increasing interaction and support from the Hong Kong government.
"The government's attitude encouraged us to stay, continue our researches, technology application and put it into use in the Hong Kong market," said Huang. "But currently, operating in Hong Kong is more out of our wish to become the 'first actual local entrepreneur'."
The company said it is operating well and has secured an angel investment without disclosing the specific amount.