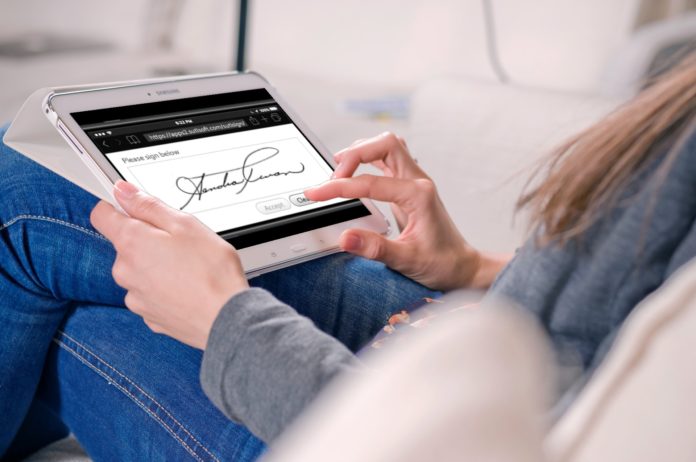 Chinese venture investors are betting billions on e-signature start-ups, hoping to fund China's own DocuSign in the country's fast-growing but under-penetrated e-signature market.
BestSign, for example, has secured a RMB358 million (US$45 million) series C financing round led by Tiger Global Management in late August. Another major market player Tsign also completed a RMB150 million (US$23 million) series B+ financing round in January. Beijing-based 51Signing obtained RMB70 million (US$10.44 million) in its series A+ financing round in late July.
The country's e-signature platforms are also benefiting from the fact that China has been rapidly moving more of its business online.
According to a report conducted by Chinese market research and consulting company iResearch in March 2018, Chinese e-commerce market totaled at RMB20.5 trillion (US$2.96 trillion) in 2016. Of which, 70% were business-to-business (B2B) e-commerce transactions, putting the e-signature service market at an estimated value of RMB10 billion (US$1.44 billion) and higher.
Chinese e-signature service providers are taking inspirations from their American counterpart DocuSign. The U.S. company raised US$629.3 million in an initial public offering in late April, giving it an implied valuation of US$4.41 billion. The San Francisco–based company currently provides its services to over 350,000 enterprises in more than 180 countries.
But considering the size of China's online businesses, the Chinese winners in this market could have much larger scale than DocuSign. "The penetration rate of [Chinese e-signature sector] is fairly low, probably less than 5%," said Chinese technology platform Lieyunwang.com citing Cheng Liang, co-founder and vice president of Chinese electronic signature service provider Tsign.
Online peer-to-peer companies is a big driver for the industry's current and future growth. With the process of online loans completely conducted digitally, P2P companies required by the Chinese authorities to use electronic contracts, e-signature and digital certification.
"Customers will learn more of electronic contracts when they purchase financial products from fintech companies," said Cheng.
Currently about 90% of Chinese e-signature platform's customers are individuals and institutions in the financial sector, said Cheng. This means that the whole industry still has significant growth potential, particularly in the country's traditional sectors such as mobility, education and healthcare where paper contracts are still widely used.
Some of the largest e-signature companies in China are Tsign, taking a majority share of the market. It is followed by its biggest domestic rivals, Bestsign and Fadada.com, according to the 2018 China's Third-party E-Signature Sector Report conducted by iResearch in mid Auguest.
Founded in 2002, Hangzhou-based Tsign currently serves over 120 million individual clients and more than 1.5 million institutional clients. The company recorded a total of 4.2 billion deals signed via its platform as of August 2018, with the average amount per day exceeding 20 million, said the iReseach report.
However, Tsign's co-founder and CEO Jin Hongzhou told lieyunwang.com that it does not make much sense to talk about market share at this moment, as the Chinese e-signature market is still in infancy.
"The whole [e-signature] market could have a valuation of RMB100 billion (US$14 billion) in the future, as it is only used in a tiny portion of the potential applicable areas," said Jin.