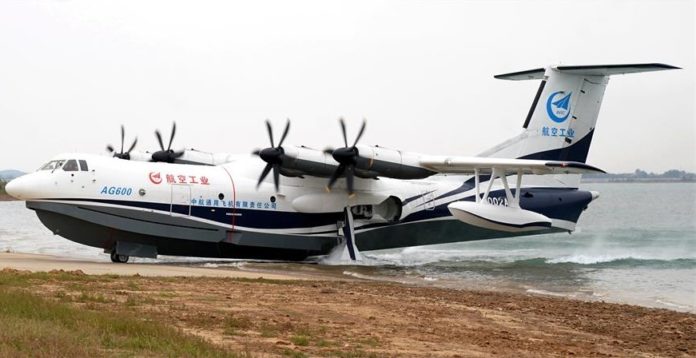 China's domestically designed and built amphibious aircraft AG600, touted as the world's largest, completed its first take-off and landing tests from water on October 20 in central China's Hubei province.
The AG600, code-named "Kun-long", is developed by the state-owned aircraft giant Aviation Industry Corporation of China mainly for forest fire-fighting, and search and rescue operations on the sea, said China's state-owned media Xinhua News Agency.
There is a possibility that Beijing will use the AG600 for military activities in the South China Sea, where the country is building military strongholds, according to multiple Chinese media reports. The AG600 plane can be used as an early-warning aircraft if necessary modifications are made, according to the reports.
The aircraft, powered by four domestically-built turboprop engines, was piloted under four crew members to stay airborne for about 15 minutes during the tests, said Xinhua.
The AG600 will be put into operation as soon as possible after the water tests and the upcoming flight tests, said another state-owned media China Daily citing Leng Yixun, a senior project manager in charge of the AG600.
"I want people to work hard to achieve the objective of making our country a nation with strong aviation capabilities," said Chinese president Xi Jingping in a congratulatory message to researchers and engineers of the program.
"Kunlong is the largest amphibious aircraft under research," said Huang Lingcai, chief designer of AG600. The length of an AG600 aircraft is about 37 meters — similar to that of passenger airplanes. It has a cruising range of 4,500 kilometers and each of the planes is capable of transporting about 54 tons (48,988 kilograms) of supplies.
Carrying four water-tight storage tanks, the aircraft can draw up to 12 tons (10,886 kilograms) of water within 20 seconds through a single slide over the water. This enables it to cover an ablaze area as large as 10 basketball courts. In terms of salvage, the aircraft is able to save 50 people and conduct rescue operations in a radius of 1,500 kilometers.
It can also be used to conduct environmental inspections, resource surveys, anti-smuggling operations, personnel and supply transport, said Huang.
The aircraft, accomplished its maiden flight from the ground in December 2017, has this test flight from water broadcast live to the whole country.