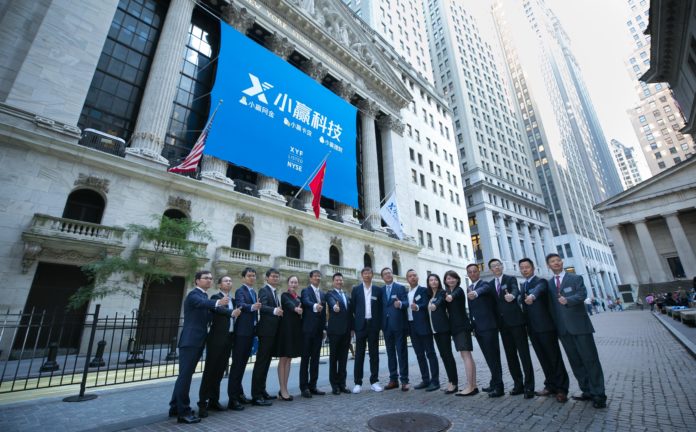 China's online peer-to-peer (P2P) lending industry will grow at an estimated annual growth rate of 30% to 40% after the government's tightened regulations weeding out bad and small players in the following two to three years. That's the projection of Kevin Zhang, chief financial officer of X Financial, a Chinese P2P lender that completed a listing in New York two months ago.
The P2P industry is under "the heaviest regulation" with hundreds of companies already shut down since July. The government's stringent policy will screen out 95% small players of the industry, leaving less than 100 companies to enjoy the long-term growth of the industry, Zhang said in a phone interview with China Money Network in September.
The four-year-old X Financial raised US$104.5 million from its initial public offering (IPO). "Most companies shut down during that period [from July to August] are fraud companies," said Zhang. The rest of them, he said, lacked "the capability to manage their consumer credit products".
The outstanding loan balance for Chinese online P2P platforms has surged from RMB31 billion (US$4.47 billion) in January 2014 to RMB856 billion (US$123.52 billion) in 2017, said Oliver Wyman in a report regarding the country's financial technology (fintech) landscape. Such frantic growth has created many problems including out-right fraud, competition to the bottom and a public opinion crisis that tainted the whole industry.
But Zhang remains bullish for the long term. With the development of China's consumer finance market, "the whole [online P2P lending] industry will remain growing" after the current chaotic phase, with investors coming back "as fast as they can", said Zhang.
With more than 90% of its revenue generated from the fees charged for matching investors with borrowers, X Financial recorded RMB22.27 billion (US$3.21 billion) outstanding loan balance in the first half of 2018, according to the company's regulatory filling. The number has more than tripled compared to the RMB7.49 billion (US$1.08 billion) loan balance in the whole year of 2016. The company recorded net income of RMB443.3 million (US$67.0 million) in the six months ended June 30, more than five-fold compared from RMB80.7 million (US$11.64 million) for the same period in 2017.
The kind of industry consolidation is reflected in the data. China's fintech self-regulatory organization, National Internet Finance Association of China, reported a total of 119 registered P2P lending platforms in its fintech identity verification platform by the end of June. These companies, which regularly release their operating information on the platform, have an aggregate of RMB4 trillion (US$583.58 billion) transaction volume and RMB682 billion (US$98.41 billion) credit balance in August, taking up 70% of China's P2P lending market share, according to the organization.
X Financial is among half a dozen Chinese online lenders that rang the opening bells in the U.S., including Yirendai, China Rapid Finance, Hexindai, PPDAI Group, and Senmiao Technology and Golden Bull.
X Financial currently has 20.8 million registered users, according to the company's website. Its products provide an average monthly return rate of 8.04% — a yield that is relatively modest in comparison with its competitors.
This is because part of X Financial's profit margin is transferred to its partner, Chinese online insurer ZhongAn. The online insurance firm provides loan principal plus interest security to clients in X Financial's 94% online lending products. The duo inked a strategic cooperation agreement in October 2015 when X Financial completed a US$60 million series A financing round from Hong Kong-based Chow Tai Fook Jewellery Group.
"We can shut down our company right now and all of our investors can get payback either from the borrowers, or from the insurance company. They will have zero loss," said Zhang, who said that X Financial is the first Chinese P2P lending firm to introduce credit insurance protection to its wealth management products.
Regulators just kick-started a new round of checks in August by issuing a document consistent of 108 items for P2P lenders to review, and for local financial authorities to inspect. The checks are required to be completed by the end of 2018.
"The government should just follow the current regulation. They should try to complete the inspection and the registration, and make the right ones – or the top companies – to continue their business," he said.
X Financial was founded in March 2014 by Tang Yue, a serial entrepreneur who co-founded online travel service company eLong Inc., and Chinese private equity fund Blue Ridge China.
Based on mobile internet and big data, the company currently operates several individual brands, including Xiaoying Card Loan, which is primarily a credit card balance transfer product, Xiaoying Preferred Loan, a high-credit-limit unsecured loan product, and Xiaoying Wealth Management, a wealth management service marketplace.
The Shenzhen-based company secured a strategic investment from China's Macrolink Group in January 2018. In March 2017, it closed a RMB1 billion (US$144 million) series B financing round from a group of investors including Chinese online-focused private commercial bank WeBank.
Kevin Zhang, who goes by Zhang Jie in Chinese, has been serving as chief financial officer at X Financial since November 2016. Prior to that, Zhang worked for several companies at home and abroad, including California-based credit assessment platform Neo Financial Information Service, Suzhou JinCheng Media Group and Deloitte and Ernst & Young. Zhang has a bachelor's degree in business management from Fudan University.
Read an interview Q&A below.
Q: Where do you think the P2P industry is right now, and where is it headed?
A: First, I think we're totally different from those companies that were shut down in July and August. I do think most of the companies shut down during that period were fraud.
And some of them may not be fraud companies but they don't have the capability to manage their consumer credit products. So they have very bad long-term performance.
And secondly, when we talk about our products, we believe we're the first company in China to introduce credit insurance in our wealth management products. Ninety-four percent of our products are insured by ZhongAn Online Insurance Company. Actually we can shut down our company right now and all of our investors can get payback either from the borrowers, or from the insurance company. They will have zero loss.
For example, if anything defaults, the insurance company will pay back to them within 48 hours. And they will get all the principal, interest plus 48-hour interest. So this makes us very different from other companies in the industry.
We do benefit a lot in the first one to two years after we began the cooperation with ZhongAn. People have very strong confidence in us because they can have nearly 100% security for our insurance arrangement.
As you know, there are some other companies in the [P2P online lending] industry which also have cooperation with insurance companies, but the cooperation is very limited. For example, only the first RMB100 million or RMB200 million are insured. We have RMB20 billion assets and almost all are insured.
Q: Statistics show that the number of active borrowers in X Financial has decreased by nearly 20% to about 170,000 in July. What are the main reasons for this?
A: The decline of active borrowers is in relation to our long participation volume. I don't think it's a decrease in our monthly active borrowers, actually it's related to shortage of funding (of the whole industry).
In July and August, about 200 or more P2P online lending companies were shut down. And some of our new P2P investors lost confidence in the industry. Some just left without any reason. Even though they know our products are secured, they think the industry is too irrational so they chose to leave anyway.
We do find some limitations in new funding. For example, previously when investors finished their investments and get the money back, they will re-invest. But in July and August, they try to withdraw money from the platform without re-investing. So it does have some limitation to our ability to attract new loans. It also resulted in the decrease of our borrowers.
But when it comes to August, it has already recovered. Take our main product car loan for example, we only facilitated about RMB1.5 billion in July, but in August we facilitated about RMB2.1 billion loans. We experienced a drop in July, but when it comes to August, we recovered fast. And some investors came back as fast as they can.
Q: Your prospectus said in March 2017, one of your Shenzhen-based consolidated company has received a rectification notice from the local authority. So this one actually requires the company to cease to facilitate loans over RMB200,000 for one borrower.
A: Okay. There are some impacts, but we have already adjusted to it. For example, previously in 2016, our major product is housing loan, the average size of which is about RMB1.2 million. But later we got a notice from the local bureau. So we adjusted the financing for the housing loan. Because previously the home active loan is mostly financed by P2P investors. Now we use institutional funds to support our housing loan. But this has little impact because the housing loan has much less risk compared to our core product, car loan.
So they [the government regulations] do have some impacts on us, but we have already absorbed all these impact.
Q: Which government policy do you think has brought the most significant impact? 
A: We just noticed that there is one new regulation. It encourages the P2P platforms to report their customers who default, or refuse to pay back, to the local government. I think it's encouraging the P2P platforms can do more work on their [dishonest conduct] data collection and sharing.
It's a benefit for the whole industry. Previously I think the local government had more protection to those borrowers. They said: "You cannot push them too hard. Even if they fail to pay back your money on time, you should try not to push them too hard." But now the tone changed. They said: "Okay, if somebody did not pay back the money, we will have penalties for them."
Q: What's your outlook for regulatory changes in the future?
A: I believe P2P industry has already had the most and the heaviest regulation among all sectors in the financial services industry. So we don't think there will be any other significant loan regulations coming out in the coming year.
I think the government should just follow the current regulation. They should try to complete the inspection and the registration. And they should make the right ones and the top companies to do business. I think the current regulation is already enough, and there's no need for new regulation. And also, I think the local government's regulations are very detailed. Sometimes I think they regulate us more than traditional financial institutions like banks.
Q: What does the industry's future look like to you?
A: The customers will be centralized maybe in the top ten or top 20 companies. For the whole industry, I believe there will be only 50, or less than 100 companies left (after the clean-up). For example, about 1,600 [P2P online lending] companies are in operation in China, but 95% of them will be shut down.
The whole industry will remain growing just as China's total consumer finance market will continue to grow. Like the credit card market is still expanding. The industry will keep growing with about a 30% to 40% increase annually.
In the coming two to three years, the industry will be more concentrated in the top ten or 20 companies. So there's still a lot of room for us to grow.