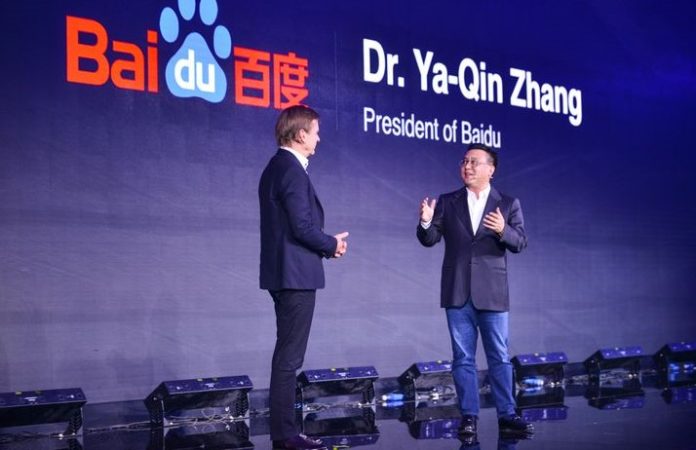 Chinese internet giant Baidu, Inc. and Volvo Cars have formed a strategic partnership on Thursday to jointly develop and mass produce Level 4 (L4) autonomous driving passenger cars for the Chinese market, according to a statement released by Baidu.
The L4 autonomous driving passenger cars was to become "the first driverless passenger cars in China to realize mass production," said Robin Li, co-founder of Baidu, at the event in Beijing on Thursday. The two companies are plan to reach small-lot production by the end of 2019, and then scale up to achieve mass production in 2020.
The agreement marks the two companies' ambitions to explore commercialization opportunities in China's autonomous driving passenger car market, which has been growing drastically in recent years with the participation of the country's tech giants including Tencent and Didi Chuxing.
Chinese authorities have supported the development of the driverless cars as Beijing had launched its first autonomous driving testing site for vehicle makers to conduct research and development in February.
Under the collaboration, Baidu will provide Volvo with the capabilities of its autonomous driving platform Apollo. And Volvo, the Swedish carmaker owned by Chinese auto manufacturer Geely, will provide access to its expertise and technologies in the auto industry, according to the statement.
Baidu said that it chose Volvo as a partner because safety is the "core mission" of Volvo. Baidu added that it seeks to provide "the safest auto products", leveraging Volvo's safety credentials and Baidu's open autonomous driving platform.
"There is a strong development in autonomous drive in China, where Baidu is a leading player, and the market there offers huge opportunities for us as the supplier of choice for autonomous fleets," said Håkan Samuelsson, president and chief executive of Volvo Cars.
Baidu has been developing autonomous driving technology since 2013. Based on its autonomous driving power and artificial intelligence (AI) technology, the company seeks to scale up the influence and adoption of its open autonomous driving platform Appollo.
The company said that it is planning to develop more intelligent vehicles, intelligent roads, and the related infrastructures.
The two companies had also partnered to launch a driverless excavators. The company said that it will cooperate with Beijing and Shanghai to help them become smart cities powered with the AI technology.