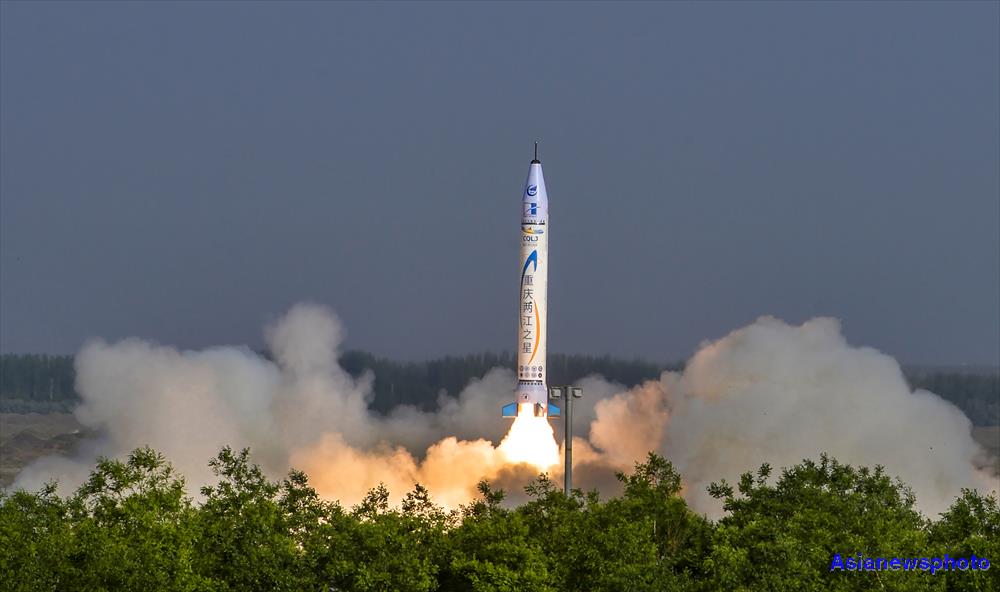 China Aerospace Science and Technology Corporation (CASC) plans to launch Long March 6A (CZ-6A), the country's first rocket powered by solid and liquid engine, as early as in 2020. The rocket is being showcased in an exhibition in Zhuhai city, Guangdong province this week.
The 50-meter-long Long March 6A is powered by a liquid engine and four solid engines that are bundled with the liquid engine.
It has been designated to be the first rocket to take advantage of the two types of engines. The thrust of solid engines is stronger than liquid, while liquid engine is more stable and has higher specific impulse.
At the present, China has launched several solid engine rockets, such as Xinghe Power and Long March 11 (CS-11), as well as liquid engine rockets, like Long March 5 (CZ-5), Long March 7 (CZ-7) and Long March (CZ-5).
The Long March 6A requires a smaller landing space, a 75% decrease compared to conventional rockets, which makes it safer and more efficient in landing.
The rocket also has a higher degree of automation as it is able to complete a series of launch moves by itself, such as rocket cryogenic liquid oxygen filling, gas supply, and aiming.
For example, technicians are generally evacuated from the launch tower about 30 minutes before the launch in China. The higher automation rate of the Long March 6A extends the evacuation time to four hours, making it safer for technicians.
The rocket is also more intelligent. It is equipped with a smart health diagnostic system that can monitor whether the rocket liquid engine operating correctly.
The system will immediately search for potential problems and automatically switch to emergency shutdown, if an unexpected abnormality occurs after the liquid engine is on. The closure halts the solid engine from igniting and prevents the rocket from being launched.
The rocket can accommodate a temperature range from minus 30 degrees Celsius to minus 40 degrees Celsius. The takeoff thrust reaches 7230 kN, and the takeoff weight is at 530 tons.