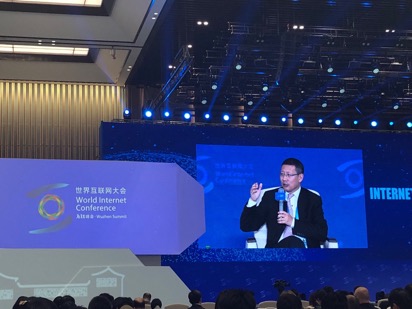 China gets an A+ for the scale of its Internet data and should become a pioneer in data regulation, said Neil Shen, the founding and managing partner of Sequoia Capital China, at the fifth World Internet Conference in Wuzhen, Zhejiang yesterday.
"Data in the age of artificial intelligence is like oil in the industrial age," said Shen, who also co-founded Chinese travel services booking platform Ctrip.com and hotel operator Home Inn Group before founding Sequoia Capital China. "If we say China's AI talent gets an A considering global AI talent distribution, then in terms of the scale of the available data to train AI algorithms, China deserves an A+."
China has the potential to lead regulations on data governance, data protection, data utilization and data transactions globally because of its advantages in amassing large amount of digital data, Shen believes.
China's smartphone penetration rate is around 60% in 2017, compared to 67.3% in the U.S., according to statistica. But Chinese users use their smartphones for many more services. For example, the ratio of Chinese users who have used mobile fintech services is around double that of the global average, according to a recent EY study.
"The success of China's digital economy relies on the investment by the Chinese government on digital economy infrastructure, such as the launch of 5G network," Shen continued. "This is the result of long-term planning, the active participation of communications companies. It provides a brand new platform for innovators to build their innovations on."
Launched in 2014, the three-day World Internet Conference is an annual gathering of Chinese Internet giants and leaders. Co-hosted by the Cyberspace Administration of China and Zhejiang government, this year's conference is themed "Creating a digital world for mutual trust and collective governance."