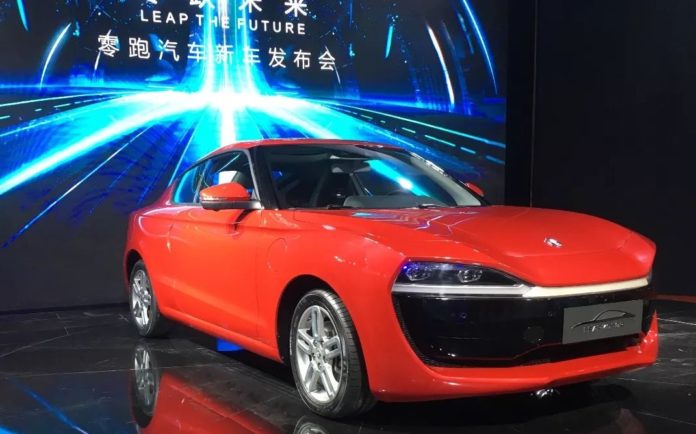 Leap Motor, a Chinese intelligent electric vehicle start-up, has raised RMB2 billion (US$290 million) in series A round of financing, led by Shanghai Electric and CRRC Corporation Limited. 
The round also saw the participation from Gopher Asset, Industrial Securities and Sequoia Capital China.
The company has been aiming to raise RMB2.5 billion (US$360 million) in total in series A round of financing. After the latest round, the company has been valued at RMB8 billion (US$1.15 billion) to reach the unicorn status.
Founded in 2015 and headquartered in Hangzhou, Leap Motor focuses on research and development of intelligent electric vehicle, including intelligent driving solutions, auto design and battery system, as well as car networking solutions powered by cloud computing.
The three-year-old company unveiled its first four-seated electric vehicle S01 in 2017. The electric sports car will hit the market in January 2019 and targets young generation, pricing the car between RMB100,000 (US$14403) and RMB150,000 (US$21604) after taking into account the subsidiary.
However, the company has not received any license for mass production from Chinese regulators. To meet the delivery demand next year, Leap Motor has to cooperate with license-granted third parties to carry out mass production of its S01 model.
According to the company's website, the factory in eastern China's Jinhua is still under construction and will be ready for mass-production in the first quarter of 2019. The factory aims to have an annual production capacity of 250,000 vehicles.
In 2017, Leap Motor had secured RMB400 million (US$57.61 million) in series pre-A round of funding, led by Sequoia Capital China.
Unlike other EV manufacturers, such as Tesla, NIO and Xpeng Motors, which has build a direct sales store across China, the company will collaborate with a partner in different cities in China to co-launch stores in various cities.
The EV maker had opened its first auto experience centre in Hangzhou in November 2018 through the use of same collaboration model.
It is also planning to open its first batch of sales stores which will enable customers to experience EVs in eight cities, likely Beijing, Shanghai, Guangzhou, Shenzhen, Tianjin, Ningbo, Jinhua and Chengdu.
Many Chinese EV makers have roll out their first electric SUV models, while Leap Model took a different path by focusing on the sporty EV model.
Its LP-S01 is equipped with an intelligent-driving system, wireless WiFi, a face recognition system to access and start the car, as well as vehicle networking technology which enables the owner to remotely access the video feed from the car and share the car with others.An app has been designed to check the battery level, find charging stations and facilitate all other functions.