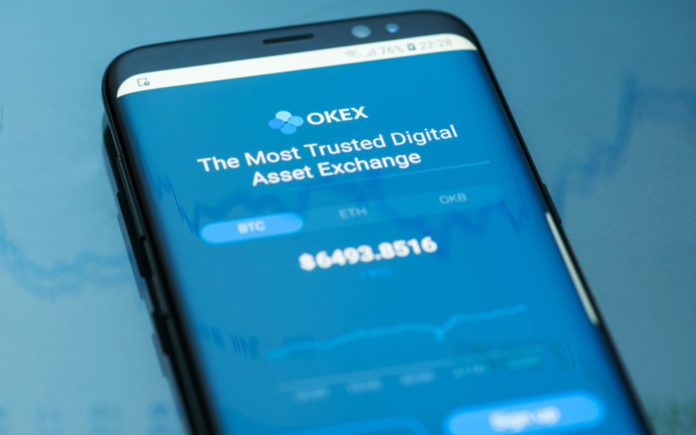 OKEx, one of the world's most popular cryptocurrency exchanges, is facing a backlash from traders after it changed the terms on US$135 million derivative contracts without warning last Wednesday, causing losses on investors.
The unusual decision made by Hong Kong-based OKEx, which claims to handle nearly US$1.5 billion bitcoin futures trade volume per day, has forced the early settlement of its Bitcoin Cash (BCH) contracts without warning on November 14. The contracts involved futures on BCH — the virtual currency that split into two a day after the settlement.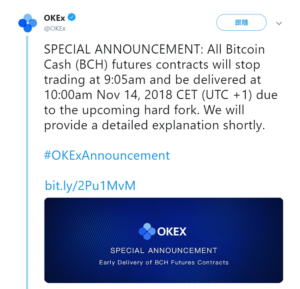 As cryptocurrency exchanges are yet to be regulated, the move resulted in significant losses for some investors, including Qiao Changhe, a former energy futures trader who now runs Cayman Islands-registered Consensus Technologies, Bloomberg reported on November 19. Qiao said that his fund lost US$700,000 because its hedging position on OKEx was abruptly closed at a level that did not reflect market prices.
"OKEx is losing its credibility," Qiao was quoted as saying. "The futures contract became something nonsense, not something we could use to hedge." He added that he would reduce his US$5 million fund's use of OKEx because of the way it handled the BCH settlement.
Bloomberg reported that four other traders also said that they would downsize or end their relationships with the exchange. One of them filed a complaint with Hong Kong's financial watchdog, the Securities and Futures Commission (SFC).
"Due to the upcoming hard fork, strong volatility is observed in the BCH spot and futures markets. We expect an even greater volatility during the hard fork that may cause large-scale impacts, such as cascade liquidation," said OKEx in a statement after the early settlement, apologizing for "the inconvenience it may cause".
This is not the first time OKEx made such a decision. In August, the exchange made a client suffer from losses after it was unable to cover the shortfall from a massive wrong-way bet by one of its users.
As the risks of using unregulated virtual currency exchanges becoming increasingly prominent, Hong Kong's SFC issued a statement on November 1, saying that it would soon allow some cryptocurrency exchanges to apply for licences. The regulator said that it "notes with concern the growing investor interest in gaining exposure to virtual assets via funds and unlicensed trading platform operators in Hong Kong".
OKEx was founded by Xu Mingxing, who goes by Star Xu in the English-speaking world. Also serving as the CEO and founder of Chinese crypto exchange OKCoin, Xu was detained by the Shanghai police station in early September amid a dispute with some investors who claimed to have suffered huge losses on the company's cryptocurrency exchange platform.
OKCoin later dismissed that it was facing charges or investigation for fraudulent practices on its virtual trading platform.