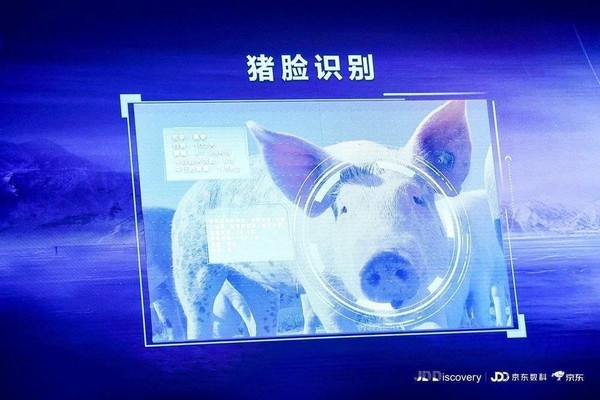 JD Finance, the finance unit of China's e-commerce giant JD.com, has unveiled its stock-breeding intelligent solution yesterday to upgrade the country's pig-breeding industry by incorporating emerging technologies including facial recognition, artificial intelligence (AI) and the Internet of Things (IoT).
The facial recognition technology can track and identify each pig through an overhead camera. Leveraging the AI-enabled analysis, the solution will be able to provide individualized feeding plans for each pig by setting up a database to record their dates of birth, breeds, and monitor their eating preferences, health and growth conditions, said JD Finance at an event in Bejing on November 20.
The intelligent solution is expected to help large and medium-sized enterprises reduce over 30% labor cost and save 8% to 10% expenditure on swine feed. Furthermore, the Chinese breeding industry will be able to chop at least RMB50 billion (US$7.20 billion) costs in general if the solution is widely applied across the whole sector, said the company.
With a aim to realize the so-called "breeder-free" hogs raising solution, JD Finance has launched a husbandry-focused subsidiary brand to test the smart solution on pigs through a partnership with China Agricultural University and the Chinese Academy of Agricultural Sciences, said Chen Shengqiang, chief executive officer of JD Finance, at the same event.
The move is a part of the company's broader plan to reach beyond its fintech business, which includes the introduction of a new brand name, JD Digits, to target four other sectors such as urban computing, agriculture, campus services and digital marketing. The core business of JD Digits will still be finance such as personal finance, corporate finance and fintech.
JD Digits launched the intelligent solution at a time when its homegrown competitors, namely NetEase and Alibaba Group, have entered the industry in recent years. Chinese largest e-commerce firm Alibaba in June had introduced its ET Agricultural Brain, a digital tool aimed at lifting agricultural efficiency, crop yields and income for China's farmers by enabling them to make better use of big data.
In addition, Chinese internet technology firm NetEase had established a pig farm brand named "Weiyang" in 2009 to raise hormone-free black hogs. The pig farm unit had raised RMB160 million (US$23 million) series A financing round from on-demand service platform Meituan-Dianping, Sinovation Ventures and JD.com in April 2017.
JD Digits has already teamed up with four to five Chinese pig raising enterprises to launch joint laboratories, Chinese online publication ThePaper.cn reported, citing Cao Peng, chief technology officer of JD Digits.