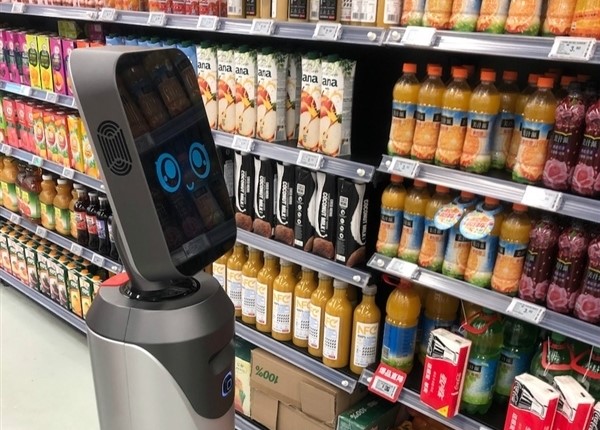 The first Chinese artificial intelligence (AI) powered robotic shopping guide showed up in a Beijing supermarket on November 30, to provide inquiry service, shopping guidance and goods recommendations to customers.
The AI-powered robotic shopping guide, named Baoxiaomi, was jointly developed by Chinese online-to-offline (O2O) retail service provider Dmall Life Network Technology Co. and mobile internet firm Cheetah Mobile.
Baoxiaomi, which literally means "cheetah assistant" in Chinese, can handle a series of tasks including goods introductions and recommendations, and customer reception, inquiries and guidance, said Liu Guihai, partner of Dmall, in an interview with Chinese media outlet BJnews.com.
Instead of being activated with a voice wake-up command, the robot is equipped with the facial recognition technology to automatically detect and greet customers. Its interactive screen allows customers to search for the goods they want and the corresponding information. The robot is also mounted with a laser radar on the bottom to help it avoid obstacles while guiding customers to a specific shopping zone.
Besides the man-machine interaction capability provided by Cheetah Mobile, the robot is also armed with the AI technology developed by OrionStar, an AI affiliate of Cheetah Mobile. OrionStar's AI technology enables the robot with a 360-degree facial recognition capability from both near and far distances after going through some 150 million tests.
"The robot is expected to conduct more multi-dimensional and in-depth interaction with customers after connecting with Dmall's membership, commodity and digital marketing systems," Liu was quoted as saying.
The AI-powered robotic shopping guide was introduced in a Wumart supermarket located in Beijng's northwest Haidian district. As the earliest supermarket to seal a comprehensive cooperation deal with Dmall, Wumart has seen its chain of stores equipped with Dmall's technologies to estimate sales volume, automatically order goods and replenish stock.
The cooperation of the two companies has achieved some initial success. The Haidian district store, for example, recorded a year-on-year profit growth of 113% and a year-on-year sales growth of 70% as of October 2018.
Founded in April 2015, Dmall is an O2O retail service provider offering operation systems to China's traditional retailers. Liu said that Dmall has teamed up with over 40 supermarket operators as of late November. According to its website, the company recorded about 40 million registered users on its supermarket information platform in April 2018.