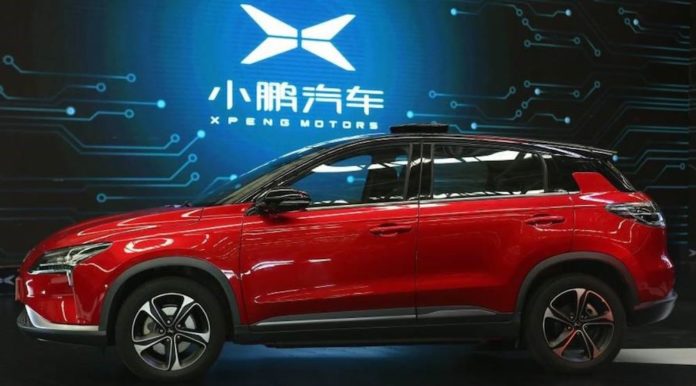 Xiaopeng Motors, Guangzhou-based electric vehicle start-up, has put its mass-produced G3 SUV model on the market on "Double 12", one of China's most celebrated online shopping festivals held by e-commerce giant Alibaba Group.
The G3 is offered in three versions ranges in a price from RMB135,800 (US$19,760) to RMB165,800 (US$24,120) after deducting a subsidy offered by the country.
Xiaopeng G3, designed as an electronic car that resembles a smartphone, has a voice controlled system and automatic parking function. The G3 is also equipped with high-definition cameras on a 360 degree rotating table, which stores photos and video.
Further differentiating itself, the newly introduced self-built smart system called X-mart OS is independent from AliOS in-car operating system developed by Alibaba Cloud, a subsidiary of Chinese company Alibaba Group.
Moreover, giving a simple look, the G3 has an LED headlamp unit, blade wheels, flaming-red brake calipers, floating roof, spoilers and one-piece taillight. The driver's seat is equipped with a 12.3-inch LCD instrument and 15.6-inch suspended touch-control console which enables integrating online music, maps, navigation, real-time weather and vehicle state control.
The XPENG Motors – Haima Intelligent Plant, the company's Zhengzhou-based factory for the production of the G3, has received over RMB20 billion investment from Xiaopeng Motors and FAW Haima Automobile Co.
With an area of ​​about 450,000 square meters and an annual capacity of 150,000 units, the plant has purchased nearly 273 intelligent industrial robots to replace labor in the production workshop, including welding, painting and final assembly, according to an announcement.
Founded in 2014, in addition to Alibaba Group Holding, the electric vehicle maker has netted IDG Capital, Primavera Capital Group, Morningside Venture Capital, Foxconn, GGV Capital, Matrix Partners China and chauffeured car service provider Ucar Group, as its investors.
Xiaopeng Motors has raised RMB4 billion (US$587 million) in a series B+ round led by Chinese investment firm Primavera Capital Group, Morningside Venture Capital and its founder He Xiaopeng in August.
In January, it secured RMB2.2 billion (US$348 million) in a series B round led by Alibaba Group Holding Ltd., IDG Capital and Taiwanese electronics manufacturer Hon Hai Precision Industry Co., Ltd., also known as Foxconn.
Xiaopeng Motors faces competition from multiple emerging electric vehicle makers as Chinese government promotes green vehicles and is mulling a ban on cars that run on fossil fuels.
Shanghai-based automobile manufacturer NIO Inc., and WM Motor Technology backed Baidu, Tencent and Sequoia China., are two mighty rivals from the domestic brands.
In November alone, NIO has delivered 3,089 units of ES8 to users with a cumulative production over 10,000 vehicles, according to a statement, while Xiaopeng Motors' plant still plans to carry out large-scale delivery after having a leap in the manufacturing capacity in March next year.
Xiaopeng Motors has secured only a few hundred orders with a non-returnable deposit in the pre-sale, reported Chinese media 36kr, quoting people in the company.