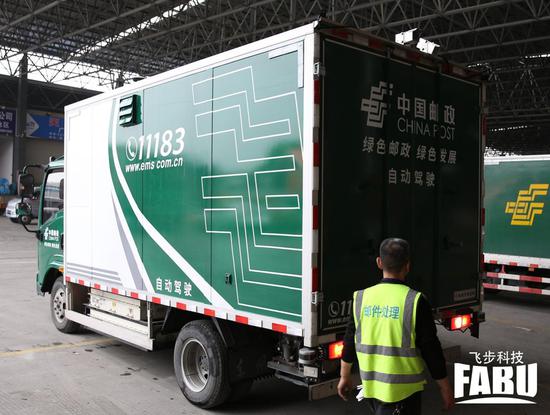 Chinese artificial intelligence (AI)-enabled autonomous driving start-up Fabu Technology debut its autonomous package delivery services in partnership with the country's delivery and logistic firms China Post and Deppon Express, said Fabu in a statement released on Monday.
The autonomous package delivery services have been put into "daily commercial use," said Fabu in the statement. Fabu teamed up with the two delivery companies in November 2018 to begin testing Level 4 autonomous driving trucks in China's heavily-populated Zhejiang Province. Level 4 autonomous driving enables vehicles to handle the majority of driving situations independently although a human driver can still take control when needed.
During the testing, self-driving trucks averaged 40-mile daily round trips along three different routes, with one delivery route passing through 50 intersections, 26 of which were controlled by traffic lights. The autonomous trucks totally drove over 2,200 miles and delivered over 60,000 goods during China's peak shopping season including Christmas and Chinese New Year.
"We are very excited that Fabu technology is at the heart of the first autonomous delivery trucks in China," said He Xiaofei, founder and CEO of Fabu. "China Post and Deppon have also been very pleased with the performance of FABU self-driving technology in their trucks and plan on expanding their autonomous delivery services to 100 routes in the near future."
Fabu Technology was founded in August 2017 to focus on the development of self-driving technology, AI chips, and intelligent scheduling systems, particularly proprietary technologies for advanced driver assistance systems (ADAS) and autonomous driving (AD) vehicles.
The start-up raised tens of millions of U.S. dollars last week in a series pre-A round backed by venture capital firm Qingsong Fund and Beijing-based MSA Capital.
China Post is a state-owned enterprise that operates the official postal service in mainland China. It operates over 39,000 transport vehicles, which travel over a delivery network with 1,926,250 miles of streets and highways. Deppon Express operates 10,000 retail offices across China's 34 provinces.