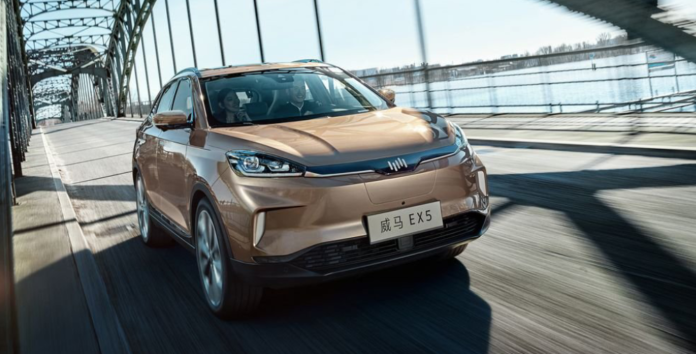 Chinese electric vehicle (EV) start-up WM Motor Technology Co. has secured RMB3 billion (US$446.38 million) in a series C round of financing led by the country's technology giant Baidu, said the company's founder and CEO Freeman Shen Hui at a news briefing in Shanghai on Friday.
The new round, which took the total capital raised by WM Motor to nearly RMB23 billion (US$3.42 billion), also saw the participation of investors like Chinese early-stage venture capital firm Linear Venture and Chinese government-backed Taihang Industrial Fund.
The investment came as the Chinese government ramps up efforts to promote new energy vehicles (NEVs), a sector comprising battery-powered and plug-in battery-petrol hybrid cars to help reduce air pollution and support high technology development. Favorable policies drive up the Chinese NEVs market to become one of the world's largest with 1.25 million NEVs sold in 2018, up 61.7%, as per figures from China Automobile Association.
WM was founded in January 2015 by Shen, a former executive at Fiat Chrysler Automobiles NV and Volvo Cars owner Zhejiang Geely Holding Group Co. The Shanghai-based company primarily designs, develops, and manufactures EVs. The company, which sold the first batch of its debut vehicle model "WM EX5″ in September 2018, said that it has delivered 2,005 WM EX5 cars as of January 2019.
The start-up is one of several Chinese EV makers betting on the benefits of local production to compete with global EV benchmarks like Tesla. Its homegrown rivals include Nasdaq-listed NIO Inc. and Xpeng Motors, backed by Alibaba Group. The Guangzhou-based Xpeng Motors debut its mass-produced "Xpeng G3″ SUV model in December 2018.
Proceeds of the new round will be used in the research and development of new technologies, as well as the improvement of user experience.
Chinese internet giant Tencent and Sequoia Capital China invested in WM in December 2017, without disclosing the financial details. The company also received an RMB1 billion (US$148.82 million) series B round from Baidu Capital and Tencent in November 2017.