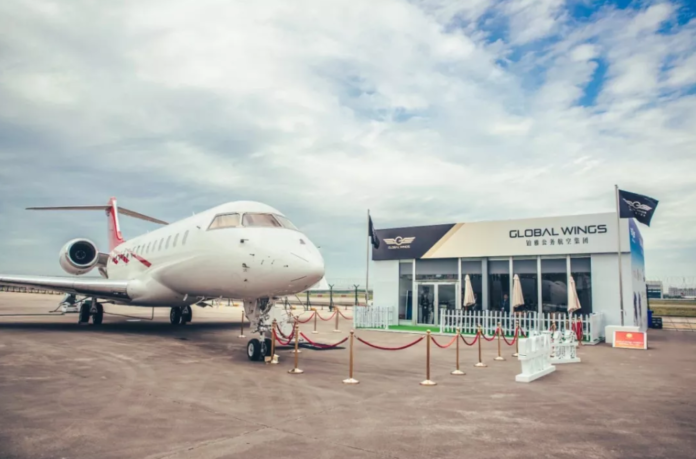 Global Wings Business Aviation Technology, a business aircraft sharing and business air-charter platform in China, has raised RMB1 billion (US$149.38 million) in a new round of financing from Chinese state-owned aerospace and defense conglomerate Aviation Industry Corporation of China (AVIC), said Global Wings in a statement released on Wednesday.
"The new round marks the first time that the Chinese state-owned AVIC injected capital into a business aviation company," said Global Wings in the statement, who also claimed the investment to be the largest in the business aviation industry in Asia. AVIC poured the money into Global Wings through two affiliate companies, namely multi-property trust manager AVIC Trust and investment firm Shanghai Yuanlong Investment.
Global Wings plans to construct "an ecosystem consisted of high-end customers" and promote the consumption upgrade of high net worth clients through the cooperation with AVIC. The company is poised to build "a more diversified, customized, and immersive business aircraft system" to provide one-stop solutions and services.
Founded in September 2015, Global Wings is a wholly-owned subsidiary of Hong Kong Global Wings Aviation Holding. Global Wings primarily provides services including business aircraft sharing, business aircraft chartering, aircraft sales, aircraft financing, aircraft management and fixed-base operator (FBO) construction, immersion travel experience, and high-end medical services. A fixed-base operator refers to an organization granted the right by an airport to operate at the airport and provide aeronautical services, such as fueling, hangaring, tie-down and parking, and aircraft maintenance.
The company has involved in nearly 200 aircraft acquisitions, over 50 business aircraft sales, and aircraft management for more than 100 planes, said Global Wings on its website. Its airplanes have served over 50,000 business aircraft sharing and chartering journeys.
In the next three years, Global Wings will spend RMB1 billion in fields like business aircraft chartering, management, and maintenance, FBO operation and service upgrade, and air freight and airborne logistics.
AVIC Trust participated in a RMB2 billion (US$296.77 million) series D round in Chinese big data solutions provider MiningLamp Technology in late March. The company also joined a £2.1 billion (US$2.73 billion) investment in Global Switch, an operator of large-scale network dense, carrier & cloud neutral multi-tenanted data centers, in July 2018.