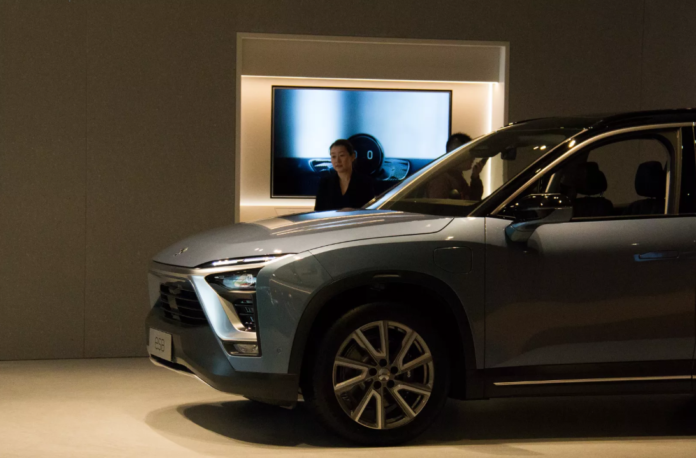 This article by CHRIS UDEMANS originally appeared on TechNode, the leading English authority on technology in China.
Clouds are gathering on China's electric vehicle (EV) front, eroding the allure of the once-attractive proposition for car makers and foreshadowing an industry cull.
China is home to around 500 EV manufacturers battling for a share of the market. But investors are getting cold feet as EV startups struggle with cutthroat competition, shifting regulations, and the need to partner with existing car makers.
Li Xiang, CEO of EV firm CHJ Automotive, warned last month that investors have become more cautious and that a large portion of startups would be forced out of the market. As a result, he said, more than 90% of investors would lose money.
"Everybody is starting to feel the pressure," Tu Le, founder of consultancy Sina Auto Insights, told TechNode. "There's less venture capital money to go around." VCs are having a hard time believing sales forecasts given China's economic downturn, Le added.
The concern comes as Chinese authorities exert pressure on EV manufacturers that could burst the hypercompetitive bubble.
In March, Nio, an EV manufacturer headquartered in Shanghai, abandoned plans to build its production plant in the city. The company said it was opting instead for a government-sanctioned "joint manufacturing" model with a major production partner.
But industry insiders told TechNode at the time that Nio's ambitions for its plant were quashed by China's national planner, the National Development and Reform Commission (NDRC), to combat overcapacity in the auto industry.
Meanwhile, rival EV startup Xiaopeng has struggled to sell its cars. Its G3 SUV went on sale in mid-December. The Guangzhou-based company delivered 1,500 EVs in the first quarter of this year, compared to nearly 4,000 from Nio, and 21,000 from industry leader BYD in March.
According to Neil Wang, Greater China President of consulting firm Frost & Sullivan, the next few years will be tough for EV startups, whether or not they have entered the mass production stage.
Cash issues
As few as 10% of China's roughly 500 EV manufacturers are expected to survive. Three years ago, investment funds flowed freely, creating the situation that exists today. But with China's economic slowdown and EV market saturation, startups are now having trouble raising funds.
Investor caution manifested itself at Nio's IPO last year. The company raised just $1 billion of its $1.8 billion fundraising target amid increasing competition and questions about profitability among EV startups. Nio priced its shares at $6.26, the lower end of its $6.25 to $8.25 range.
Before Nio's IPO, the company warned in its prospectus that costs would increase significantly in the future. Nio said it expected to spend $1.8 billion in the three years after it went public.
Just last month, Carsten Breitfeld, the co-founder of EV startup Byton, left that company with a dramatic flourish—on April 16, he made an appearance representing rival car maker Iconiq at the biggest annual auto industry event in China. His departure was reportedly a result of tension within the company over new funding, which Byton has so far failed to secure.
Byton was reportedly seeking an additional $500 million to fund mass production of its first vehicle, the M-Byte, as well as research and development. Last week, the company announced it would be closing its Series C this summer.
To be sure, these funding challenges aren't limited to the EV sector. The so-called "capital winter" has affected Chinese startups more generally.
According to market research firm Zero2IPO, venture capital raised in 2018 fell by more than 10% compared to the previous year. But internet firms require far fewer physical assets than auto manufacturers. If an EV startup misses out on investment, it could result in missed production targets, which could have a direct impact on sales and the company's bottom line.
Combating glut
Being the biggest EV market in the world comes with its own set of problems. Fitch predicts that EV capacity in China will reach 20 million vehicles per year by 2020—that's 10 times higher than the government's goal of 2 million.
While sales of EVs in the first quarter of 2019 reached 225,000 units, up 120% year-on-year, these cars made up just 4% of the auto market in 2018. Chinese consumers are not buying vehicles as quickly as automakers are producing them—total car sales dropped by around 15% year-on-year in the fourth quarter of 2018, falling from 5.5 million to 4.8 million units.
To address this, the NDRC in January enacted rules to limit new capacity, including measures to "strictly control" any new production capabilities for new-energy vehicles. But these rules make it significantly harder for EV startups to compete with traditional auto manufacturers—and are said to have motivated Nio's decision to abandon plans for its plant.
In 2017, Nio had announced plans to build a production facility in Shanghai's suburban Jiading District. However, its proposal was blocked earlier this year after US rival Tesla broke ground in Shanghai on its first overseas plant, the Gigafactory 3. Nio will now have to wait until Tesla's plant is complete and has reached capacity before it can build its own factory.
NDRC's new regulations state that companies are only permitted to build factories if they have an annual capacity of 100,000 vehicles. Firms are also required to have sold 30,000 cars globally or have made RMB 3 billion (around $445 million) in the previous two years.
David Zhang, an independent auto consultant who has worked with China's Ministry of Industry and Information Technology, said that it is difficult for an automaker to control and optimize its costs if it doesn't have its own factory.
The regulations could have side effects, compounding monetary issues. In a report earlier this year, ratings agency Fitch warned that the tougher rules are likely lead to a cooling-off in EV investment.
Some EV startups are partnering with state-owned auto manufacturers to build their vehicles, Nio included. But these tie-ups can be expensive for smaller companies.
Nio's cars are manufactured by JAC in Hefei, the capital of East China's Anhui province, with the startup paying the state-owned carmaker for every vehicle produced. According to Nio's IPO prospectus, the company is also required to reimburse JAC for any losses incurred as a result of Nio's production. As of July 2018, Nio had paid JAC RMB 65 million (around $10 million) for its 2018 second-quarter losses. The company lost a total of $1.4 billion in 2018.
Creating a car brand is no easy task for EV makers, many of whom are newcomers to the industry. In addition, some are constrained by their manufacturing relationships with brands whose image is not strong, if not downright negative. For example, JAC is known for producing lower-cost vehicles, which contrasts with Nio's luxury brand image. "It is disadvantageous for user perception," Ming Lih Chan, industry analyst at Frost & Sullivan, told TechNode.
Nio isn't alone. Xiaopeng has a similar production agreement with Haima, a subsidiary of the state-owned auto manufacturer FAW Group. Haima manufactures Xiaopeng's vehicles in Zhengzhou, located in Central China's Henan province. Xiaopeng is not publicly listed, and details of that arrangement were not immediately available.
According to Frost & Sullivan's Wang, the financial pressures that EV startups face in building their own facilities are made worse by joint manufacturing policies and regulations that create higher barriers to building plants.
The subsidy issue
China was late to the auto manufacturing game, lagging behind the US, Japan, and Germany in terms of its global footprint. To change this, the Chinese government invested heavily to promote EV production.
In 2009, the government introduced subsidies for EV buyers, hoping to spur growth in the nascent industry. Almost a decade later, China is selling more than half of the world's 2 million new-energy vehicle passenger cars, according to EV-Volumes.
But authorities believe automakers now rely too heavily on these subsidies to sell their vehicles, sacrificing innovation and vehicle development as a result.
In March, the government made drastic changes to the EV subsidy system. By the middle of 2019, electric cars with a range of more than 400 kilometers will have their subsidies cut by 50%. Meanwhile, EVs that are only able to travel 250 kilometers will not receive an allowance.
EV startups will face a choice: They can either absorb the costs or pass them on their customers. Passing on the expenses makes their offerings less attractive. Absorbing them could be harmful or even fatal to their bottom line.
The subsidy reductions are not unwarranted, but they will have a significant effect on smaller companies. "EV startups usually do not have very strong financial strength; subsidy cuts will significantly affect these companies and are expected to bring much more financial pressure to them," said Wang.
Authorities have also implemented a "cap-and-trade" system requiring manufacturers that produce more than 30,000 vehicles to earn credits equal to 10% of the company's output. The move is meant to ensure that traditional gas-powered automakers are also building EVs. Companies that do not earn enough credits can be fined. However, they are permitted to purchase credits from manufacturers that have excess, creating a potential revenue stream for EV startups.
According to Zhang, every point was expected to fetch around RMB 5,000. In reality, they may not be as lucrative as anticipated. "Each point is [now] only a few hundred yuan, which is very different from previous expectations," he said.