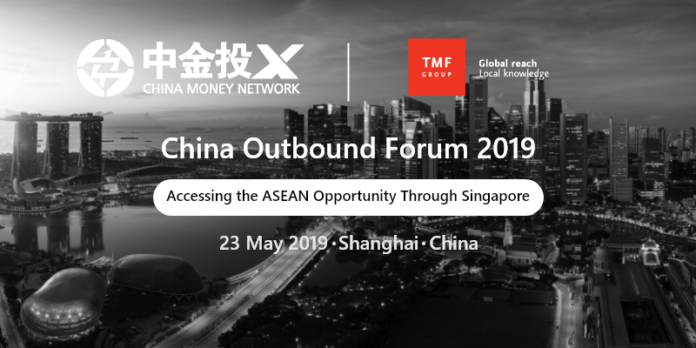 China Money Network, in conjunction with TMF Group, is proud to launch their event and report series: China Outbound Forum 2019: Accessing the ASEAN Opportunity Through Singapore.
On Thursday 23rd May, 2019, in Shanghai we will bring together local and regional corporate leaders, regulators and top dealmakers from multi-national companies to discuss and launch a comprehensive report on accessing the ASEAN opportunity through Singapore as a gateway. Here is a briefing of the report.
Introduction
In volatile times, the countries in the Association of Southeast Asian Nations (ASEAN) remains a relative bright spot and zone of opportunity for Chinese investors searching for growth. With a combined market of over 600 million consumers and a rapidly expanding middle class on China's doorstep, the region is a natural starting point for mainland firms expanding abroad.
This briefing paper highlights the importance of ASEAN members to Chinese companies and outlines how to tap into its vast potential via Singapore, one of the most advanced economies in the world and boasts a longstanding relationship with China.
The key "takeaways," based on proprietary research and contributions from senior executives at TMF Group and Singapore's Economic Development Board (EDB), include:
• ASEAN is expected to see a surge in Chinese investment over the next decade given geographical proximity, a rising consumer class, improving infrastructure and strengthening regional economic and trade ties.
• Singapore will play a pivotal role as a regional gateway for Chinese firms looking to access ASEAN, particularly in high value-added sectors such as advanced manufacturing, technology and healthcare/pharmaceuticals.
• Singapore has a justified reputation for its pro-business policies and favorable regulatory environment, highly skilled workforce and first-rate infrastructure.
• A regional strategy is essential for long-term success, given the varying levels of development and infrastructure and vastly disparate and complex regulatory regimes among ASEAN member nations.
• Support from a local partner with in-depth knowledge of and an on-the-ground presence in key regional centers is critical to navigate sensitive cultural issues and rapidly evolving business environments.
ASEAN in focus amid volatility
The International Monetary Fund (IMF) recently downgraded its global growth forecasts for 2019 and 2020, predicting 70% of the world economy will experience a slowdown. Meanwhile, amid a simmering trade dispute with the United States, China's economy is losing steam, with growth expected to slip to 6.2% this year and next, casting a shadow over outbound investments. The value of China's overseas investments and construction projects fell to US$179.1 billion in 2018, down from US$279.8 billion in 2017.
On the other hand, ASEAN is expected to grow at an average annual rate of 5.2% from 2018 to 2022. Studies project that the grouping will become the fourth-largest single market in the world by 2030,2 with a combined GDP of US$10 trillion, overshadowing India. Regional consumer spending alone is expected to reach US$2 trillion by 2020.
ASEAN is strategically located at the confluence of major trade routes which facilitate the passage of US$5.3 trillion worth of global trade each year. As China looks to sidestep the impact of its trade conflict with the United States, ASEAN has become a primary destination for the country's international expansion. Chinese investment in ASEAN countries could more than triple to US$500 billion by 2035.
Singapore as a regional gateway
As the fifth largest recipient of FDI inflows in the world in 2017, Singapore demonstrates its attractiveness as a gateway and base from which Chinese companies can transact and trade.
In the last three years, an increasing number of Chinese companies have chosen the city-state as a launchpad to expand their businesses regionally and internationally. China's stock of direct investments in Singapore has, on average, risen about 10% each year since 2010. At the end of 2017, the value of foreign direct investment (FDI) by Chinese companies in Singapore hit S$36.3 billion (US$26.84 billion). The momentum is expected to continue.
Singapore offers multiple advantages in the eyes of mainland investors. Singapore's pro-business policies and connectivity within Southeast Asia give it a strong competitive advantage. According to the World Bank, it takes just over six working days to launch a new business in Singapore. In TMF Group's 2018 Financial Complexity Index, which ranks the relative financial (accounting and tax) compliance complexities of key markets globally, Singapore was 85th of 94 economies—only nine other economies were viewed as less complex.
Singapore has a diverse and highly-skilled workforce. The Intellectual Property Office of Singapore (IPOS) ensures the city offers world-class and constantly evolving IP standards. Singapore has developed additional incentives that make it a particularly attractive base for Chinese investors in several leading sectors including:
• Advanced manufacturing: Singapore is building on its reputation for best-in-class manufacturing by developing the 600-hectate Jurong District for advanced manufacturing. Singapore houses the manufacturing facilities of some of the world's biggest semiconductor foundries and chip assembly and test companies.
• Technology: Singapore has rapidly solidified its status as the region's leading technological innovation hub. Alibaba aptly demonstrates the value Singapore brings to technology companies. Through its Singapore-based e-commerce platform Lazada, Alibaba has expanded quickly in Southeast Asia, effectively extending its reach to Indonesia, Malaysia, the Philippines, Thailand and Vietnam within just three years.
• Pharmaceuticals and biotechnology: Singapore's strong digital capabilities and vibrant research ecosystem make it the region's leading center for biomedical sciences. Over 30 of the world's major biomedical science and pharmaceutical companies have established their regional clinical trial centers in Singapore.
Investing in the future: Singapore's policymakers have launched 'RIE2020,' a plan to foster research, innovation and entrepreneurship. The initiative increases the allocation of funds to R&D in digital technology, cell therapy manufacturing and sustainable urban food production. Chinese investors can capitalize on these efforts to build momentum for a wider regional push.
Local challenges require local expertise
Singapore's focus on high value-added industries means many Chinese companies will use the city-state strategically as a foundation to explore other ASEAN markets.
However, potential Chinese investors need to be mindful of issues such as the cost of doing business and the importance of building familiarity with local regulations. Issues confronting China's Huawei Technologies and ZTE Corporation in Europe and Asia indicate that investors need to consider political and cultural sensitivities.
Chinese investors must understand that integration within ASEAN countries remains relatively superficial in many business-critical areas. Taxation systems within ASEAN are far from uniform and there is a vast degree of cultural, political and regulatory diversity among ASEAN's markets.
Vietnam has relatively strict local language and retention requirements. In Indonesia, not paying sufficient attention to the expectations facing local directors can entail serious financial and reputational risks. Recent cases such as the viability of a US$20 billion China-backed rail project in Malaysia, illustrate the importance of managing local relationships, monitoring political or regulatory shifts and structuring potential investments carefully.
Chinese investors should consider using a local partner with an on-the-ground presence throughout the region, and an extensive network of expertise at the local market level to help them navigate regulatory complexities and rapidly-developing compliance environments.
Overall, ASEAN will continue to present one of the world's most compelling growth stories for Chinese investors. Singapore will continue to support the ASEAN ambitions of fast-expanding Chinese firms by serving both as a testbed and jumping-off point for an extensive regional presence; and by contributing to ASEAN's overall integration, economic advancement and capacity for long-term innovation.