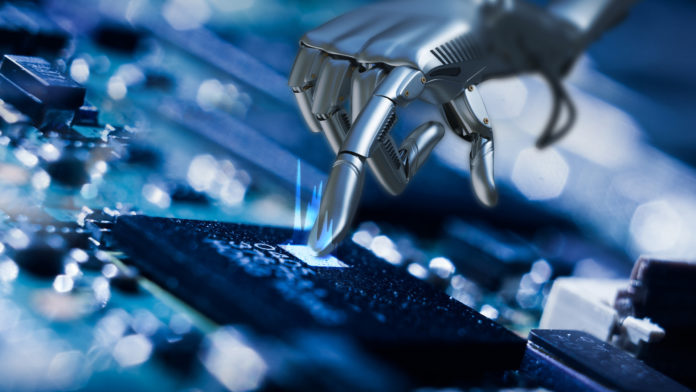 When a YouTube video of a "Bosstown Dynamics" robot, a parody of American robotics firm Boston Dynamics, fighting back after being bullied went viral earlier this month, people started a new round of heated discussions about what will happen when robots turn against human beings.
However, we need not to worry because the robotics industry still has a long way to go before we could see the ubiquitous application of such ultra-advanced robots. The Chinese industrial robot field in particular — despite ranking No. 1 in sales for industrial robots worldwide — only handle a small fraction of factory work, said Shao Tianlan, founder and CEO of Chinese industrial robotics start-up Mech-Mind in a phone interview with China Money Network.
After half-a-century deployment of industrial robots, there is a maximum 5%, or maybe less — between 2% and 5% — of work that robots can do in replacement of human beings in factories, said Shao. He said that over 100 million workers are employed in the agricultural sector in China, compared to only 400,000 industrial robots that are used across all sectors in the country.
The number of industrial robots in China is poised to increase tenfold to 1.8 million units by 2025 under the "Made in China 2025″ plan initiated by Chinese Premier Li Keqiang and his cabinet in May 2015.
But before the industry can realize the ambitious target in the next six years, Shao has observed some challenges while the industry is moving forward, including a higher technological barrier that could bar robotics companies from scaling up, cooler client enthusiasm, and obstacles in realizing economic feasibility.
The "Bosstown Dynamics" video has racked up 7.34 million views as of June 24, 2019.
Mech-Mind, fully known as Meika Mande Beijing Robotics Technology Co Ltd, was founded in October 2018. The industrial robot software developer, currently serving clients like China's Gree Electric and America's Kawasaki Robotics, plans to focus more on marketing and sales in the next 12 months after previously focusing on product research and development. The company said that its sales volume in April 2019 has outnumbered its total sales volume in the past two and a half years.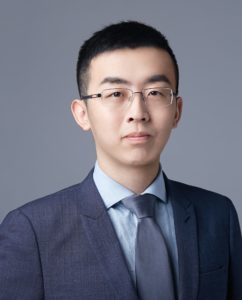 Mech-Mind generates almost 100% of its profits from selling a self-developed artificial intelligence (AI) plus 3D vision system at a price about one-third of the average price offered by its competitors.
The company announced in April 2019 the completion of a series A round and a series A+ round with a total fundraising amount of RMB100 million (US$14.59 million) led by Chinese venture capital companies Qiming Venture Partners and Delian Capital. The company also counts Chinese early-stage venture capital firm China Growth Capital among investors in its previous rounds.
Shao Tianlan serves as the founder and CEO of Mech-Mind. Shao obtained a Master's degree in Robotics from the Technical University of Munich, after he earned a Bachelor's degree from the School of Software at Tsinghua University.
Below is an edited version of the interview.
Q: What do you think is the current stage of the development of industrial robots in China?
A: I'm optimistic about the general development of the Chinese industrial robot field as the deployment of industrial robots is increasing year by year despite such growth was not so good in the first quarter of 2019. But the field has presented a steady growth year-on-year.
However, the growth of the industrial robot deployment rate varies a lot when you look at the conditions of different companies from different areas. For example, the deployment of industrial robots in the automotive industry has slowed down in recent years, compared to the increase in the logistics industry and many other traditional segments where industrial robots were not widely applied. Meanwhile, sales of industrial robots in companies still grow fast, while sales of companies like KUKA met some obstacles in the past one year as we can see from its 2018 annual report.
Q: Why did the growth of the Chinese industrial robot field slow down in the first quarter of 2019?
A: Personally, I think this is because potential industrial robot customers like factories felt insecure about their businesses in the first quarter of 2019. Because the industrial robot is a costly investment, which usually takes companies one to two years to have the investment back. Imagine you consider an investment that takes two years to recover the cost, you have to be positive that your business can last for such a long time, and the investment will not largely affect the cash flow.
My observation is, in the first quarter of 2019, companies did not feel secure about their future so the investment in industrial robot slowed down a little bit. But if you look at the historical data, the number of industrial robots sold in 2008 reduced about 50% compared to 2007. The sales, however, bounced back in 2009 because there was still a rigid demand for such products. I believe the cumulative sales of 2019 will still be very good despite the disappointing performance in the first quarter.
Q: What is the current adoption rate of industrial robots in China?
A: The adoption rate is still quite low yet increasing fast. Over 100 million workers are employed in the first sector alone in China, compared to only 400,000 industrial robots that are used across all sectors in the country. The gap is still large yet shrinking rapidly because many companies don't actually have the choice to stick to human labor due to its fast-increasing cost. That's why I don't think it's possible to continue using human labor after 10 years. Industrial robots are becoming a must.
The problem is, despite they know they will have to shift to use industrial robots, the investment is so large that they need to be positive that their businesses can last longer to recover the cost.
(*Editors Note: The first sector, also known as "the primary sector," involves companies that participate in the extraction and harvesting of natural products from the earth, such as agriculture, mining, and forestry.)
Q: As you said the current ratio is over 100 million human labor versus 400,000 industrial robots, could you please give us a prediction on the proportion after five years?
A: The number of industrial robots used in China increases by about 30% year-on-year. This is a crazy number considering the average seven to eight-year life cycle of each industrial robot. The number of industrial robots in the Chinese market will double in the next three to five years if the growth rate remains to be 30%.
Q: Besides the rising cost of human labor, what are the other key motivators driving industry development?
A: It is not only about the rising cost of human labor, but also about how people view their jobs nowadays. Generations born after 1990, or people who are currently younger than 30, are not keen on hardworking or tolerant of bad working environments like their parents' generation. That is why you may notice that workers are actually paid more in some certain factories than other "decent white collars."
Meanwhile, robots are becoming cheaper as I observed that the price of robots has reduced about 50% in the past ten years to reach approximately US$30,000 for each robot unit given a very rough estimation. (*Editors Note: A robot unit, unlike a robot, is consisted of a few auxiliary devices that need to be combined with other units to perform duties.) Some Chinese robots makers and vendors are developing very cheap robots that are surely not as durable as traditional versions though, they are still durable for a few years — usually around six years without having major failures. If we do the math, the US$30,000 is roughly the average three-year salary of a worker in Shenzhen.
At the same time, Chinese industrial robot companies benefit from three major advantages compared to their counterparts in the United States and Europe.
Firstly, they are closer to customers since China currently has the largest number of human workers, and one of the world's most prosperous manufacturing industries for the production of air conditioners, refrigerators, and TVs, instead of semiconductors and Boeing that are not potential robot products in the United States. Moreover, more engineers graduated in China than those in the United States and Europe combined, which largely satisfied the demand for talent specialized in software, hardware, electronics, and mechanics.
Q: What major trends have you seen in the Chinese industrial robot market in terms of customer expectation versus services and products provided by robots makers?
A: Nowadays, we are seeing demands from everywhere compared to 50 years ago when most robots — nearly 70% — were adopted in the automobile assembly segment. The increasing demands bring a huge challenge, which is also a great opportunity, for robot companies like us because robots are handling much more various tasks rather than just a few jobs in the past decades. They need customization to serve various demands.
However, robot products and solutions cannot scale up if you always spend time to provide individual customization service. So, you need some technologies to power a single solution that can fulfill a variety of demands. That's why artificial intelligence (AI), or more specifically — computer vision and self-learning technology — come in. This is the major trend I have seen.
Q: Could you help me quantify the rough proportion of work that robots can do in replacement of human beings right now?
A: I think it is currently around 5% in maximum after half-a-century development, maybe less, between 2% and 5%, for all the work that robots can do in replacement of human beings in the factory. But the percentage varies from industry to industry. For example, the smartphone manufacturing industry still needs plenty of human workers. Hopefully, the percentage could increase to 20% in the next 10 years.
We also need to consider the percentage from two sides: technological feasibility and economic feasibility. I am optimistic that it will be technologically feasible for robots to handle about 10% to 20% work for human beings in the next 10 years. But I think only 20% of all the robot-applicable work — or 4% of all work — will also be economically feasible by then. The best demonstration is Boston Dynamics, who develops some of the coolest robots in the world but each costs millions of U.S. dollars that only people like Jeff Bezos could afford.
That's why Mech-Mind is developing technologies like AI and machine vision to power robots that are more affordable for customers, and also allow them to have the investment back in about two years.
Q: How can a robot company remain competitive now, and also in the next five years?
A: The competition among robot companies who use advanced technologies like AI has not actually started. We are more focusing on developing our own technologies, and building our own products and solutions at this stage; However, if a company is competing in the mature traditional market and making incremental improvements for robots, the company needs to find ways to grow faster, reduce costs, and provide lower prices.
Q: What is Mech-Mind's major business plan in the next 12 months?
A: Mech-Mind is at a fast growing stage right now. Our sales in April 2019 outnumbered the total sales in the past two and a half years from the inception of the company to March 2019. We expect another sales record in May. The company was mainly building products and testing them with our seed customers in the first two years. In the next 12 months, we need to make a shift from research and development, to focus more on marketing and product deployment. We currently have nearly 100 employees.
Mech-Mind has delivered products to customers like Chinese major appliance manufacturer Gree Electric to help the company assemble air conditioners. We also serve some major robot vendors including industrial robots and robotic automation systems supplier Kawasaki Robotics.
The company also reduced the production cost of the AI plus 3D vision system to less than US$10,000 — about one-third of the average price offered by our competitors. This is currently our main source of revenue. We sold over 100 such systems in April, while most of our competitors are still struggling at the application phase with only five to 10 in sales volume every month.
Q: What are the pain points you have observed while delivering products to customers?
A: Firstly, every customer has a unique demand, which means that robot companies cannot prepare a product that completely matches the unique demand of their potential customer beforehand. But if you don't have a sample product, how can customers trust you and pay for your products — like the chicken-egg dilemma. We need to make our AI technology adoptive and cost-effective in order to solve the dilemma. It usually takes one to two weeks and a very low cost for us to reconfigure a system that matches around 60% demand of a potential customer, so as to convince them to invest more.
Secondly, we also concern about the marketing cost, or how efficient we can convince a potential customer into buying our products. The deployment comes third, which refers to how fast and easy our products can be deployed. Mech-Mind needs around two to four weeks for the deployment process.
Q: What was the first thing you frequently thought of during your previous fundraising process?
A: Many investors are concerned of the market volume, or the total addressable market (TAM) because the industrial robot market is not as huge as the consumer robot market where companies can sell tens of billions of yuan, if not hundreds of billions of yuan worth products per year. People who are not familiar with the industrial robot market may think there is not enough space to generate profits. But I am optimistic because robots nowadays only handle a maximum of 5% human work. If we can exploit another 5%, we can double or maybe more than double the market volume.