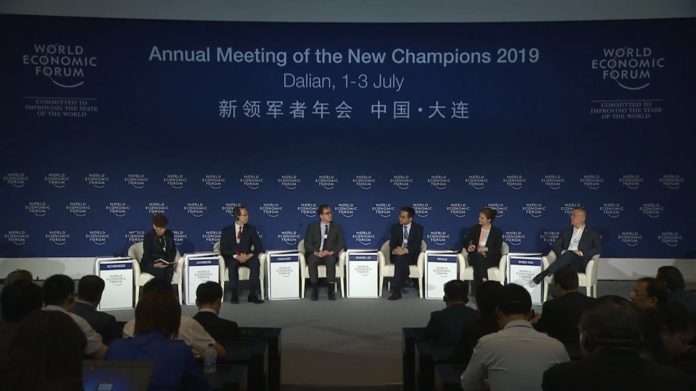 Since Beijing announced to scale back subsidies on electric vehicles (EVs) that made consumer worry about soaring EV prices, China's WM Motor – a new energy vehicle (NEV) developer backed by Baidu and Tencent – believes that the subsidy cuts are nothing but "good news" that will help local EV makers focus more on innovation and improvement of products.
"It is actually good news for companies like WM Motor who can provide good products. If you look at the Chinese EV market in the past, most of them [electric vehicles] were poorly engineered and designed. Consumers purchased such products only for license plates and generous subsidies," said Freeman Shen, founder and CEO of Shanghai-based WM Motor during the World Economic Forum in Dalian, China on Monday.
The remarks came after four Chinese ministry-level authorities including the Ministry of Finance announced tougher subsidy policies in late March 2019, seeking to encourage domestic manufacturers to lift the technological standards of the EV industry and shrink reliance on government assistance. The new policies reduced the subsidies in China by 50% to 60% for NEVs with a driving range of 250 kilometers (km) and above.
'Out Of Budget'
The subsidy cuts were introduced as the Chinese EV market is growing steadily despite the overall economic slowdown and a sluggish sales volume in the broader automobile sector in the country. About 360,000 NEVs were sold in the first four months of 2019, surging by 59.8% from the same period a year earlier, according to the country's top car industry body China's Association of Automobile Manufacturers (CAAM).
At the same time, EVs have become a craze not only in China, but also around the world as a report by Bloomberg New Energy Finance predicts that EVs will make up 57% of global passenger car sales by 2040, with electric buses dominating the sector, representing 81% of municipal bus sales by the same date.
The rising EV popularity, however, did not stop the Chinese government from significantly reducing its financial support due to the authority's concern to help the rapidly maturing industry become more independent. It is also due to another simple reason – the government is running "out of budget."
"Apparently, the government thinks that the development of electric vehicles is the future of China," said Shen, who previously held executive positions at global automotive firms including Volvo and Geely.
The Chinese government put about RMB30 billion (US$4.36 billion) a year to support the EV industry. But the country's EV makers are "growing too fast" that a company like WM Motor, who sold about 1.2 million vehicles in 2018 and will easily hit a sales record of at least 1.5 million in 2019, will not be "affordable" to the government anymore, he said.
"Now the subsidies are gone. Consumers will consider more about product quality [when they make a purchase decision]," Shen said.
Plan Ahead
Besides its efforts to build a more independent and innovative EV industry, Beijing is also abandoning the strict license quotas in a move to boost consumption of eco-friendly vehicles.
The National Development and Reform Commission (NDRC), China's state planner, unveiled in early June that it is stopping local governments from imposing new restrictions on car purchases and canceling existing ones that apply to NEVs. The measures, which would stand between 2019 and 2020, requires local governments to remove the license plate quotas on EVs that are currently imposed in many megacities for the sake of easing traffic jams.
"We should look at the electric vehicle involvement from the overall energy transition perspective. Today it is not just about electric mobility, but also about emissions, carbon price, and climate risks. In order to achieve the Paris Agreement, we must cut emissions from the mobility sector," said Zhang Lei, founder and CEO of Shanghai-based energy technology company Envision Group, at the World Economic Forum. He added that about 60% to 70% of the global oil demand comes from the mobility space.
However, it is uncertain whether the government incentives will be effective enough in pushing the EV industry forward as Chinese EV manufacturers are facing with more practical technological and economic problems before they can really scale up the market penetration rate.
"The life circle of electric vehicles nowadays is close to that of gasoline vehicles. The most important question is: what is still preventing the large adoption of electric vehicles? [The answer is] batteries," said Zhang. The 12-year-old Envision Group also involves in the battery manufacturing business.
About 50% costs for the production of an electric vehicle goes to the battery, said Zhang. Meanwhile, people also have safety concerns that the battery might get burnt and worries that it will not have a long lifespan. The difficulty in finding a charging station is also a problem, he added.
The escalation of EVs is expected to add 6.8% to global electricity consumption by 2040 and drive the demand for lithium-ion batteries, which could lead to a supply crunch, according to the aforementioned report by Bloomberg New Energy Finance.
"When you look at the electric mobility, you have two inflection points: The utility [of electric mobility] increases, and then it increases again at parity, making it already affordable in countries like China. But there is a moment that it [the EV utility] will decrease because the infrastructure growth is slowing down, so there are still major problems like not having enough charging stations and parking lots for electric vehicles," said Charlotte Roule, CEO of ENGIE China, at the same forum. ENGIE China is a subsidiary of French multinational electric utility firm ENGIE Group.
"However, it [electric mobility] still allows us to completely rethink the city in a more sustainable way," she said.