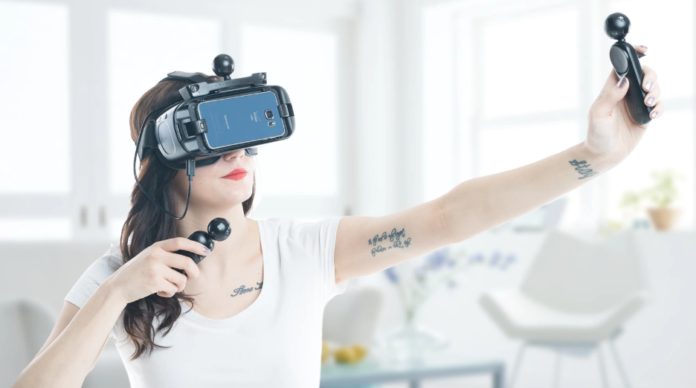 NOLO VR, a Chinese start-up specialized in the field of mobile virtual reality (VR) and augmented reality (AR) interaction, announced on Monday that it has closed RMB100 million (US$14.52 million) in a series A+ round of financing led by Chinese venture capital firm Joy Capital.
Silicon Valley-born venture capital company BlueRun Ventures and Peakview Capital, a U.S. investment division of Chinese private equity investment advisory firm Shengjing Group, also participated in the investment, said BlueRun Ventures in a statement released on its WeChat official account.
"VR display screens will become an important and ubiquitous infrastructure in the 5G era, playing a role [as important] as nowadays computer screens, mobile phone screens, watch screens and automobile screens. About 20% VR display screens will be required to have an interactive function," said Zhang Daoning, CEO of NOLO VR, in the statement. "Many smartphone manufacturers are racing to enter the market. Hence, a massive amount of light, portable, fashionable and cheap VR goggles will emerge in the next one to two years."
NOLO VR, founded in April 2015, aims to create a bridge between the immersive experience of personal computer-based VR and convenience of mobile-enabled VR. The start-up has independently conceived and patented its core technology "PolarTraq™," a spatial positional tracking system that fuses optic, acoustic and radio signals. The firm said that the system is the only positional tracking solution on the market today that can satisfy "single base station, one to many, low cost, low-power consumption, high precision, high frequency, high robustness and large tracking range."
Based on the PolarTraq™ system, NOLO VR developed and launched a six-degree of freedom (6DoF) mobile VR interaction device, "NOLO CV1." The device is a VR hardware product that enables consumers to enjoy the fully immersive VR experience through Android and iOS mobile phones anytime anywhere. Such experience was previously only available with HTC Vive, Oculus Rift, Sony PSVR, and other personal computer-enabled VR. NOLO CV1 was debuted at CES in January 2017 in Las Vegas and put into the market in June 2017.
NOLO VR has so far obtained over 80 domestic and overseas patents, among which 37 are patents for invention, according to the company website. It has formed cooperations with companies including Intel, Chinese e-commerce giant JD.com, multinational tech firm Huawei, internet giant Tencent, Netease, and state-owned telecom operator China Mobile.
Proceeds will be mainly used for the continuous research and development, and commercialization of the company's VR interaction technology.
NOLO VR closed US$10 million in a series A round led by Blue Run Venture Capital with participation from internet-focused venture capital firm Lotus Capital in May 2018. The company also completed a series pre-A round worth tens of millions of yuan in February 2016 and an angel round worth a few millions of yuan in August 2015.