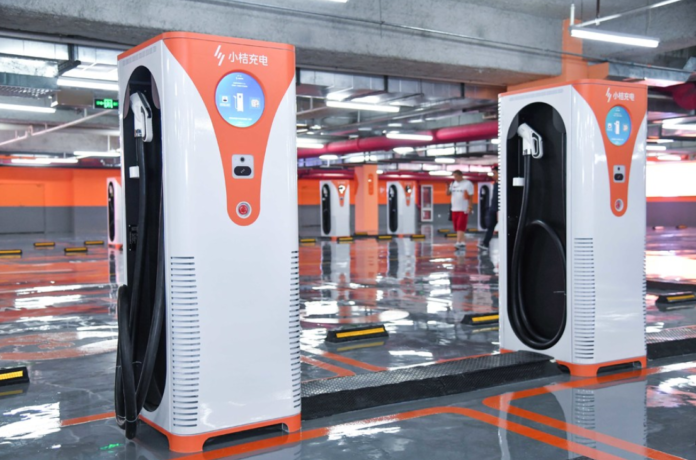 Chinese ride-hailing giant Didi Chuxing announced on Thursday that it has teamed up with British oil and gas major BP to launch a joint venture for the construction of electric vehicle (EV) charging infrastructure in China.
The new venture aims to provide charging services to Didi and non-Didi car owners. Didi Chuxing said in a statement on Thursday that BP has already connected its first charging site in the Chinese southern port city of Guangzhou with Didi Chuxing's open automobile solutions platform, Xiaoju Automobile Solutions (XAS).
XAS was created by Didi Chuxing in April 2018 through the integration of all auto-related services of the company. XAS works with a wide range of automakers, fleet operators and energy partners to provide integrated automobile solutions with charging service being one of the highest priority sectors.
Didi Chuxing injected US$1 billion into XAS in early August 2018. Later the same month, the platform acquired Shanghai-based online-to-offline (O2O) auto after-service marketplace Hiservice to enhance its maintenance and repair services.
"As the world's largest EV market, China offers extraordinary opportunities to develop innovative new businesses at scale and we see this as the perfect partnership for such a fast-evolving environment. The lessons we learn here will help us further expand BP's advanced mobility business worldwide, helping drive the energy transition and develop solutions for a low carbon world," said Tufan Erginbilgic, BP's Downstream chief executive, in the aforementioned statement.
BP, headquartered in London and listed on the New York stock exchange, is one of the world's seven multinational oil and gas supermajors. The company aims to become a fuel provider for both conventional and electric vehicles in its businesses worldwide.
"We look forward to combining our strengths to create a robust EV charging network for China, promote the growth of the new energy automotive industry, and provide better experience for car owners across the country," said Cheng Wei, chairman and CEO of Didi Chuxing.
The joint venture comes as the EV market in China has shown signs of slowing growth after four Chinese ministry-level authorities including the Ministry of Finance announced tougher subsidy policies in late March 2019. The new policies pledged to encourage domestic manufacturers to lift the technological standards of the EV industry and shrink reliance on government assistance by reducing the subsidies in China by 50% to 60%.
Didi Chuxing, founded in 2012, claimed to be the largest EV operator worldwide with over 600,000 EVs running on its platform. The company offers a full range of app-based transportation options for its 550 million users, including taxi, express, bus, designated driving, enterprise solutions, bike sharing, car rental and sharing, and food delivery.
The company concluded an agreement with Toyota in July 2019, in which the Japanese automotive manufacturer agreed to invest US$600 million in Didi Chuxing to expand their collaboration in mobility as a service (MaaS). Didi Chuxing also closed a US$500 million investment from Nasdaq-listed online accommodations and travel e-commerce firm Booking Holdings in July 2018.