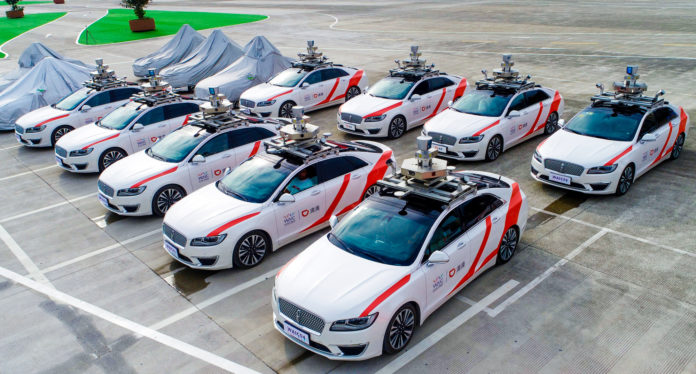 Didi Chuxing, the largest ride-hailing platform in China, has debuted its pilot robo-taxi services that allow passengers to hail self-driving vehicles from the Didi mobile app in Shanghai, the company founder announced at the World Artificial Intelligence Conference on Friday.
The debut came after Didi announced earlier this month to set up an independent entity for its autonomous driving unit to integrate the company's capabilities in the self-driving field and deepen collaboration with partners in the auto industry.
"Giving ordinary citizens access to large-scale, shared autonomous fleets is key to achieving our shared goal of safety, efficiency and sustainability for future cities," said Cheng Wei, founder and CEO of Didi, in a prepared statement.
Didi said that the company was approved by the local government in Shanghai to test its autonomous vehicles on August 28. The company will deploy 30 different models of level 4 autonomous vehicles to provide pilot robo-taxi services in northwestern suburban Jiading District of Shanghai.
Due to the complex traffic and road conditions in the megacity, DiDi will begin the program with a mixed dispatching model. The model will combine both autonomous vehicles and human-driving vehicles for the duration of the pilot robo-taxi project.
Using the DiDi app to hail an autonomous driving vehicle (Source: Didi Chuxing)
The autonomous driving team, launched by Didi in 2016, now has over 200 staff leading a research and development operation covering high definition (HD) mapping, perception, behavior prediction, planning and control, infrastructure and simulation, labeling, problem diagnosis, vehicle modifications, connected car, and security, among others.
The team is developing and testing autonomous driving vehicles in both China and the United States. Didi had been granted to test self-driving vehicles in California in 2018, according to a Financial Times report.
Zhang Bo, CTO of Didi and CEO of Didi's autonomous driving company, said that technology, transportation data, and platform management expertise are the key strengths of the company's autonomous driving program.
"Working with our auto-industry partners, Didi has the potential to become the first business to realize large-scale robo-taxi service in China," said Zhang.
The ride-hailing outlet has formed cooperation with a wide range of companies in the upstream and downstream auto industry. The company joined hands with British oil and gas major BP in early August to launch a joint venture for the construction of electric vehicle (EV) charging infrastructure in China.
Didi secured a US$600 million strategic investment from Japanese automotive manufacturer Toyota in late July to expand their collaboration in mobility as a service (MaaS).
The company also launched a joint venture with Beijing Electric Vehicle, an affiliate of the country's state-owned automaker BAIC Group, in January to work on new energy vehicle and artificial intelligence (AI) projects.