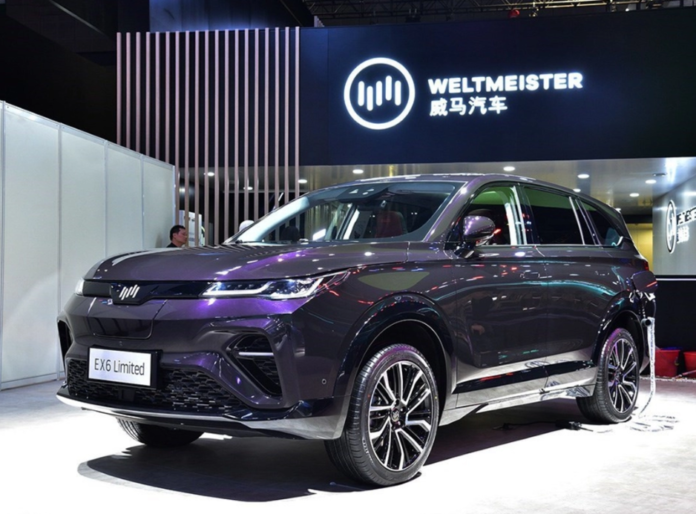 Chinese automotive company Geely has sued four companies affiliated with WM Motor, a Shanghai-based electric vehicle maker backed by Baidu, for "infringement of trade secrets," and demanded as much as RMB2.1 billion (US$293.43 million) for compensation.
The lawsuit, which was filed last year, is set to hold a hearing on September 17, 2019, according to a document recently disclosed by the Supreme People's Court in China.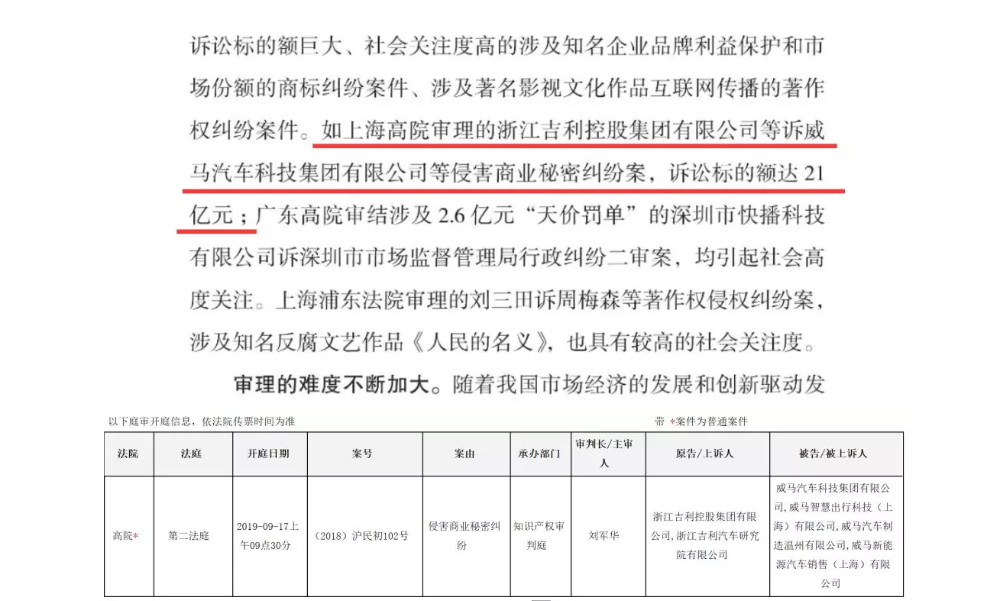 Geely and WM Motor did not immediately respond to China Money Network's requests for comments.
The charge of "trade secret infringement," also known as "trade secret misappropriation," occurs when someone improperly acquires a trade secret, or improperly discloses or uses a trade secret, without consent or with having reason to know that knowledge of the trade secret was acquired through a mistake or accident.
The prosecution from the Chinese traditional carmaker could be targeting the core employees of WM Motor, most of whom once held positions at Geely. The company founder and CEO, Freeman Shen Hui, previously served as the chairman and vice president of Geely, and held senior positions at Volvo Cars, a luxury vehicles brand that Shen led the Geely team to acquire in December 2009.
WM Motor's partner and senior vice president, Xu Huanxin, also worked at Volvo Cars, leading the firm's research and development of new energy technology.
The case has become one of the auto intellectual property rights disputes in China with the highest claimed amount in history. In first such case in China, Baidu in December 2017 filed a RMB50 million (US$6.98 million) suit against JingChi, an autonomous driving start-up founded by its former executive, Wang Jing, over alleged theft of technology secrets.
The Chinese search engine giant eventually dropped the lawsuit in March 2018 after the two companies agreed to cooperate in technology development. JingChi was rebranded as WeRide.ai in November 2018.
WM Motor, founded in October 2015 and headquartered in Shanghai, primarily designs, develops and manufactures electric vehicles (EVs). The EV upstart raised RMB3 billion (US$446.38 million) in a series C round of financing led by Baidu in March, 2019. The new round took the total capital raised by WM Motor to nearly RMB23 billion (US$3.42 billion).
The company is raising up to US$1 billion in a series D round of financing, Shen unveiled in an interview with Bloomberg in July.
The start-up sold the first batch of its debut vehicle model "WM EX5″ in September 2018, and has delivered 8,548 EX5 cars in the first quarter of this year, booking the largest sales volume among its domestic counterparts during the period, according to statistics revealed by the China Banking and Insurance Regulatory Commission. It is expected to introduce a new EV model "WM EX6″ this September.
Compared to the recent robust development of WM Motor, Geely sold a total of 651,680 units of vehicles in the first six months of 2019, representing a 15% year-on-year decline from the same period in 2018. Its total revenue also dropped by 11% to RMB47.56 billion (US$6.64 billion) in the six months as "continued product mix improvement more than offset the pricing pressure caused by weak demand and fierce market competition," the company's interim report indicated.