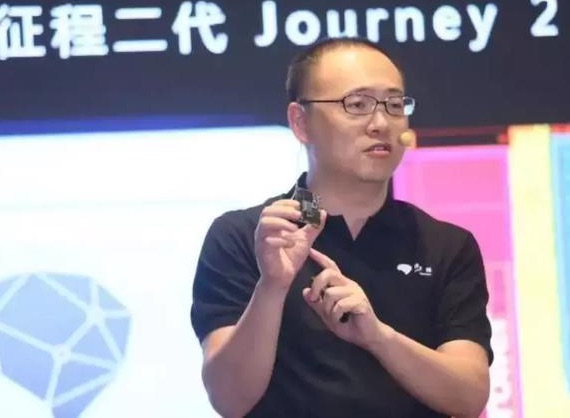 Chinese artificial intelligence (AI) chip maker Horizon Robotics announced on the second day of the World Artificial Intelligence Conference that its Journey 2, the first automotive-level AI chip in China, will officially enter mass production.
The AI chip, which equipped with the company's self-developed high-performance computing architecture BPU2.0 (Brain Processing Unit), is manufactured by TSMC 28nm process and can provide equivalent computing power of more than 4 TOPS, compared with the only 2 watts typical power consumption.
Adhered to the ultimate AI energy efficiency concept, the new chip has a very high computing utilization and effectiveness. Its output of each TOPS AI capability can be more than 10 times of GPU with the same computing power. The chip can also effectively reduce the system cost because it only uses a 32-bit DDR memory, according to the company.
At the same time, the Journey 2 can provide high-precision and low-latency perceptual output to meet the needs of identifying categories and quantities in typical scenarios. The chip's typical target recognition accuracy is over 99% and a delay of less than 100 milliseconds. In terms of identifying items, the new chip can identify more than 60 categories of targets, with more than 2000 single-frame target recognition.
This enables the chip to achieve multi-class AI task processing efficiently and flexibly, real-time detection and accurate identification of multiple types of targets, and fully meet the needs of intelligent driving scenarios such as autonomous driving visual perception, visual mapping positioning, and visual advanced driver assistance systems (ADAS). The chip can also help in the functional requirements of intelligent human-computer interaction such as voice recognition, eye tracking and gesture recognition. It fully reflects the powerful flexibility of the BPU architecture and fully empower the automotive intelligence.
It is worth mentioning that as a chip for automotive applications, the Journey 2 has been developed in strict accordance with the requirements of the automotive electronic reliability standard AEC-Q100. This makes the Journey 2 to be the first automotive-level AI chip in China. The automotive-level chip has to meet the technical requirements of "high security, high reliability, and high stability", and requires a strict process in research and development, manufacturing, packaging, testing and certification, which is a long and difficult product development cycle. This also reflects the strong strength of the Journey 2.
Horizon Robotics revealed that that the Journey 2 was successful tape-out in the early 2019. Before the formal mass production, the company has completed chip function and stability testing, system software development and stability debugging, and cooperated with partners for the product solutions. At present, the chip development kit is fully ready to support customers in product design. Because the chip is fully open and provides a basic development environment from reference solution, open perception result, to the chip and tool chain, so it can provide various levels of deliveries according to different needs of customers.
It is reported that the tool chain launched by Horizon is called Horizon OpenExplorer, which contains a full set of tools for AI algorithm and application development for actual scenarios. All the model training tools, inspection and verification tools, compilers, simulators, and embedded development kits are all unveiled. The tool chain also contains reference model examples and overall software solution to support customers realize product commercialization quickly. The software is the heaven and the chip is the earth, the heaven creates species while the earth creates the future – the "Open" in the name of tool chain shows the full openness of the company.
According to Horizon Robotics, after the success tape-out, the automotive-grade chip has obtained a number of front-mounted fixed-points in multiple directions, such as high-level autopilot, ADAS and multi-mode interaction. It is expected to obtain a double-digit model fixed points from a leading domestic car original equipment manufacturer (OEM) in the automotive industry in 2020.
As for post-installation, the company has also reached cooperation with many well-known travel service providers and operator including Shouqi Car Rental and SK Telecom, to provide a series of intelligent solutions based on Horizon AI chips and algorithm, including ADAS, in-vehicle multi-mode interaction, high-precision map construction and positioning. These solutions have been implemented in batches and will be deployed to tens of millions of cars in the next two to three years.
Horizon's high-performance, low-power, low-cost AI chips and solutions have also been favored by domestic and foreign autopilot manufacturers and operating fleets. There are over 1,000 of L3 and above autopilot vehicles have been deployed at home and abroad, and is expected to reach 10,000 in the next two to hree years.
At the press conference last Friday, Horizon Robotics also introduced in detail the visual perception solution for ADAS market based on the Journey 2 chip. It also released a new Matrix autonomous computing platform which will be officially launched in 2020. The new platform can cover different levels of automated driving needs with higher performance.
The visual perception solution targeting the ADAS market can achieve up to 24 categories of object detection and hundreds of object recognitions with a delay of less than 100 milliseconds. It's up to 60 targets per frame and accurate perception and output of features bring a vehicle and pedestrian ranging speed error much better than the international mainstream program. What's more, the solution is also optimized for the characteristic of roads and scenes in China, such as special lane lines, traffic light countdown detection, and sudden oblique insertion of vehicles.
For the autonomous driving market, compared to the previous generation of Matrix, the new platform released has increased computing power by up to 16 times while reducing power consumption by only 2/3. It can support up to 8 megapixel video. Input, up to 100 meters of pedestrian detection distance, and meet the sensing computing needs of auto-driving fleets and unmanned low-speed cars in multiple countries and different scenarios.
Dr. Wu Zheng, general manager of Horizon's Shanghai Chip R&D Center, also introduced their next chip plan. He pointed out that the company will launch at least two automotive-grade chips in the next 6 to12 months. They also have a very good plan for the "Journey 3": a new generation of visual perception-based System on a Chip (SoC) designed for autonomous driving and domain controllers. It will be a new generation of AI processors that equipped with BPU3.0 and meet vehicle-level standards AEC-Q100 and ISO 26262.
The Matrix autonomous computing platform based on the Journey 3 will have a computing power of 192 TOPS, with the ability to support ASIL D system application scenarios. This will help autonomous driving to realize mass commercialization as soon as possible.
"Horizon Robotics has been focused on the edge artificial intelligence field since its foundation in 2015, and is committed to promoting the breakthrough of the underlying core technology in artificial intelligence. The automotive AI chip is the Evergreen of the artificial intelligence industry, and also the premise of large-scale mass commercialization in autonomous driving," said Dr. Yu Kai, founder & CEO of Horizon Robotics.
"The first automotive-grade AI chip not only achieved zero breakthrough in the development of China's automotive-grade AI chip, but also filled the key link of ecological construction in the domestic auto-driving industry. Horizon Robotics will continue to play the core advantages of the underlying enablers in AI era, uphold the spirit of openness and empowerment, and promote the early arrival of the autonomous driving era," he added.