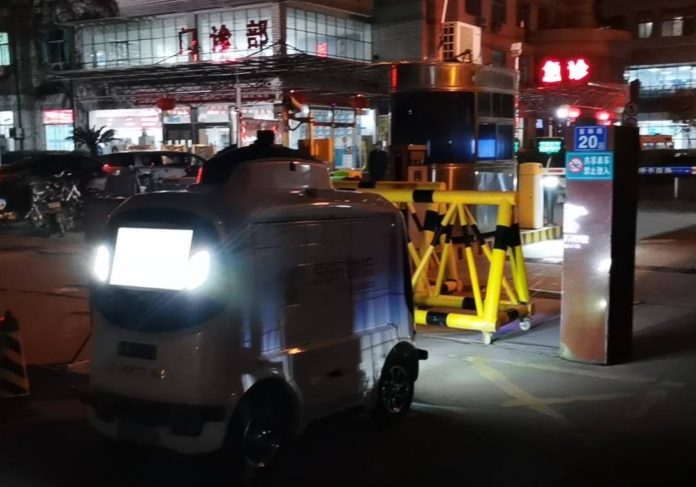 At the critical moment of preventing "human-to-human transmission" of the coronavirus (2019-nCoV), unmanned vehicles have taken up an important role in the fight against the epidemic.
The gap of the demand and supply of freight drivers is so big that green vegetables can not be delivered. To avoid transmission, medical staff need to reduce going in and out of the isolation area in the hospital. At the same time, online shopping has exploded because people are staying indoors. JD.com's home-shopping platform sales rose 540 per cent year-on-year during the Lunar New Year holiday period, while Meituan's average daily order volume was two to three times the pre-holiday level, according to public data. Delivery workers have therefore become a scarce resource.
To avoid transmission, unmanned vehicles have been quietly driven into hospitals in Wuhan and across the country. They are the delivery vans, strong assistant to sterilization, deliverers in the quarantine zone, and the consultants assisting the paramedics.
For example, after the outbreak, JD Logistics deployed two class L4 unmanned delivery vehicles to Wuhan. Technicians in Beijing used cloud platforms to coordinate remote deployment. After the unmanned vehicle arrived in Wuhan, the on-site commissioning was done by local couriers. The vehicles got on the road in two to three days to deliver to Wuhan Ninth Hospital.
According to JD Logistics, 10-20 orders a day come from Wuhan Ninth Hospital, of which 50-70 per cent are delivered by unmanned vehicles. If the cargo volume is too large or the size of parcel too big to fit in the vehicle, they will be delivered by local couriers.
A startup iDriverPlus recalled a group of employees who had stayed in Beijing during the Lunar New Year to urgently refit and deploy a number of unmanned delivery vehicles and unmanned cleaning and disinfection vehicles used to deliver medicine and food to hospitals.
Three days later, three unmanned delivery vehicles donated by the company, which is a partner of Baidu Apollo, were put into service at two hospitals in Shanghai and an isolation zone in Beijing. The vehicles can work continuously for 6-8 hours on a full charge, moving at a human walking or jogging speed (5-10 kilometers per hour).
Since February 7, Shenzhen Unity Drive Innovation Technology's unmanned delivery car began to work in Shandong. Each car can deliver roughly 1,500 pound of vegetables and fruits per trip. The unmanned delivery vehicle can be used in logistics warehouse and wards, wards and garbage stations, supermarkets and residential areas.
On Feb. 4, Baidu Apollo's partner, Neolix, sent two unmanned logistics vehicles to Wuhan in preparation for the epidemic prevention work. On February 6, the unmanned logistics vehicles and unmanned cleaning and disinfection vehicles arrived at the isolation zone in Beijing, where they can be used for independent cleaning and disinfection and food delivery services.
A company in Qingdao has donated nearly 30 self-driving spraying robots to hospitals in Qingdao, Rizhao and Jinan, reducing the number of times health care workers enter and leave the isolation zone. On the morning of February 12, three unmanned aerial vehicles arrived at a residential area in Shanghai to sterilize about 10,000 square meters in one hour, under the coordination of the high-precision Location Service Company, Qianxun Spatial Intelligence Inc. Each drone sprayed 10 to 15 liters of disinfection liquid at a time.
But most robots still require lots of remote control and testing. The sensing and navigation capabilities are also not perfect, especially in crowded hospitals. The most realistic area is perhaps simple delivery in and out of isolation zones, which helps medical staff reduce chance of getting infected.
Experts believe that most robots will eventually become standing toys with little use. The original robot design did not take into account many special situations in the epidemic, such as robot-human interaction, the protection of special items. So despite the high hopes, the real world application of these unmanned vehicles still faces challenges and practicality.