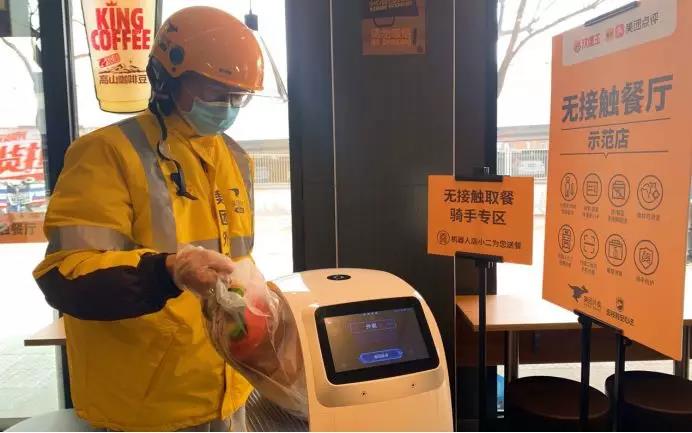 Keenlon, a Shanghai-based commercial service robot developer, has completed a series B round of financing at the end of 2019. This round was led by Source Code Capital, participated by Walden International and Shanghai STVC Group. Previous investors Yunqi Partners and iVision Ventures also poured money into the new round. The total financing amount was RMB 200 million (US$28.8 million).
The latest proceeds is mainly used to expand the domestic catering market and overseas markets, as well as the horizontal development of new business units such as healthcare.
Earlier in 2016, Keenlon had raised tens of millions of RMB in series A round from Yunqi Partners and Green Pine Capital Partners. In February 2019, it completed the Pre-B round of financing from Seekdource Investment and previous investors.
As a director of Keenlon, Hao Yiwen at Source Code Capital said: "In the context of shrinking labor supply of suitable age and the continuous maturity of robotics, service robots have been able to bring good enough investment returns to merchants. Keenlon's products have verified its stability and economy in a large scale in the catering industry with complex scenarios. I hope that this financing can help the company further expand its global sales network and bring smarter and more convenient products to merchants. "
There are many players in the field of unmanned delivery robots. Most of the companies on this track are in the round of A or B financing, and are looking for large-scale commercial applications. Keenlon focuses on the development and production of indoor unmanned distribution robots. The main products can be applied to various scenarios such as restaurant distribution, hotel service, medical distribution, express/ takeaway distribution, etc. At present, it focuses on the dining scene represented by hot pot.
Li Tong, founder and CEO of Keenlon, mentioned in an interview that Meituan-Dianping data shows that there are more than 10.39 million restaurants in China, indicating that the domestic catering market has a large volume and high demand for delivery, and Keenlon's unmanned delivery robot is mainly effective in reducing the labor costs that catering companies need to pay.
Keenlon's products use leasing as the main payment model, and the proportion of leasing has gradually increased. The rent of a catering robot is RMB3,000 per month, and the lease contract is 1-2 years.
Talking about why leasing was chosen as the main monetization method, Li Tong said, "The industry will eventually move towards leasing, and sales are only short-term and temporary." The reason is that in addition to customers needing a real and stable product, what is more needed is reliable technical service support and efficient operation management. At present, the renewal of leased products is in good condition. It is believed that the renewal rate will continue to increase in the future.
In addition to catering scenarios, the company is also actively expanding other application scenarios. Healthcare is a scenario that service robot companies have also tried in recent years. The outbreak of novel coronavirus has also helped online education to a certain extent.
The epidemic has promoted the implementation of Keenlon unmanned delivery robots in medical scenarios. The main service scenarios include medical supplies in the epidemic area, meal distribution for doctors and patients, and emergency applications in epidemics, such as replacing human for disinfection and cleaning. At the same time, in order to respond to the sudden epidemic situation, Keenlon urgently developed medical robots such as disinfection robots to accelerate its investment and use in medical scenarios.
As the earliest institutional investor of Keenlon, Chen Yu, Yunqi Partners' managing director said: "The popularity of service robots is irreversible, and it will gradually replace humans to complete highly repetitive physical labor. Keenlon robots will be distinguished by their outstanding performance. Its product performance and high cost performance have a place in it, which is why Yunqi Capital has been accompanying and supporting the company. "