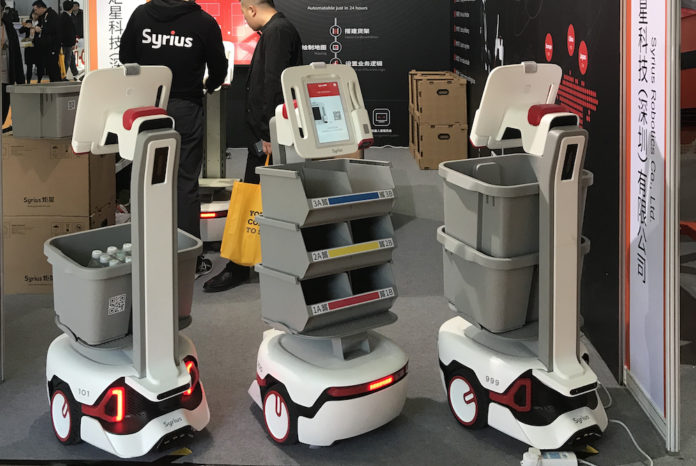 Shenzhen-based logistics robot startup Syrius has raised more than US$10 million in a series A+ round of financing, led by Sequoia Capital China, with participation from Zhencheng Capital, Tryin Capital and Japanese investment firm PKSHA SPARX Algorithm Fund. Existing investors FutureCap and Zhen Fund also participated in the round.
Syrius was founed in May 2018 by Adam Jiang with work experience at Motorola and Nvidia, Luo Xuan who was previously at Alibaba Robotics, and Liu Junbin, a PhD of electrical engineering and computer sciences. The company mainly provides AMR (autonomous mobile robot) software and hardware solutions for the warehousing logistics market.
Syrius took six months to design its first model of AMR, and in another seven months shipped the first batch of products to a client in Japan. This feat was achieved with the help of two VC financing deals: an angel round led by Future Capital and a pre-A round led by Zhen Fund in the span of eight months.
At present, AGV (automated guided vehicle) equipment is still the frequent used robot technology in Chinese warehouse logistics automation. These robots move around the warehouse guided by marked lines or wires on the floor. AMRs offer a more flexible solution to the product movement problem at warehouses. More importantly, AMRs are more economical. Unlike AGVs that require installing infrastructure or redesigning the warehouse for deployment, AMRs can be deployed directly to any warehouse at any scale.
According to the data provided by Syrius, the global demand for warehousing robots is in a period of rapid growth. The market was only US$1.1 billion in 2017 and will reach US$7 billion in 2022, of which AMR demand exceeds 50%. The penetration rate of automation equipment in the domestic warehousing and logistics market is low, and it is still in the early blue ocean stage. Enterprises are sensitive to costs, and the outbreak period will be in the next 1-2 years. Therefore, Syrius chooses to open the overseas market first to accumulate experience and brand advantages. After the domestic market grows further, it will switch back to rapid domestic expansion.
The company's team currently has 70 employees, of which 80% are technicists. The core team members come from Alibaba, Huawei, Amazon, DJI and other technology companies. The proceeds of the new round will be mainly used to further expand R&D team, overseas market and construction of new product lines.