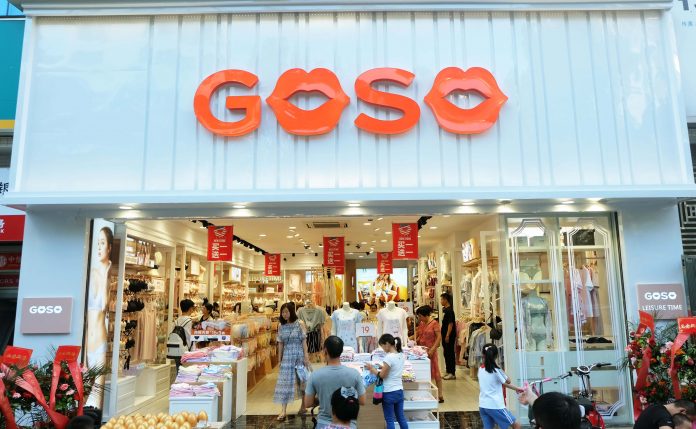 Chinese lingerie brand GOSO has raised nearly RMB100 million (US$14.12 million) in a series A round financing led by K2VC.
Founded in 2014, GOSO starts from the lingerie category, focusing on the development, design and sales of comfortable and cost-effective lifestyle products. Since its establishment, GOSO has operated more than 1,700 outlets, and increased more than 300 new stores during the epidemic.
Yuan Qiyu, the founder and CEO of GOSO, has more than a decade of experience in the FMCG (fast moving consumer goods) industry, including eight years of experience in the marketing department at P&G, and former head of marketing department at Chinese famous lingerie brand Cosmo Lady. The firm's core team also has a number of senior practitioners with rich experience and resources in e-commerce, new retail, supply chain operations, product development and other related fields.
In Mr. Yuan's view, China's sinking market (second- and third-tier cities) have a population of 1 billion. It's a huge consumer base, and the market space for lifestyle clothing brands can reach one trillion. At the same time, the penetration rate and concentration of brands in the sinking market are still at a low level. Comfortable and cost-effective lifestyle prodcuts are scarce, and traditional brands cannot meet the needs of emerging users.
Wang Shiyu, managing partner at K2VC, commented that GOSO is expected to become one of the most competitive consumer brands in the sinking market. In terms of brand perception, product development, supply chain management and offline channel operations, the core members of the team have complementary capabilities, international forward-looking perspective, profound consumer insights, and strong execution capabilities. They will bring years of industrial experience and resources to target markets and groups. K2VC is optimistic about the huge consumption potential stimulated by the increasing demand for brands and quality in the sinking market, and looks forward to jointly promoting the brand and digital innovation in the sinking market with GOSO.
After this round of financing, GOSO will accelerate the expansion of channels, continue to increase investment in product research and development, operating efficiency, and the construction of a data center.