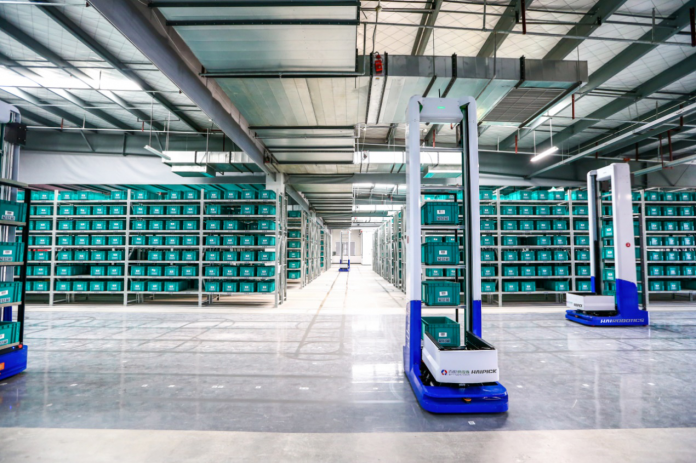 Chinese logistics and warehousing robotic technology company Hai Robotics recently completed a series B round of financing led by Source Code Capital, with participation from existing investors Walden International and 01VC. With the series A round from Walden International and Best Logistics completed last year, the total amount of two rounds of financing exceeded RMB100 million (US$14.66 million).
Founded in 2016, Hai Robotics focuses on R&D, design and program planning of autonomous case-handling robotic system. Its goods-to-person systems include KUBO robot HAIPICK, software system HAIQ and workstations, which can realize material picking, handling and sorting, and serve logistics warehouses and factories that require flexible automation transformation.
Shenzhen-based Hai Robotics realized the application of a single-case robot system in 2017, and the commercial application of multi-case robot in 2018. At present, KUBO robots have been used in 3PL, shoes and clothing, e-commerce, electronics, manufacturing, healthcare and other industries.
According to Chen Yuqi, CEO and founder of Hai Robotics, the design concept of KUBO Robot System can be summarized as "affordable" and "easy to use". With KUBO, the automation transformation of a warehouse can be completed within a week, and the entire system can be launched in a month. The KUBO robot picks and handles multiple bins or cartons at one time, thereby increasing the work efficiency of workers by 3-4 times. Besides, the KUBO robot can be applied to a 5-meter shelf, which can increase the warehouse storage capacity by 80%-130%.
Hao Yiwen at Source Code Capital commented: "Hai Robotics has a deep accumulation in goods-to-person solutions, and Kubo has also been recognized by leading customers in the industry in the past two years. We believe that the case-handling robot has advantages in storage capacity, delivery efficiency, and transformation cost, and it is a comprehensively cost-effective solution. We are optimistic that the team can continue to innovate and bring greater value to customers."
In the next step, Hai Robotics plans to establish multiple regional sales and technical service centers, and cooperate with global system integrators and agents to form a global marketing network and technical service system. In addition to case-handling robots, the company will also combine robotic arms, packaging robots, laser navigation forklifts, conveyor belts and other technologies to design flexible, efficient, and customized solutions for different customers.