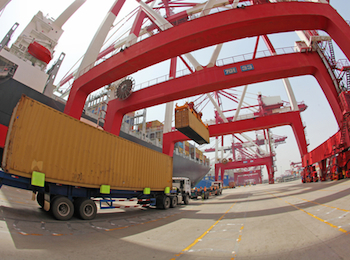 The global commodity integrated service platform Xingyun Group has recently completed US$200 million in a series C financing.
This round of financing was jointly led by Taikang Life Insurance, Highlight Capital and Zhongyuan Capital.
Morningside Ventures, Yinshan Capital, C&D Xinxing Investment, Singnah Capital, Pansheng Assets, and existing shareholders Matrix Partners China and Shuyuan Capital continued to invest in the company.
It is reported that this round of financing funds will be mainly used for the in-depth expansion of the industrial chain, the improvement of supply chain capabilities, and the supplement and expansion of the team.
Prior to this, Xingyun had received RMB300 million yuan in a series A financing led by GSR United Investment, tens of millions of US dollars in a series B financing led by Matrix China, and US$100 million in a series B+ financing led by the National SME Development Fund.
In 2020, Xingyun has upgraded its brand. Under the new group structure, Xingyun provides one-stop, full-link global commodity integrated services, including brand services, Xingyun global exchange supply chain management, middle-station system services, and supply chain, trade financing services and cross-border logistics services.
The company is now positioned as a global commodity integrated service platform, and domestic brands already account for 30% of the supply chain.
The firm is optimistic about the rise of Chinese consumer brands, and Xingyun will increase investment in this area in the future, striving to increase this number to 50%.
The platform currently covers more than 2,000 brands in more than 40 countries and regions around the world, including LG, Lancome, Swisse, LAMY. The product categories include maternal and child products, beauty and personal care, food and health care, daily necessities, trendy light luxury. The total number of SKUs exceeds 150,000.
On the upstream side, Xingyun provides omni-channel distribution services for overseas brands; at the downstream side, Xingyun has served 160,000+ online and offline customers so far.
In addition to serving domestic retailers with global supply chain needs, the company also helps overseas retail groups such as YaIsetan to reach more consumers.
After 5 years of rapid development, the current full-process cross-border supply chain service built by the group has formed a closed loop of upstream, midstream, and downstream transactions, which can help brands and imported retail channels to efficiently connect, simplify transaction processes and exchange resources, and gradually extend its capabilities to the supply chain of consumer goods at home and abroad.
After this round of financing, Xingyun will focus on two directions: on the one hand, provide more value through deepening the industrial chain, expand upstream categories and transaction scenarios, and continue to build high barriers to competition; on the other hand, through extended supply chain comprehensive services ability to improve gross profit and profit margin.
In the long run, the company hopes to build a global e-commerce supply chain company and continue to upgrade new channels of cross-border products.
The team now has more than 700 people. At present, the company has set up dual headquarters in Shenzhen and Hangzhou, and has established holding companies and domestic and foreign branches in Guangzhou, Shanghai, Hong Kong, Germany, Japan, Australia and other places. It has established more than ten cross-border e-commerce pilot cities across the country.