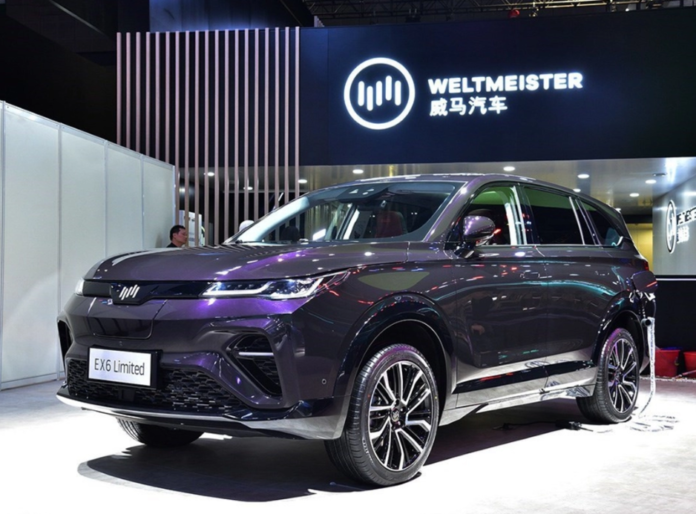 After 4 vehicles burnings in one month, WM Motor recalls nearly 1,300 vehicles
Chinese EV maker WM Motor decided to recall 1,282 related problem models, after a WM EX5 recently exploded after a fire accident in Beijing. The company has had four fire accidents in October.
WM Motor's battery suppliers are relatively diversified. In addition to the leading company CATL, Lishen Battery, Yuliang Battery, ZTE High Energy, and Tafel New Energy are also on WM Motor's purchase list.
The company stated that the battery cell supplier mixed impurities during the production process, resulting in abnormal lithium evolution in the power battery. In extreme cases, it may cause a short circuit of the battery cell and cause a risk of fire.
The battery cell manufacturer in question is ZTE High Energy Technology Co., Ltd., a 100% holding subsidiary of ZTE Corporation, and its business scope includes the production and sales of lithium-ion batteries and other types of new energy batteries. Official information shows that currently ZTE High Energy's customers include Chery, Hanteng, Geely, Zotye.
Byton has been rebranded as "Shengteng Technology" and is restarting operations
Byton was established in 2016 and is one of the earliest EV companies in China. The company's first mass-produced model M-Byte has not yet been mass-produced and suspended operations due to liquidity problems earlier this year.
During the suspension of operations, most of the employees in China will be on standby, and a small number of employees will stay on duty (less than 100) to maintain the company's most basic functions.
On October 1, Byton announced the establishment of Shengteng Technology as the new brand, and aims to "restarting the car manufacturing". It reportedly plans to raise RMB2 billion yuan to accelerate the mass production of M-Byte. FAW Group and other shareholders are actively working on this financing.
Yunmi unveils smart home products: smart refrigerators, washing machines, and more
Yunmi unveiled a number of smart home appliances, including a refrigerator equipped with a 21-inch large screen. This product is aimed at the pain points of middle-aged and elderly people who cannot see clearly when using TikTok. Users can use TikTok while cooking; the large screen also has built-in recipes, entertainment content, users can even read news and shop on the refrigerator.
Yunmi also released a seaLink 5G Fixed WiFi6 router and HomePad Yunmi 5GIoT super switch. Among them, Yunmi seaLink 5G Fixed WiFi6 router is equipped with Qualcomm chip and supports WiFi6 network technology. The number of connected devices can reach 200+. Different versions start at RMB399 yuan; HomePad super switch is a platform that can realize interactive control of the whole house, support voice control and adjustment of multiple scenes.

ByteDance launches independent business brand "Dali Education"
Over the past few years, Bytedance has continued to explore in the field of education. In 2018, ByteDance launched GOGOKID, a one-to-one foreign English teacher product. In 2019, ByteDance's education business department was established, headed by Chen Lin, and launched the enlightenment AI class application Guagualong and other products. Today, it established an independent brand for its education business and combined all of its educational products under one brand.
Ant Group curbed global ambitions before IPO
China's Ant Group has been cutting funding and staff support to many of the overseas e-wallet firms it has invested in as it pivots away from earlier ambitions of becoming a global payments leader, according to Reuters.
The shift in strategy by the Alibaba-backed fintech giant came late in 2019, brought on by a change at the helm and a reworking of priorities as it planned for its IPO and grappled with regulatory challenges at home.
It has made large cuts to the hundreds of millions of dollars it spent each year to subsidize user growth at overseas e-wallet firms offering digital payment and other financial services, and is repatriating Ant staffers.This year, Ant also quietly halted an ambitious plan to create a global payments infrastructure based on a common QR code system connecting all the e-wallets it has invested in.
Tencent Cloud launches the first self-developed H265 hardware encoder Yaochi
On October 29, Tencent Cloud announced the official launch of the H265 hardware encoder Yaochi V500. It is understood that, as Tencent Cloud's first self-developed H265 hardware encoder, Yaochi V500 can fully meet the needs of cloud gaming with low latency and high throughput.
Under the same image quality, it can achieve a 15% reduction in bandwidth usage. If it is at the same bandwidth, the picture quality can be greatly improved. It is understood that Tencent Cloud's self-developed H265 hardware encoder Yaochi V500 will be the first to be used in Tencent's self-developed cloud gaming, live broadcast and other ultra-high-definition streaming services, and will gradually be opened to customers on the cloud.
Hello Chuxing launched a new business "Hello Taxi" and officially entered ride-hailing market
On October 29th, Hello Chuxing held a ride sharing user communication meeting in Guangzhou. Jiang Tao, general manager of the Hello Chuxing's Puhui unit, revealed that it launched a low-key new business "Hello Taxi" and officially entered the field of online car-hailing. According to reports, the ride-hailing business has obtained online car-hailing licenses in many places, and has started recruiting car owners in some cities, and has recently launched trial operations.