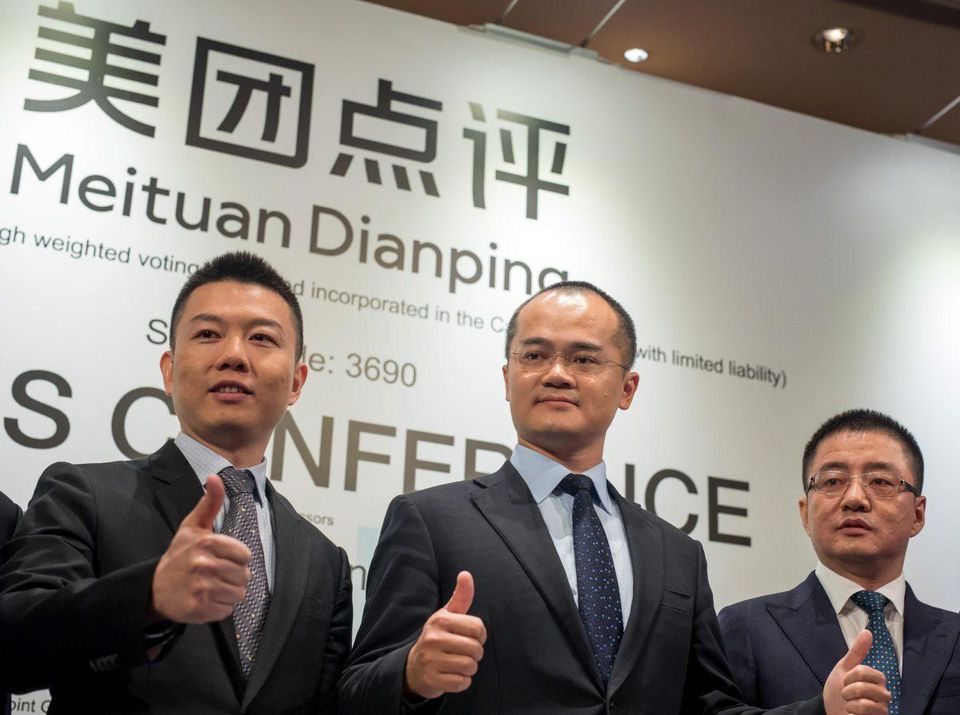 Meituan mulls A-share second listing
Meituan is considering an A-share secondary listing next year. According to sources, Meituan has held preliminary discussions with consultants on selling shares in the Mainland, and is considering using the GEM as a secondary listing site.
At present, this work is still in its early stages, and Meituan has not yet made a final decision on the timing and scale of the potential stock issuance.
On September 20, 2018, Meituan was listed on the Hong Kong Stock Exchange with an issue price of HK$69. Meituan raised approximately US$4.2 billion from this IPO. Since the completion of the IPO in Hong Kong, Meituan's share price has increased by more than three times in two years, and most of the increase occurred this year.
Although Meituan's catering, takeaway, and in-store liquor businesses suffered heavy losses in the early days of the pandemic, as the pandemic gradually came under control, Meituan's business quickly recovered and achieved growth.
The second quarter financial report of this year showed that Meituan's total revenue in the second quarter was RMB24.72 billion yuan, an increase of 8.8% year-on-year. Net profit was RMB2.21 billion yuan, a year-on-year increase of 152%.
Pinduoduo reaches new share price highs
On November 3, Pinduoduo's share price rose sharply, breaking through US$100 in intraday trading, with a market value of nearly US$120 billion, a record high.
Goldman Sachs upgraded Pinduoduo's rating to "Buy" and raised its target price from US$73.1 to US$123. Goldman Sachs predicts that in the third quarter of this year, Pinduoduo's total turnover will reach RMB421 billion yuan, a year-on-year increase of 69%, higher than market expectations, and monthly active users are expected to exceed 700 million.
According to Goldman Sachs analysis, Pinduoduo currently accounts for more than 40% of the time spent by Chinese e-commerce users. Pinduoduo's community group buying business will further increase user stickiness and purchase frequency, and seize more usage time.
According to Pinduoduo's second-quarter financial report, as of June this year, Pinduoduo had 680 million active users for many years, with an average monthly active user of 560 million, a year-on-year increase of over 40% and 50% respectively.
Bytedance to exceed 100,000 employee count
Bytedance has recruited nearly 30,000 employees in China this year, and plans to open another 10,000 jobs before the end of the year. After the recruitment is completed, the total number of employees of Bytedance will exceed 100,000.
At the beginning of March this year, Bytedance said that by the end of this year, its global employees will grow from 60,000 to 100,000. According to the above recruitment situation, only Bytedance's number of new employees in China this year has achieved such goal.
ByteDance also officially opened its Beijing Fangheng Fashion Center as a new office location on November 2nd, and a team of thousands of people has already settled in. The office building is Bytedance's first self-owned office building, and the purchase cost is about RMB5 billion yuan. In addition to Fangheng Fashion Center, ByteDance will also invest RMB10 billion yuan to launch a new round of office building site selection in Beijing.
Tencent Music signs contract with PeerMusic
Tencent Music and PeerMusic, the largest private music copyright company in the United States, jointly announced an exclusive cooperation agreement to promote and distribute PeerMusic copyrighted music in China.
According to the agreement, Tencent users can access PeerMusic copyrighted music through Tencent Music and other platforms, including Kugou Music, Kuwo Music and Quanmin K Song.
PeerMusic is one of the world's largest independent music distributors. It owns a large number of song copyrights of popular singers, including Jimmy Rodgers, Buddy Holly, The Rolling Stones, Rihanna, Bi Angsi (Beyonce) and Justin Bieber (Justin Bieber) etc.

Ant Group says it cannot refund all shares purchase funds at once
Ant Group announced at noon that the first batch of fund returns will be those attempted share purchases that were rejected. The company cannot return all funds at once. The company also believes that it is not in the interest of the applicants to withdraw the refund arrangement and return the application money at a later date. Therefore, the refund of shares will be made in two batches as described.

Nike China will lay off 400 employees
Nike China plans to lay off nearly 20% of its overall workforce and about 400 people. It will be carried out in phases. The first phase began last week, with Beijing and Guangzhou regional offices. The Shanghai headquarters will not be affected temporarily. Also many executives may leave.
According to Nike's previous layoff plan announced in July, the total cost of dismissal can reach up to US$250 million. As of May, Nike has 75,000 employees worldwide, which is 1,600 fewer than the same period last year. CEO John Donahoe said that the main reason for the global layoffs is that Nike continues to "accelerate Consumer Direct Acceleration." By overweighting its digital business, Nike will shift its sales focus to online platforms, thus reducing the number of employees in physical stores.

Shenzhen Metro's fully automatic operation test center starts
On the morning of November 4th, the Shenzhen Metro fully automatic operation test center officially started, marking Shenzhen move towards the era of intelligent urban rail. The test center under construction this time will be built next to the test line of the Shenzhen Metro Shenyun Depot. It is scheduled to be put into use in June 2021, with a construction area of approximately 4,200 square meters. After completion, it will support the completion of the highest-level GoA4 fully automatic operation subway line for Shenzhen Metro.