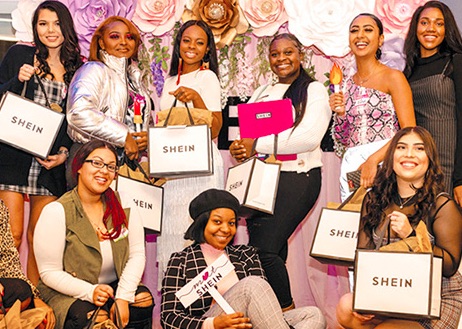 Consumer brands created by Chinese companies – not Nike shoes or Zara skirts made in China – had a filed day during the pandemic.
The unlikely success is overlooked and little discussed, but could have huge implications for Chinese export-oriented companies and consumers around the world.
It also signals the formal arrival of "created in China", instead of "made in China" that has been the hallmark of Chinese manufacturing for the past few decades.
During the pandemic, the product iteration of overseas brands has been limited by inventory pressure, and offline product updates have been relatively slow. Chinese consumer brands however, benefiting from earlier recovery from the pandemic in China and cost advantage, gained market share and users rapidly.
Shein, a cross-border e-commerce company in China known as the "Chinese version of Zara", has quietly grown into a small giant after 12 years of operations.
According to official information, Shein's GMV in 2019 has exceeded RMB20 billion yuan and has completed its series E round of financing in August this year.
It is rumored to be valued at more than US$15 billion dollars and is preparing to go public.
The unit price of Shein's clothing products is only about US$15 dollars. It is lower than Zara, but the products shift much faster than Zara.
With its rich SKU and foxy design, the brand has harvested a large number of loyal users in Europe, North America, the Middle East and other regions.
Shein's rise benefited from deepening e-commerce penetration this year due to the pandemic. Although brick-and-mortar retail has been affected negatively, e-commerce has ushered in a wave of solid traffic growth.
Take the United States as an example, the e-commerce penetration rate has risen from 5.6% to 16% in the past decade, and this number has rapidly increased to 27% during the epidemic.
As a result, Shein's sales in March this year have nearly tripled year-on-year.
Another star company of Chinese consumer brands targeting international markets is Anker. It has been listed on the Growth Enterprise Market in August this year and its share price has tripled in just four months.
In 2014, the company started building its own brand from initially small devices such as the charging accessories. It quickly expanded to wireless headsets, floor sweeping robots and other categories.
By the end of 2019, Anker's products were ranked No. 1 among car chargers and Bluetooth speakers on the Amazon platform in the United States.
Its financial report shows that the company's revenue in the first three quarters of this year reached RMB6.019 billion yuan.
This type of created-in-China brands is a new trend that has been accentuated this year. Many cross-border e-commerce firms in China have seen a new opportunity that has a higher premium than being an OEM to foreign brands.
Investors have also started looking for the next Shein and Anke. In July of this year, Zhang Xiaopei, co-founder & CTO of Yuanchehaoduo Group, set up a fast-fashion overseas brand similar to Shein and has received about US$30 million in angel round investment.
In September, Yiersanyuan COO Wang Chen also entered the market by establishing a company and receiving nearly US$10 million dollars in financing from Silicon Valley A16Z, IDG Capital, and others.
In October, Vantop, a consumer electronics brand overseas, received a RMB300 million yuan A round of investment from Sequoia. Its projector product sales ranked first in Amazon (North America) for 24 consecutive months, and its sales compound growth rate exceeded 400% for three consecutive years.
In November, TAKA Original, an overseas fashion brand clothing brand, received an angel round investment of RMB10 million yuan, and has entered many countries in Europe, America and Asia through self-built stations.
Beside these star projects, there are many more small teams mushrooming around China trying to recreate the success of Shein and Anker.
This segment had witnessed great growth in the past few years. China's export cross-border e-commerce accounted for 47% of total exports in 2019. Among them, goods sold directly to overseas consumers exceed RMB1.7 trillion yuan, which is about the GMV of JD.com and Pinduoduo in 2019.
The conditions for Chinese brands to go overseas are ripe. From cross-border e-commerce platforms, payment methods, warehousing, logistics and other infrastructures, all key elements are there for these companies to disrupt existing players in international markets.
China also has advanced e-commerce operation experience and supply chain capabilities as the "world's factory", all of which enable brands to remain local after "expanding overseas" and maintain strong competitiveness.
On the other hand, traditional consumer giants are facing the crisis of "brand aging" and "declining performance" due to structural changes in consumers.
L'Oréal's performance report shows that the group's sales in the first half of this year fell 11.7% year-on-year. Other fast-moving giants such as Procter & Gamble, Unilever, Coca-Cola have also reported a slowdown in sales growth in recent years.
Coupled with the offline impact of the pandemic, some brands that have not completed their digital transformation in time have failed to catch up and their businesses have shrunk or even went bankrupt.
Take the clothing fast fashion market as an example. This year, Topshop's parent company officially entered the bankruptcy liquidation process. ZARA's parent company Inditex had a quarterly loss for the first time in history and announced that it would permanently close its 1,000-1200 stores.
H&M issued an announcement saying that until November 30, 2020 Today, annual sales fell by 18% year-on-year. Underwear brand Victoria's Secret ushered in a wave of store closures, and its British company entered bankruptcy liquidation.
A larger background is the ten-year rapid development of China's mobile Internet and the emergence of giant unicorns in batches. The evolution from copy to China to copy from China has made the confidence of the entire Chinese venture capital circle different from the past. Starting a business overseas in 2014, by 2020, although TikTok in the United States, Club Factory, BIGO, UC Browser in India have encountered varying degrees of setbacks, but the brand in the field of physical transactions still maintains vitality when going overseas.
It can be said that 2020 is likely to be the first year of large-scale Chinese consumer brands going overseas. In the future, overseas brands created in China will continue to emerge.