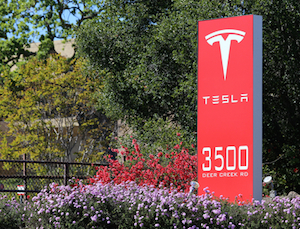 The first phase of Tesla's Shanghai plant starts the second phase of construction
Tesla China publicized that the second phase of its Shanghai GigaFactory (Phase I) on the EIA information disclosure platform of the Shanghai construction project. The EIA report shows that the second phase of the project will add production processes such as stamping, painting, welding and final assembly of pure electric vehicles. After the project is completed, the production capacity of Model 3, Model Y and related derivative models will be added.

TSMC's December revenue was NT$117.37 billion, a year-on-year increase of 13.6%
Today, TSMC announced its December 2020 revenue. Data show that TSMC's December revenue was NT$117.37 billion, a decrease of 6% from the previous month and a year-on-year increase of 13.6%. From January to December 2020, revenue was NT$1.34 trillion, a year-on-year increase of 25.2%.
Digital RMB adds Shanghai "Lujiazui" pilot
Following the Shanghai Tongren Hospital pilot, another digital RMB pilot project in Shanghai has been added. Recently, some citizens discovered that the digital renminbi pilot has come to Lujiazui.
In the Lujiazui Central Shopping Mall, a milk tea shop can support digital renminbi payment while offering discount. But the staff in the store said that only Alipay employees can use digital renminbi to pay now. This is one of the internal testing sites and ordinary users cannot use it for now.
Tencent announces the first 17 level outstanding scientists
Tencent today announced that Dr. Zhang Zhengyou, head of Tencent Robotics X Lab and Tencent AI Lab, has become Tencent's first 17-level researcher/outstanding scientist. Level 17 is the highest professional level in Tencent's history.
Dr. Zhang Zhengyou established Robotics X, a robotics laboratory, and is committed to advancing the next generation of robotics research based on human-robot collaboration.
At present, Robotics X Lab focuses on the research and application of three general robotics technologies, namely mobile, dexterous operation and intelligent body, and focuses on the research and development of multi-modal mobile robots.
Suffering chip shortage, SAIC Volkswagen and Honda suspends production of some models
The shortage of chips in the automotive industry has not yet eased. A source close to SAIC Volkswagen said that SAIC Volkswagen has suspended production of some low-end models, but this is also consistent with the company's overall product strategy for high-end products this year.
Honda will also adjust automobile production due to the shortage of semiconductors. First, it plans to reduce production in Japan by about 4,000 units in January, focusing on the "Fit" compact car produced by Suzuka Works in Mie Prefecture.
Due to the impact of the pandemic, semiconductors are in short supply worldwide. The impact may affect the production of other large car companies.
NIO will launch a 150-degree solid-state battery pack
NIO will release a 150-degree (kW·h) battery pack at the NIO Day (annual conference) on January 9th. The battery pack no longer uses the mainstream liquid lithium battery technology in the industry, but uses solid-state battery technology.
"The (150-degree battery pack) will be released this year and will be in the car next year at the earliest." The source revealed.
Mass celebrations are prohibited before and after the Spring Festival in Beijing
Today, at the 205th press conference on the prevention and control of the Covid pandemic in Beijing, Kang Sen, deputy secretary of the Beijing Municipal Committee of Agriculture and Work Committee, introduced that mass celebrations are prohibited before and after the Spring Festival Celebrations.
Long March 5B launch vehicle high-thrust hydrogen-oxygen engine reliability test successfully
This afternoon, the Long March 5B carrier rocket's high-thrust hydrogen-oxygen engine successfully completed the model reliability test, further verifying the capability of the high-thrust hydrogen-oxygen engine, and laying the foundation for the Long March 5B carrier rocket to perform the space station mission.
Is Alibaba AI Lab closed? Company confirms that it has been merged into its Cloud Intelligence unit
This afternoon, in response to the online reports of "Alibaba Artificial Intelligence Lab has been closed", Alibaba responded that its AI lab had been integrated into Cloud Intelligence in the last round of structural changes, and the new official website was being produced and will be launched independently.
Alibaba said that the official website change is due to changes in the current organizational members, structure, and functions of AI labs, which do not match the information on the previous page.