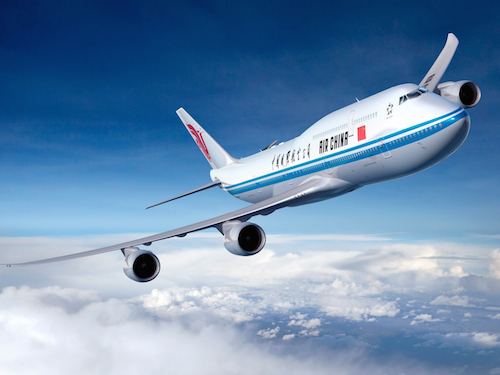 China Tech Digest is a daily collection of the most important technology news in China, brought to you by China Money AI.
******
China Civil Aviation Administration: abolish certain foreign investment restriction and further expand the opening of the civil aviation industry
According to the Civil Aviation Administration, in order to implement the Foreign Investment Law, the Civil Aviation Administration proposes to abolish the Provisions on Foreign Investment in Civil Aviation Industry and its six supplementary regulations.
The civil aviation sector implements in accordance with the national unified negative list of foreign investment access. Civil aviation retains three areas of public air transportation, general aviation, and civil airports to be on the negative list of Foreign investment access restrictions.
In the future, the civil aviation foreign investment access policy will achieve "presumed allowed entry if not on negative list". It is a shift from the past when it was presumed prohibited if not authorized by law.
The areas outside the list are mainly managed through industry licensing and interim and ex-post supervision and other non-discriminatory methods consistent with domestic and foreign investment.

Baidu's self-driving MaaS platform goes online in Guangzhou, and Apollo unmanned vehicles will undergo normalized trial operation
Guangzhou Huangpu District and Baidu Apollo jointly created a multi-service autonomous driving MaaS platform that was first made public during the local New Year event. Five autonomous driving models were opened to provide convenience to citizens.
It is reported that the autonomous driving MaaS (Mobility as a Service, mobility as a service) platform, or the autonomous driving travel service platform, can integrate various forms of autonomous driving travel services, and combine platform strategies to recommend suitable autonomous driving travel methods for users.
TSMC's board of directors approved Japan's plan to build a factory and will invest US$186 million to establish a wholly-owned subsidiary
TSMC today announced that the company's board of directors has approved the plan to establish a wholly-owned subsidiary in Japan. TSMC said last month that it is evaluating the possibility of establishing a material research and development center in Japan.
It is reported that in the general environment of the pandemic, the market demand for advanced semiconductor equipment and materials is becoming higher and higher. Today, TSMC's board of directors formally approved the plan, stating that it will establish a wholly-owned subsidiary in Japan to expand the research of 3DIC (3D integrated circuit) materials, with an investment of no more than 18.6 billion yen (approximately US$186 million).

Temasek's incoming CEO shows that the company is committed to investing in China
Dilhan Pillay Sandrasegara, the incoming CEO of Temasek Holdings, said the Singapore state-owned investment company is still "very optimistic" about China's long-term trend. Pillay said at the press conference that China has always had long-term potential for Temasek.
Previously, Temasek announced that Pillay will take over He Jing as the company's CEO. Pillay said: "Everything we do is to provide long-term sustainable returns. Chinese consumer spending continues to grow, and strong local brands are emerging."
Sources: Baidu launched a five-year financing of 3 billion US dollars
Baidu launched a five-year, $3 billion financing. Bank of China, China Construction Bank, China Minsheng Bank, Citigroup and DBS Bank are the underwriters initially entrusted by Baidu for this loan.
Huawei's Ren Zhengfei: Huawei will never sell its terminal business
Huawei founder and CEO Ren Zhengfei said in an interview with reporters on the 9th that Huawei still has to rely on globalization to solve the chip blockage issue. No matter what, the company will never give up the ideal of globalization.
"Don't think a terminal is a mobile phone, as long as it is connected to people and things, it is a terminal. For example, lidar used for driverless cars, gas meters, water meters, and televisions used in homes are all terminals, and mobile phones are only one part of the terminal. Therefore, Huawei will never sell its terminal business. We can transfer our 5G technology, but we will never sell terminal mobile phone business."
TSMC 3nm is building a new plant or starting work ahead of schedule, workers only take two days off during the Spring Festival
Nikkei News quoted sources as revealing that TSMC has informed the builders of Nanke's new 3nm plant that they will pay huge extra bonuses and require most of the builders' workers to take only two days off during the Lunar New Year and start work ahead of schedule.
The Nanke 3nm plant under construction by TSMC is scheduled to start mass production in the second half of 2022. According to the report, TSMC confirmed that it will resume construction operations in Nanke a few days in advance during the Lunar New Year, and will pay additional salaries to construction partners.
Niu Electric CEO Li Yan: Negotiating with Gojek to supply electric scooters
Niu Electric CEO Li Yan said on Monday that the company is negotiating with Gojek, a Southeast Asian ride-hailing company, to discuss the supply of electric scooters for the latter to increase its market share in the region.
Niu Electric produces electric scooters and motorcycles powered by lithium-ion batteries, and 95% of its current sales are concentrated in the Chinese market.

Five departments including the State Administration for Market Regulation summoned and talked to Tesla
The State Administration for Market Regulation has reported that recently, the State Administration for Market Regulation and the Central Cyberspace Administration of China, the Ministry of Industry and Information Technology, the Ministry of Transport and the Fire and Rescue Bureau of the Ministry of Emergency Management have reported abnormal accelerations, battery fires, and vehicle fires of Tesla cars.
The officials jointly discussed Tesla Motors (Beijing) Co., Ltd. and Tesla (Shanghai) Co., Ltd., and asked them to strictly abide by Chinese laws and regulations, strengthen internal management, and implement the main responsibility of corporate quality and safety.