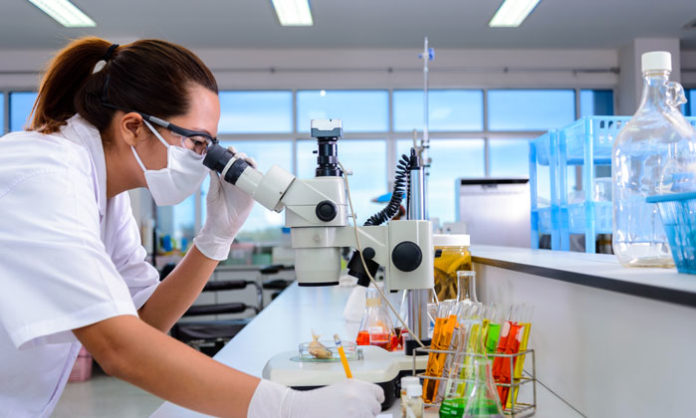 Even if China replaced the United States as the world's largest manufacturing country, but it relies on other countries on many of the most advanced tech products such as semiconductors.
Another area where China relies heavily on foreign imports is lab equipment. In the past ten years, China's reliance on foreign high-end lab equipment did not ease even as China advanced in other tech areas.
Statistics show that China imports nearly 100 billion U.S. dollars of lab equipment each year, second only to its imports of petroleum and semiconductors. Among them, 90% of high-end lab equipment are monopolized by foreign companies.
Take nuclear magnetic resonance instrument as an example, only a few companies such as Germany's Bruker can produce it. This German company with annual revenue of only US$2 billion has more than 80% of China's market.
Cryo-electron microscopy is an important tool for studying protein structure. Only US' FEI Company, Japan's JEOL Ltd. and Hitachi can produce it. As good as China is in making knockoff products, no companies in China can make knockoff versions of the microscopy equipment.
Chinese companies make slightly lower-end scanning electron microscope, and has a share of less than 10% in the domestic market.
Mass spectrometers are used to measure the quality of microscopic particles, and currently China relies on imports for it. The high-end LC/MS technology comes from manufacturers such as Agilent Technologies and Thermo Fisher, both of the US.
Because domestic companies cannot make these high-end lab equipment, around 60% of China's trillions of annual investment in fixed assets of scientific research is used for buying imported equipment.
In Chinese hospitals, medical equipment including CT, MRI, and large X-ray machines is monopolized by GE, Philips and Siemens. Around 80% of high-end medical equipment in China is imported.
A popular joke says that Made-in-China products are in Western shopping malls, Made-in Germany and Japan products are in factories in China, and Made-in-USA products are in laboratories in China.
China's reliance on foreign imported lab equipment and other high-end scientific and medical equipment worsened in the past decades.
The world's largest scientific instrument company, Thermo Fisher Scientific, had instrument revenue of only US$6.3 billion in 2019. Thermo Fisher has accounted for a quarter of the Top 20 companies with total revenues in the global scientific instrument industry. Shimadzu of Japan ranked second with annual instrument revenue of only US$2.1 billion.
Up to now, there are more than 1,000 scientific instrument factories in China, most of which have an output value of less than 10 million yuan. This industry is small but requires large amount of investment, not an obvious choice for entrepreneurs and investors in China.
According to a ranking of the top 20 companies in scientific equipment from the American Chemical Society, in 2018, there were 8 companies in the United States, 7 companies in Europe, and 5 companies in Japan.
Realizing the gap and the urgent need to reduce such reliance, China has taken actions to encourage domestic companies. The Ministry of Science and Technology and the National Natural Science Foundation (NSFC) set up major special projects to increase investment in the sector. There are many instrument companies that have seen increased resources being injected into them.
Chinese gene testing company BGI, which once bought 128 gene sequencers from US' Illumina, has made efforts to invest in research. It became one of the three companies in the world that can mass-produce clinical-grade gene sequencers through self-research and acquisition of overseas technologies.
Shanghai United Imaging Medical has launched China's first ultra-high field animal magnetic resonance system.
But any success will require time, patience and endless effort. This is not an industry where China can produce results with "China speed" like it did in consumer tech and mobile payment.